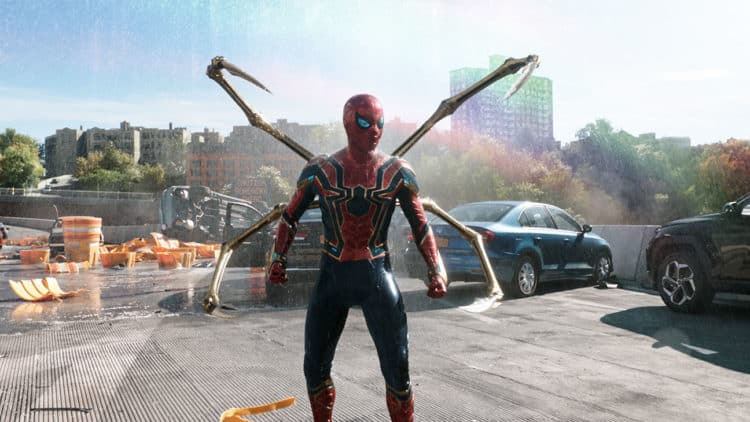 In less than a month, Spider-Man: No Way Home is set to be released in theaters, and the latest adventure involves Peter Parker battling numerous villains outside of the multi-verse. The highly anticipated feature also stars Jamie Foxx, Zendaya, Benedict Cumberbatch, and Willem DaFoe. This article will list the five excellent movies involving the cast of Spider-Man: No Way Home. The only films exempt from this list are animated and superhero features. Let's get started with the first movie:
12 Years a Slave
Solomon Northup is a free black man that's kidnapped and sold down south into slavery. For the next 12 years of his life, Solomon is subjected to brutal violence and cruelty at the hands of Edwin Epps; however, a chance encounter gives him the opportunity that will change his life forever. 12 Years a Slave is not an easy watch. The violence is shocking and upsetting; however, that's the point of Steve McQueen's feature. 12 Years a Slave exposes the disturbing truth of how slaves were treated, but it never glorifies graphic violence for the purpose of entertainment. What also makes this feature great is the complexity of the characters within the film. Michael Fassbender's Edwin is a deplorable human being, but his love for Patsey adds layers to his character and brings out the best of the veteran actor. 12 Years a Slave is a heart-breaking and tragic film, but an important watch overall.
The Wolf of Wall Street
The Wolf of Wall Street is a wild ride filled with coke, sex, and lobsters! The Martin Scorsese film centers on Jordan Belfort, who takes an entry-level job at a Wall Street brokerage firm. That job catapults Belfort to the top where he's able to found his own firm; however, Belfort doesn't exactly make his money in an honorable manner and his world is threatened to come crashing down when the SEC and FBI investigate his practices. The Wolf of Wall Street is funny, insane, captivating, though a little bit longer; DiCaprio is perfect as Belfort, as he brings the character to life thanks to his tremendous acting that balances all of the necessary emotions for the role. Belfort isn't particularly a good person, but we follow him because of the unpredictability of the story and how magnetic DiCaprio's performance is. Another star is Margot Robbie, whose breakout performance as Naomi matches her onscreen lover.
Chef
This light and breezy film is a food porn showcase, the Jon Favreau vehicle sees the chef venture away from his controlling boss and launch a food truck business, which gives him a chance to reconnect with his son. Chef notably lacks tension as problems are quickly solved within minutes; however, there's clearly a love for this project and Chef is filled with a cast of relatable and fun characters. Jon Favreau is great as Carl Casper and his developing relationship with his son makes for a great watch. This may not be the most compelling or thought-provoking film on the list, but that doesn't mean it isn't entertaining. You don't have to be an avid food lover to enjoy this feature, though I do advise you to not watch it on an empty stomach.
Django Unchained
This violent and bold take on revenge during slavery finds the title character and a German bounty hunter named Dr. King Schultz on a mission that hopefully sees Django and his long-lost wife free as slaves. Quentin Tarantino manages to make a highly stylized feature with a colorful cast of characters, unforgettable dialogue, and a funny and compelling story. The star of the show is Christopher Waltz, who chews up the scenery with his charisma and energy. Leonardo DiCaprio is also tremendous in his role as the villainous Calvin Candie. Tarantino is somehow able to balance the seriousness of the subject with moments of dark humor to great effect. The scene with Jonah Hill, Don Johnson, and the KKK is riotously hilarious.
The Wrestler
This surprisingly thought-provoking drama that revitalized Mickey Rourke's career sees Randy "The Ram" Robinson near the tail end of his career, though the wrestler fails to see that he's long past his prime. However, after a brutal beating that forces him to retire, Randy tries to reconnect with his estranged daughter, though the lure of returning to the ring still haunts him. There's not a lot of films that tackle professional wrestling seriously and the 2008 feature pays respect to the sport while remaining emotionally honest. The Wrestler is about the importance of human connection and the downfalls hidden behind the popular sport. Rourke is tremendous as the broken-down Robinson. He's able to display the scars and pain masterfully without saying much. The Wrestler relies heavily on the emotional side of Robinson and the veteran proves why he's one of the top actors in Hollywood.
Tell us what's wrong with this post? How could we improve it? :)
Let us improve this post!