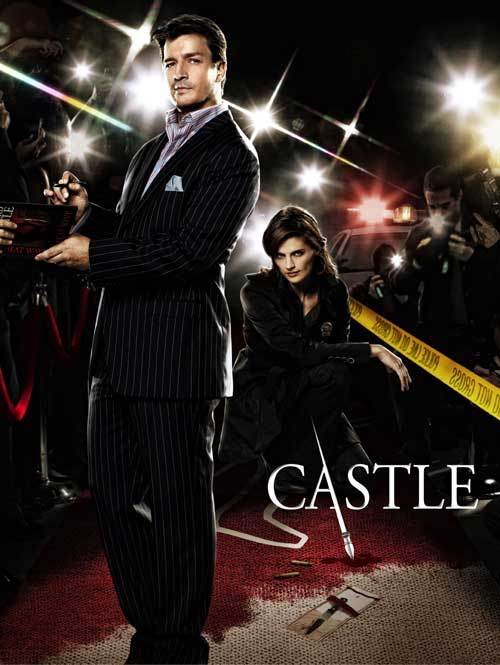 New York's favorite mystery writer, Richard Castle, spent another season working side-by-side with tough cop Kate Beckett in Castle's second season, which comes out on DVD on September 21.
The Show
I love Nathan Fillion. Whether he's in Firefly, Desperate Housewives or Dr. Horrible's Sing-Along Blog, I find him witty and charming. So I was thrilled when his show Castle showed promise at ABC and has since been renewed for a third season. To me, Fillion is the best part of this show. His snappy one-liners never fail to get a laugh out of me. But, fortunately, he's not the only enjoyable part of Castle.
Detective Kate Beckett, playing by the beautiful Stana Katic is a good partner for someone of Castle's charm. Tough, brash and able to hold her own, she is able to take her writer partner down a peg or two on occasion. Beyond the two leads, it's nice to find a cast of additional characters that I like. Detectives Ryan and Esposito bring an additional shot of humor to the NYPD squad room, and Castle's mother and daughter add hilarity to his homelife.
I find Castle to be a procedural more than anything else, but that doesn't bother me. Not when the crimes and mysteries are fun to solve in each episode (like the one about the fake spy game in the season 2 finale "A Deadly Game"). While the premise in an of itself is a bit far-fetched (a mystery writer working with a cop? Come on…), by the second season you've gotten used to it. The question, of course, is how long the writers can play out the attraction between the two characters. Even The X-Files and Bones sometimes fell into the dangerous waters of dragging out a potential relationship between leads and frustrating viewers.
When we last left Beckett and Castle, Beckett had just broken up with her boyfriend and was prepared to start something with Castle. But he, rebuffed earlier by Beckett, decided to head off to the Hamptons with his ex-wife and publisher, Gina. The Gina thing kind of came out of left field, but we can all predict where this will go. Beckett and Castle are supposed to reunite in the fall (in Castle's third season) and if Castle's still in a relationship with his ex-wife, then Beckett's going to be very prickly.
The third season of Castle will be premiering on Monday, September 20.
The DVDs
The season 2 DVD box set has a lot of fun featurettes, including "On Set with Seamus and Jon", where the actors who play Ryan and Esposito give us a behind-the-scenes tour of the sets. Fillion hosts "On Location with Nathan", with a behind-the-scenes tour of location sets and crew. I liked "Manhattan's Most Unusual Murders", a featurette about the crimes of the show. The Bloopers and Outakes reel is as funny as you'd expect from actors who are naturally funny. Three deleted scenes and two music videos round out the bonus features. They're not as plentiful as some other box sets, but they'll do in this case.
The Bottom Line
Castle is fun, lighthearted (although occasionally serious), sexy and sometimes gross show, with likable characters and cool crimes. If you're a fan of the show, then you'll want to get this DVD set. If you're not a fan, then maybe you should be.
Castle Season 2 DVD is on sale beginning September 21.