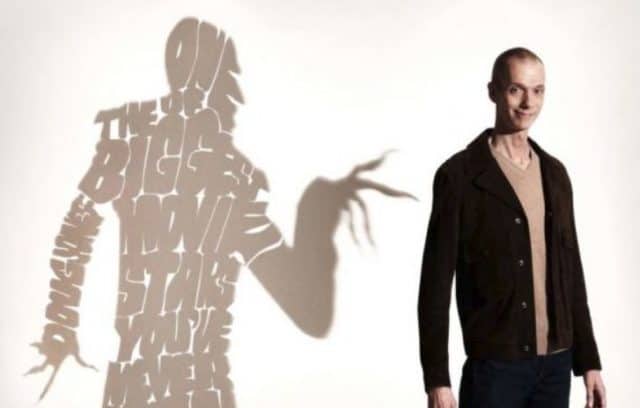 Doug Jones is one of most famous actors that you rarely ever see as himself in films. This is because he tends to perform in a lot of roles that require him to be garbed in latex suits and heavy makeup to take on the look of a monster or otherworldly creature that is vital to the film he's in at that point. In the last thirty years he's appeared in around 150 movies but most people wouldn't be able to point him out without knowing that it's him behind the makeup and skin suit. The kind of incredible talent he possesses is something that not a lot of people can really do on an average basis, which makes him a rare and talented commodity in Hollywood. He hasn't been out of work even once since starting his career thanks to the demand for his services. Getting his start back in 1985 he soon fell into the role of being the monster or the creature that was used to amaze, shock, or frighten the audience.
He's enjoyed it thus far it would seem.
5. He's been a mime.
A lot of the movies that Doug has been in have required very specific movements for his characters and as a mime he's learned how to act, how to position his body, and how to stay absolutely still when he needs to. It might not seem like a genuine talent but if you doubt it then go ahead and try. You might find that mimicking a mime isn't as easy you originally thought.
4. He's been a contortionist.
The act of folding up your body to take up as little space as possible seems like it would be painful and invite a good deal of injury to a person. After all, even if he's skinny Doug stands six feet and three inches, that's a tall frame to pack into a very small space. But he's learned how to do this and has no trouble folding his big body down into a very small package.
3. He works a lot with Guillermo Del Toro
Actors and directors tend to have their favorites when it comes time to start a project. Some people just click with each other and in some cases people fully understand and appreciate what others can do for their films. Del Toro's movies tend to be great for Doug since they draw upon his skill set in a way that not a lot of other films do.
2. A lot of his roles involve heavy makeup and prostheses.
A good example is the role of Abe Sapien in Hellboy. He had to stand for 6 hours at a time when they were applying the makeup. Also for Pan's Labyrinth he had to undergo a long and arduous process to get into character for the film.
1. He was in Hocus Pocus.
Remember Billy? The zombified ex-lover of Winifred Sanderson was played by Doug, and his erratic and seemingly clumsy movements were a great test of his skills. Even today the film is considered to be one of his better performances.
He's one of the greatest actors you didn't know about until now.
Tell us what's wrong with this post? How could we improve it? :)
Let us improve this post!