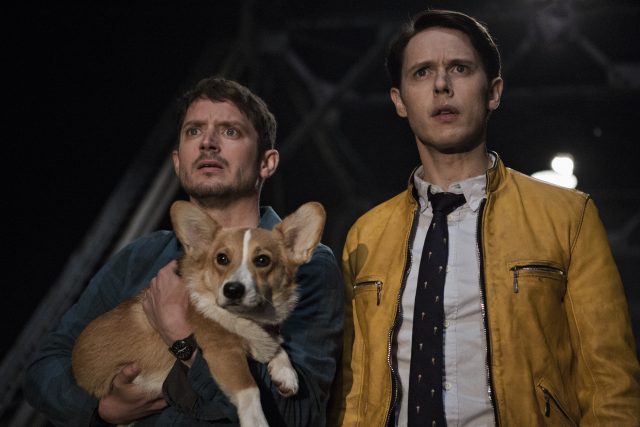 Sometimes, a new series will come along where every single elements seems to be a good sign for the quality. Most recently, that series is Dirk Gently's Holistic Detective Agency, a new series from BBC America (and, worldwide, Netflix). A Douglas Adams novel series for the source material? Check. Penny Dreadful's Samuel Barnett and The Lord of the Rings' Elijah Wood as the leads? Check. Cult-favorite screenwriter Max Landis as the showrunner? Check.
With so many strong pieces in place, anticipation is high for the series. Let's take a look at the series premiere of Dirk Gently's Holistic Detective Agency, "Horizons."
Easily, the best thing going for Dirk Gently is the cast. Elijah Wood's Todd, Dirk's unwilling sidekick, is the surrogate for the audience, getting thrown into this new world unexpectedly. That distinction, though, doesn't take away from his eccentricities, and we see that he's a very human character that's just as flawed and surprised by his life as any of us. Wood has given similarly strong performances throughout his career, but I don't know if his style of performance has ever been more perfect for a role than it is as Todd Brotzman. The other lead character is Samuel Barnett's titular Dirk Gently, and Barnett does a great job at making you fall in love with the character from the beginning. For better or worse, Dirk comes across as a character that could be another incarnation of The Doctor from Doctor Who, but that feeling comes more from a stylistic angle than from the story. The nice thing, though, is that fans of Doctor Who will be able to find a lot that they like about this series on a superficial level, and that should help draw them into the world of Dirk Gently. I loved Dirk's explanation of his character, too, and it's easy to see that we're in for a fun ride with this guy.
The rest of the cast that we meet in the episode fits the world just as well as the leads, but Fiona Dourif as Bart is a highlight for sure. While her own person, Dourif draws from her father's (Child's Play's Brad Dourif) style and blends it with her own to craft a character that's completely her own, and the character's darkness serves as a great juxtaposition to the lightness of Dirk and Todd. I also love Hannah Marks as Todd's sister Amanda, and I can't wait to see more of her during the series.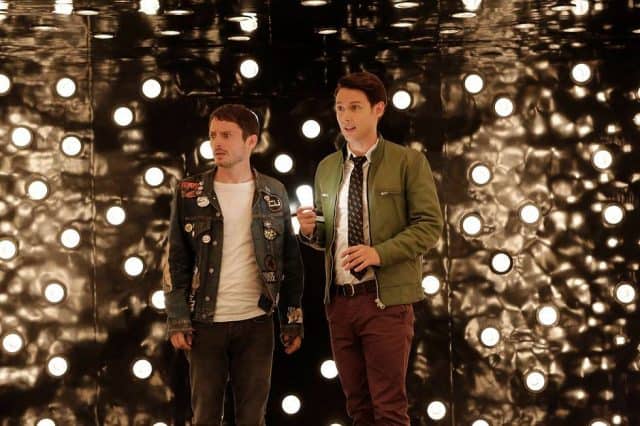 The writing for the premiere of Dirk Gently is incredibly strong, and you can see Max Landis' style across the board throughout the episode. If you're a fan of Landis' work, you'll absolutely love the way that "Horizons" is written. If you aren't a fan, this episode just might turn you into one. The character element of Chronicle shines through, and the blending of comedy, action, and science fiction of American Ultra translates surprisingly well to this series. With that said, though, Dirk Gently is very much its own thing, and the dialogue helps set it apart from anything Landis has done before. A scene early on in the pilot between Todd and his boss is a great example of what we should expect from the series, and Landis penning the scripts for the entire season should ensure consistency throughout.
It's something that a lot of people probably won't directly notice, but the editing in this episode is incredible and very promising for what's to come. It gives the episode a very fun feel even during its darker moments, and it also sets a very strong tone for the story.
I really wanted Dirk Gently's Holistic Detective Agency to be good, but I'm surprised at just how great the series premiere actually was. It could certainly go all downhill from here, sure, but the cast and writing for "Horizons" gives the series an enormous amount of potential, and it isn't often that I've seen a pilot this promising. I absolutely think that this series can be the next Orphan Black-level hit for BBC America, and I hope its audience feels the same way about it that I do.
What did you think of the series premiere of Dirk Gently's Holistic Detective Agency? Will you be checking out the rest of the season? Let us know your thoughts in the comments down below, and be sure to tune in each Saturday on BBC America for a new episode!
[Photo Credit: BBC America]
Dirk Gently's Holistic Detective Agency Series Premiere Review: "Horizons"
Summary
The first episode of Dirk Gently's Holistic Detective Agency is extremely promising and shows the potential for a new hit on BBC America.