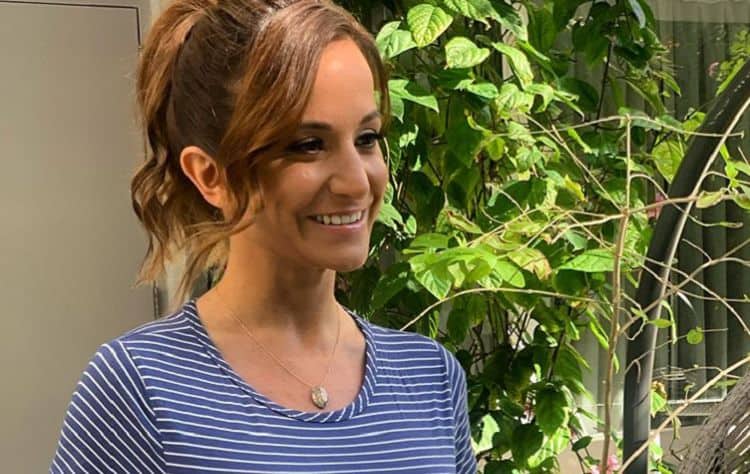 Dianna Russini keeps her romantic life under the wraps, and even if she admitted that her biological clock was ticking, she still said that she would not get married unless it is to an A-list celebrity. Well, that is one facet of her life that we might never get precise information about, but at least she is very vocal about her career. From how she played four sports in school, to giving up a scholarship to pursue her dream, there is a lot more to Dianna that most people do not know. Here is your chance to learn about her.
1. Her brother motivated her to love soccer
Having a brother who goes beyond seeing you as only the little sister that needs to be picked on can be a pleasant experience as it was for Dianna. Her elder brother did not have many friends, and the only person he relied on to play with was Dianna. Therefore as a boy, the only sport they could both play was soccer, and he pushed her to be aggressive. Unfortunately, when Dianna was seven, she wanted to become a cheerleader, and it was not music to her brother's ears. Consequently, he made her choose between cheerleading and sports, saying she would be the best soccer player.
2. She wanted to play soccer although she was bad at it
Although Dianna played four types of sports, her favorite remained to be soccer, but her enthusiasm never helped her to be an expert at first. She was drawn to the sport because, in her family, her elder brother and father were baseball players; therefore, thinking that baseball was a "male" sport made her choose to play soccer instead. She especially loved the team element that came with soccer, so her skills were much better than her age mates when she was around six. Still, she was the worst player in her high school team, and even her coaches wondered if she would ever make it to the collegiate level.
3. She ran track to please her grandfather
Dianna referred to her grandfather as her friend, and he always went to watch her games since she played softball for three years. However, his dream for her was that she would be an Olympic distance runner since Dianna was naturally gifted running track. Therefore to make his wishes come true, considering he was living with colon cancer, Dianna ran track in her senior year and ended up finishing ahead of the rest.
4. When she knew she wanted to be a journalist
September 11, 2001, forever remains engraved in the minds of Americans due to the fate that befell most families that day. The terrorist attack caused the death of many people, and for Dianna, it changed her life forever; her father was in the World Trade Center Tower One when the attack handed, but thankfully he survived. As she saw Robin Meade inform the public of the news, Dianna knew that she wanted to be doing the same job as Robin. According to the Elite Clubs National League, from that day on, Dianna knew she would become a journalist thus started doing whatever was necessary to realize her ambitions.
5. Why she thinks sports is essential for girls and boys
They say an idle mind is the devil's workshop, and for Dianna, sports was one way her parents figured would keep her preoccupied. By being involved in different types of sports, Diana was able to not only concentrate on playing games but also had to learn to balance it with her hectic school schedule. Similarly, she believes parents should encourage girls, regardless of how poor they are at first in sports, to be engaged in sports. Besides, just like she found mentors in her coaches, young girls can be impacted significantly by the coaches they meet.
6. Her greatest accomplishment
One thing that Dianna can advise anyone is that they should follow their heart; she would have landed a scholarship with her track running abilities but loved soccer so much that she pursued it despite not being good at it. Therefore since her brother had taught her to be aggressive in soccer, she found a spot on the team. The coach wanted a player who would slow down opponents by throwing her body in front of the attacks, and no one was better suited than Dianna. As a result, Diane's most significant achievement was to walk into a team and become a four-year starter.
7. She had a difficult time in her twenties
They say pressure makes diamonds much harder than stone, and the tough journey that Dianna had to go through made her very resilient. She confessed that she spent most of her 20s hungry and poor, but even if she went back in time, she would not change a thing. Dianna says her resume may look impressive, but there were times when she had to ask her parents for rent money and borrow clothes from her friends since her wardrobe was not stocked up with designer outfits.
8. She appreciates growing up in a close-knit community
Dianna was born in the Bronx, but the family moved to Norwood for a better quality of life and education for the children. As Dianna recalls, growing up in the small town was worth it because they all knew and supported each other in times of hardships such as death and sickness.
9. Her biggest lessons
Currently, Dianna feels the most important thing one can do to make it in the industry is to be your own biggest fan. She acknowledges that many critics will get you down, but as long as you know what you want, the naysayers should not affect you. Still, although she has come a long way into being a renowned anchor, she regrets that she did not learn from the best. Dianna wishes that she would have picked the brains of the successful journalists that she came across.
10. Her competitiveness keeps her successful
Dianna holds a position that most people wish for, and she knows it; hence she also acknowledges that she is replaceable. Therefore to ensure she remains relevant to her employers, she never gets comfortable enough to rest; instead, Dianna stays committed, and her day starts at 8 am with reading the newspapers.
Tell us what's wrong with this post? How could we improve it? :)
Let us improve this post!