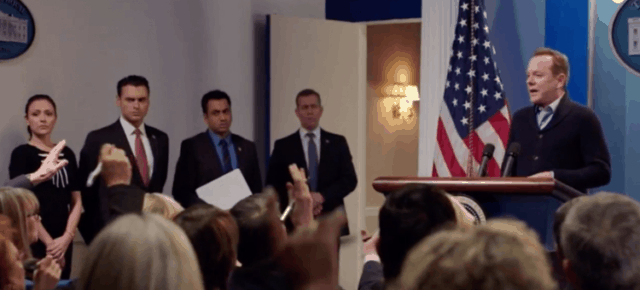 Designated Survivor had one heck of a shocker to follow up on the twists and turns of this season. How do you top killing an entire government, then nearly assassinating the President of the United States? Spoiler alert if you haven't already seen last week's final moments…you follow up by killing off the person with the greatest power who is also a traitor to the country. Instead of solving the country's problems, President Kirkman is forced to make some difficult personal and professional decisions.
You would think having MacLeish and his wife out of the way would be a relief, considering they were both traitors to the country. However, the White House's problems multiply tenfold. Not only have they lost their one sure connection to the conspiracy, they now have a dangerous crisis of public morale on their hands. The news that the Vice President and his wife are dead by murder-suicide is not exactly uplifting for the American people. It only adds more panic just when things were starting to feel stable, at least for those not behind closed doors.
Not included behind closed doors is Alex. Instead all she sees is increased snipers outside her window which she'll have to downplay to her children. For the time being Alex suggests taking the kids to Camp David. At least there they can breathe fresh air without being surrounded by 10 guards at a time. They're not going to have a normal childhood, but D.C. isn't the place for them right now. There's a reason the sweeping music began playing when Kirkman had to say goodbye to his family. It's because nothing Kirkman has faced could ever be as painful as losing his family, even temporarily.
Agent Wells is galvanized by Jason Atwood's son's funeral. She needs to understand this conspiracy, but to do so she needs to understand how it started. She gets Joiner to talk about his mission in Afghanistan with MacLeish, which is quite a story. To make it short, MacLeish's unit was sent into an ambush to payoff a Taliban warlord for protection. The person leading them was an undercover CIA operative, the same person who shot President Kirkman. Blackmail will buy you anything. Losing his men when he didn't have to changed MacLeish. How he became the nation's most infamous traitor is still to be uncovered.
Seth is thrown for a loop when a disgraced Putlitzer Prize winning reporter asks about MacLeish giving the shoot to kill order on Kirkman's shooter. The information could only have come from Hookstraten, but she got the information from Aaron. It was an honest mistake on Aaron's part. Nevertheless, the Chief of Staff leaked classified information. Whether or not Kirkman believes Aaron intentionally slipped, it was a bad slip. Aaron does seem overworked, so time off wouldn't kill him. Emily takes over as Acting Chief of Staff in the meantime. She wanted the job, just not like this. She'll have her hands full arranging for the former President to advise Kirkman on his Cabinet choices, while Aaron…reconnects with his presumed deceased boss! Former Chief of Staff Charles Langden comes out of hiding to speak to Aaron, but Kirkman is going to want to have a word with him too.
Despite the cynicism and the danger, is President Kirkman making a difference in the eyes of the public?
Designated Survivor Season 1 Episode 13 Review: "Backfire"
Summary
Designated Survivor seeks transparency in the wake of a leak which shows just how scared and cynical the country is at the moment.