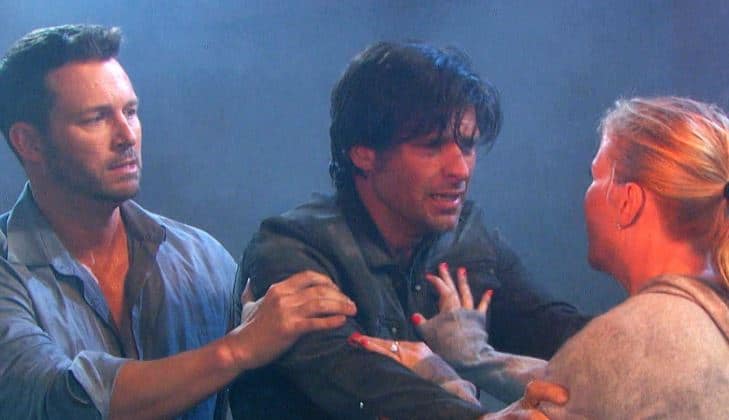 Days of Our Lives fans watched a lot go down last week, and we want to take a moment to recap a bit of what happened. We all know that things didn't turn out well for Eric. He was hoping that the love of his life, Nicole, would be able to sit back and get away from the horrible man who forced her to marry him to maintain her own life and freedom with her baby, but she and the baby got stuck in the middle of a horrible situation. That situation involved her being stuck in the middle of a fire in the warehouse with her baby. She was trapped, but Eric and Brady were able to save her baby for her. She was there for good knowing that she would die. Eric sat down to die with her, but Brady knocked him and got him out to live.
Eric is crushed and horrified that his brother did that. He wanted to die with Nicole, and that didn't happen. And now he has no idea what to do. Abigail and Stefan have become a couple of very unlikely allies as they are figuring out all that Gabi is up to and the way she's feeling about things. They've presented Chad with some information he needs to make this right, and he might just work on things himself. But then there is Lani, who is jealous of Sheila living with Eli. Apparently, she's working on her life and creating a moment of her own now that she's working through her other issues. She's managed to get things together, and we think that she's able to get it together. We do think that she can handle this, but she has to make sure she lets him know how she is feeling about everything.
What's Happening on Days of Our Lives
https://twitter.com/nbcdays/status/1055895609973108736?ref_src=twsrc%5Etfw
So are we. This is such a good photo, and we love that they all took the time to go through and sit back and watch this. It's one of our favorites, and that's what we love the most about it. We can't get enough.
What's Next on Days of Our Lives
Who will fall victim to ghoulish foul play during a spooky Salem Halloween? Watch #DAYS, weekdays on NBC. pic.twitter.com/gR2KKavFf3

— Days of our Lives (@nbcdays) October 26, 2018
It turns out that Halloween week is going to be filled with surprises for everyone, and no one is safe from the many things that will happen this week. We can't say for certain, but we hear that there are a few things that will happen this week that will do nothing but shock you into completely feeling helpless. We also hear that there is a chance that while everything is going on around here, Gabi and JJ are over there having moments. She's out to completely destroy his sister, and there he is having feelings for her once again. We aren't even going to go there this time around, we are so tired of seeing the two of them with all their feelings for one another and the way things are going for them right now. It's beyond our ability to comprehend what is happening.
But we also hear that there will be a couple returning that we might all recognize. No word on who that is, but we can't wait to see who turns up for all the madness and the craziness that will certainly ensue when this situation becomes too much to handle for everyone involved. And then there is the chance that Dr. Rolf himself will be back. We hear that Sami will run into him, and we know how she feels about him and all he's done to her family. We can expect to see her lose her mind when she sees this go down.
Stay tuned for more Days of Our Lives and be sure to check out TVOvermind daily for the latest Days of Our Lives spoilers, news, and updates.