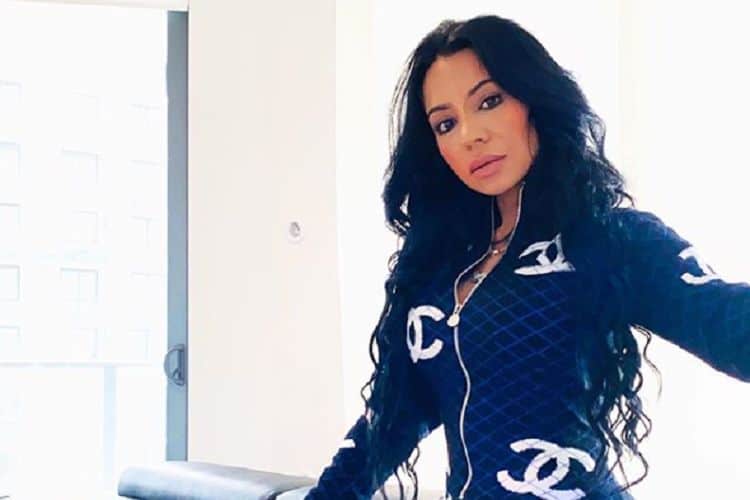 Dayana Castellanos is a reality television star who became well-known as a member of the cast of "Cartel Crew" which is a VH1 reality series that launched in 2019. It's a brand new show and she's new to the entertainment business, but Castellanos is a fascinating new star with an interesting past. Here are 10 things you didn't know about Dayana Castellanos to give you a little background about her.
1. Her Birthday
Castellanos has a very youthful appearance. Although she is still young she is 38 years old. She was born on August 25, 1981. Dayana has only recently appeared on television so audiences are just getting to know who she is as a person. Reality television is generally a lot different than traditional series' where actors are portraying somebody they are not. The deal for this actress is that she is simply being herself, of course, a little drama now and then doesn't hurt the ratings of the show.
2. She's popular on Instagram
While it's true that Dayana has gained a lot of attention from her television appearances, she maybe even more popular on social media. Her popularity began to skyrocket when she began posting lifestyle photos on her Instagram account. She has more than 20,000 followers on her page, which tells us that she's pretty popular.
3. Dayana has had some very hard times in her life
Dayana Castellanos got involved in a few illegal activities when she was younger. She assisted in helping others grow marijuana plants in grow houses in locations and amounts that were not legal. When they were caught, she got into serious trouble for the offense. She was sentenced to a prison term, and she served two years for her part in the crime. This took her away from her family when they needed her at home, but she had to pay the consequences for breaking the law.
4. Both Dayana and her husband went to jail
The criminal incident that sent Dayana to jail was something that her husband was also involved in. Both she and her spouse received jail sentences. He is still in prison, serving out the remainder of his sentence.
5. Dayana has moved on with her life
Although her husband remains in prison, Dayana has moved on with her romantic life. She began dating a woman. She posts lifestyle photos on her Instagram account. She got a new tattoo of a beating heart in December of 2018, which she posted on the site. We're not sure if it was for her kids or the new love in her life. Dayana is the mom of four children.
6. She was linked to the murder of a man in the Marijuana grow house scheme
Castellanos' husband was implicated in the murder of a man that six members of the group that were growing marijuana believed to be stealing from them. The operation was located in South Florida. Fidel Ruz Moreno was kidnapped by Gilberto Santiesteban Jr. and he was found dead three days later. Her husband who was involved in a criminal activity that resulted in a death received 6 years. Dayana was out in 2.
7. She has turned her life around
Dayana went from managing the houses for the marijuana growing drug operation, she has made a lot of changes. She is coping well with the situation from all appearances and is grateful for being given a second chance to build a good life for herself and her family. She has gotten one of the things that she wanted to have for a long time. She has finally been reunited with her family. She is working on her relationship with her four children.
8. She lives in a lavish home
Dayana is a fairly private person and she is just trying to rebuild her life. She is still working on getting her husband released from prison. She has made a lot of money in her life because her time in the drug business brought in a large sum of money. She and her husband were among the top marijuana growers in Southern Florida and they had a large income stream. The legal problems that they've had have taken a toll of their finances but she still maintains an extravagant home so we're assuming that she's doing alright financially.
9. Dayana never intended to get into the drug business
She is one of the few members of the show that isn't the child of a cartel member or a drug lord. Dayana's husband came up with the idea to grow marijuana to make a little extra money on the side. The two had no intention of joining a cartel. When their business exploded into a great success, they made some connections with bad people and this is how they came to be involved in the incident that led to a man's murder. It's a rough business and linking with the Miami Narco Ring was a bad move.
10. Dayana is being very open about her choices
One of the positive things about Dayana's appearance on the reality series is that she is getting her story out there. It could serve as a warning for other people who are just looking for a way to bring in a little extra income, that things can get out of hand quickly. The series offers candid discussions about sensitive issues, and by telling her story, Dayana Castellanos is giving back to others. Although she and her husband have made a lot of money it cost them several years of their freedom. For Dayana, it cost her valuable years away from her children and although she's working on the relationship now, it doesn't make up for the pain and loss that has been experienced by her, her husband and their children.