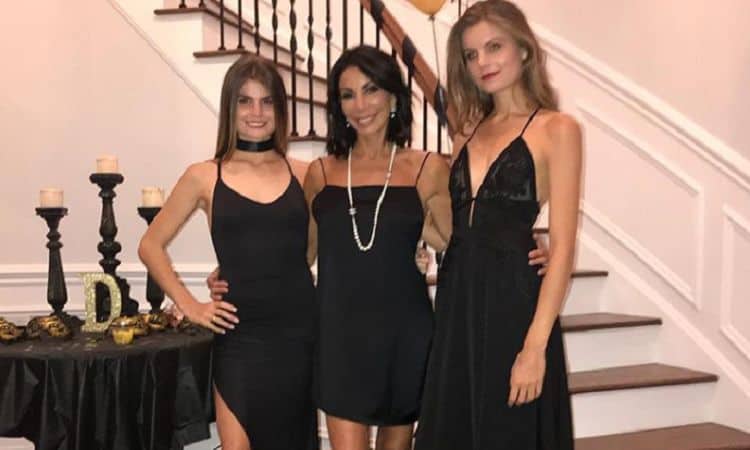 Danielle Staub is a television personality who was born on July 29, 1962, in Wayne, New Jersey. She was originally called Beverly Ann Merril, which was the name that was given to her as a baby when she was adopted. She is best-known for being one of the main cast members in the reality television series 'The Real Housewives of New Jersey', in which she appeared for two seasons between 2009 and 2010 and then returned to the reality series in 2017. Although she is a relatively well-known television personality, there are probably many things that you do not know about her. Here are ten interesting facts about Danielle Staub.
1. She Recently Married for the Third Time
After a two year relationship and a year-long engagement, Danielle Staub married Marty Caffrey on May 5, 2018, on a beach on the Bahamas. This was Staub's third marriage. Her first marriage was to Kevin Mauer to whom she was married from 1986 to 1987 when the marriage was annulled. She then married Thomas Staub in 1993. The couple had two daughters together, Christine and Jillian, before divorcing in 2007.
2. She is Known as One of the Most Hated Housewives
One of the reasons that Danielle Staub is so memorable is that she became known as one of the most hated cast members to ever appear in 'The Real Housewives of New Jersey'. However, she was not the most hated cast member of all. According to a survey done by 'Life & Style', this dubious honor falls to Camille Grammer. In the poll for who was the most hated, Staub had only 42% of the vote compared to Grammer's 52%.
3. She Was Once in the Limelight When a Sex Tape was Released
Staub has faced many highs and lows throughout her career and one of her low points was when a sex tape of her was released. When this came to public attention, she claimed that the tape had been stolen from her.
4. She Has Been Both an Actress and a Model
In addition to being a television personality, Danielle Staub has worked briefly as both a model and an actress. As a model, she was with the IMG model agency. Her acting career consists of appearing in a single episode of 'All My Children' and playing the role of a whore with a date at a restaurant in 'God Has a Rap Sheet'.
5. She Donates to Charity
Staub is a philanthropist who supports many charities by donating money, making appearances, and promoting their causes. She is particularly passionate about the Cystic Fibrosis Foundation and the World Hunger Organization. She is also a celebrity ambassador for Animal Aid USA and supports the no-euthanize approach to the rescue of animals.
6. She Likes to Live a Healthy Lifestyle
Staub strives to live a healthy lifestyle whenever possible. She likes to eat healthily and enjoys regular yoga sessions. She even released her own fitness DVD in 2013 that promoted the benefits of exercising regularly.
7. She is Passionate About Cooking
One of the things that Danielle Staub enjoys doing the most in her free time is cooking. She is inspired by her Sicilian heritage and likes to cook dishes that are based on the Mediterranean diet. Her style of cooking is also influenced by her desire for a healthy lifestyle.
8. She Was Once Declared Bankrupt
One of the lowest points in Danielle Staub's life was when she was forced to file for bankruptcy. In 2010, following the end of her second marriage, she put her house on the market. This was during the time when she originally appeared in 'The Real Housewives of New Jersey'. Two years later, she filed for bankruptcy. This led to her home being listed as a short sale in 2014.
https://www.instagram.com/p/Bk3B03KH9ql/?hl=en&taken-by=danielle_staub
9. She Was in Another Reality Series
'The Real Housewives of New Jersey' is not the only reality series in which Danielle Staub has appeared. She was also in 'Famous Food' in 2011. This involved her working alongside other reality stars to revamp a failing restaurant. Her co-stars were Jake Pavelka from 'The Bachelor' and Heidi Montag from 'The Hills'.
10. She Almost Became a Stripper
Despite having become famous as one of the main cast members of 'The Real Housewives of New Jersey', she almost became a stripper. She signed a three-year contract with Scores Gentleman's Club in May 2011 to become a fully nude stripper. However, within days of signing the contract, she admitted that she could not fulfill the contract as she was seeking treatment for psychological issues and addiction.
Tell us what's wrong with this post? How could we improve it? :)
Let us improve this post!