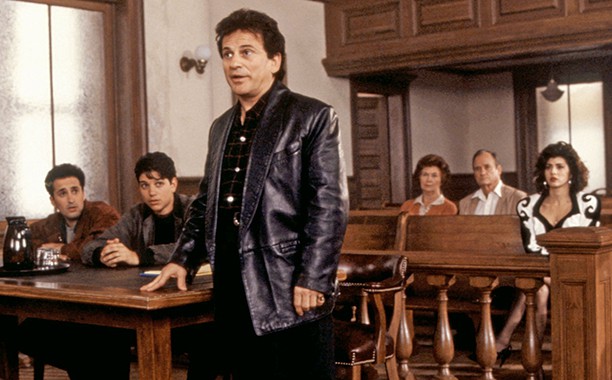 It might seem like a ludicrous claim but My Cousin Vinny was actually considered one of the most accurate law movies ever made. No joke, lawyer and judges alike have praised this film despite the fact that it didn't do much at the box office and was overall a comedy that took a few stabs at the courtroom in the manner of how it was made. But overall those that watched and have anything to do with the law inside the courtroom thought that the movie depicted everything it should have and went above and beyond when it came to dealing with a hostile judge. In short, My Cousin Vinny was great because it allowed its comedy to incorporate the tenets of the law, it didn't seek to bend or pervert them in order to make the movie just a bit funnier.
If you'll recall Vinny came to the courtroom wearing his leather jacket and black clothing which, unfortunately, is not seen as proper attire. He was told, not requested, by the judge to find a suit and tie to come to court with and through a few misadventures he finally found a suit and tie that he could use during his time in court. But aside from the hilarity of the movie he also did a number of things right even if he did them in slightly unorthodox ways. The cross examination, the discrediting of witnesses by using various props, and even the defense that he used for his clients were all methods that he managed to utilize to great effect in order to get his clients off the hook. Despite not being an actual lawyer, which is always a big no-no when practicing law, Vinny managed to learn and, finally, to listen to his girlfriend when it came time to put his nose to the grindstone.
Another great part of this film is that there are no real bad guys in the courtroom. There are those that are hostile to the main characters and those that just don't like them, but none of them are antagonists in any way. Every last person working on the case is out to see justice be served and despite their attitudes are there for that singular purpose. That's a big part of what makes this movie so great and allows it to fit into the mold that it was designed for. In a real courtroom there might be a bad person and then there's everyone else. But justice is the reason why anyone goes to a courtroom, not to point the finger at the bad guys and attempt to cow them into submission.
The film was undeniably funny, but it was also so accurate that seasoned lawyers and judges, those that could rightfully rip the film apart if they so chose, agreed that it was something special and deserved the acclaim that it received. That's not something you hear all the time since many people in different professions will always seek to point out what could or couldn't possibly happen in a movie. This time however one of them was on the money.