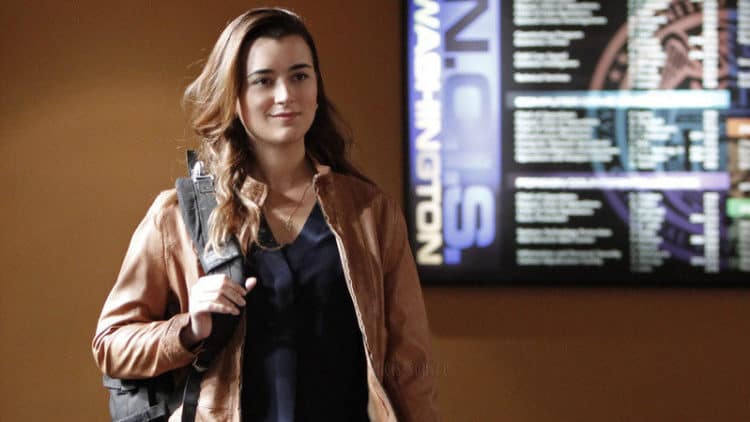 Recent events in the NCIS world have really shaken up fans everywhere. Last season's finale brought out one of the most beloved characters on the show, and it brought along tons of memories–good and bad–we had experienced throughout the years of watching NCIS devotedly. Cote de Pablo reprised her role as former NCIS agent Ziva David and showed up at the last minute to warn a troubled Gibbs about an impending danger. Interestingly enough, we all thought that Ziva has been long dead. Ziva supposedly died in season 13 during a mortar attack, but then there she appeared in the last moments of season 16.
There were a lot of questions, however, as Gibbs had been hallucinating for good portion of the last season. Was he hallucinating when he saw Ziva? That was the ultimate question. There were many fan theories claiming that Ziva was but another figment of Gibbs' imagination, much like how he had been seeing his ex-wife Diane's ghost in recent events. It turned out that Diane's presence was pivotal to saving the life of another NCIS character. There's still a great chance that Ziva is just another ghost. This could mean that her presence would be pivotal to saving another NCIS life–this time it might be Gibbs given that Ziva returned with a warning specifically for him.
There were also speculations as to how much we were actually going to see Ziva this coming season. Initially, there were ideas floating around that Ziva might not return in season 17 at all. Then we found out that Cote de Pablo was at least going to be around for the season 17 premiere. Her return would be imperative to continue the story that they started on during last season's finale. Now, we're finding out that Ziva is going to be in a total of 4 episodes in NCIS' next season. We will see Ziva as an important part of the first two episodes, and she's set to return as a guest in two episodes later on in the season. For now, there are no confirmations as to what the story about her return might be. We're still also unsure whether she's just a ghost or if she's actually alive.
There are still many fan theories going about what the future of NCIS might look like. We know from the last season that Gibbs has been having a lot of difficulties battling his inner demons. From what Ziva revealed to him, we know that he's got more problems to look forward to in the coming future. Some folks are even speculating that next season might be Gibbs' last. One theory suggests that Gibbs is getting too old to run the show. Many hardcore fans contest this idea because Gibbs is basically invincible to many of us. However, NCIS actor Mark Harmon is already 67 years old, and there have been news of his health deteriorating in the past. Whether any of this is true remains to be seen in the future. The same theory adds that with Gibbs leaving, it might be time for someone else to take the reins. Is it coincidence that Cote de Pablo is returning just when rumors of Mark Harmon stepping down are surfacing? Some think not.
However, not everyone wants to accept this theory to be the truth. Some people are just finished with Ziva's role. Although she still has many fans among us, many viewers believe that her storyline should've ended already. Some people also argue that today's NCIS cast is finally just finding their proper rhythm. With the loss of pivotal characters such as DiNozzo and Abby, things have been really rocky with the team. McGee, Bishop, Torres, Palmer, Hines, and the occasional Ducky are finally in sync with each other. People think that putting Ziva into the mix just wouldn't feel right.
Also, there are those who believe that putting Ziva into the team leadership role is just not right. If anyone should take the cake, it should be McGee. He's currently the senior agent in the team, and he's proven himself to be capable and worthy of the position. We haven't had Ziva in an active role for a few seasons now, and McGee has grown and matured over the course of that time. Given that McGee actor Sean Murray is stepson to NCIS producer Donald P. Bellisario, we're sure that they don't want nepotism to be rumored as reason for any casting decisions.
Not that it really matters. NCIS has been around for more than 15 years now. The show has had a couple of successful spinoffs, and it has survived many, many major changes in the past. NCIS is a powerhouse, and it continues to be the number one primetime drama for many years now. No matter what change may come its way, it's really unlikely that NCIS will lose excessive amounts of viewers–at least none out of the ordinary yearly drop. We can see the show evolving post Gibbs, and whether that involves Ziva or not is likely to be just fine.
Once we understand more why Ziva's come back, we'll get a better picture of what's in store for NCIS in the future. For now, all we know is that Cote de Pablo's role is going to be bigger than anyone anticipated. As big time Ziva and NCIS fans, we're looking forward to this update, and it's exciting to see how Ziva's story ties into today's NCIS. Who knows what else her return could bring back–DiNozzo, perhaps? Or maybe we might get a glimpse into how her life had been outside of NCIS. For now, we're waiting anxiously until the next season premieres its regular fall programming for season 17 on September 24.
Tell us what's wrong with this post? How could we improve it? :)
Let us improve this post!