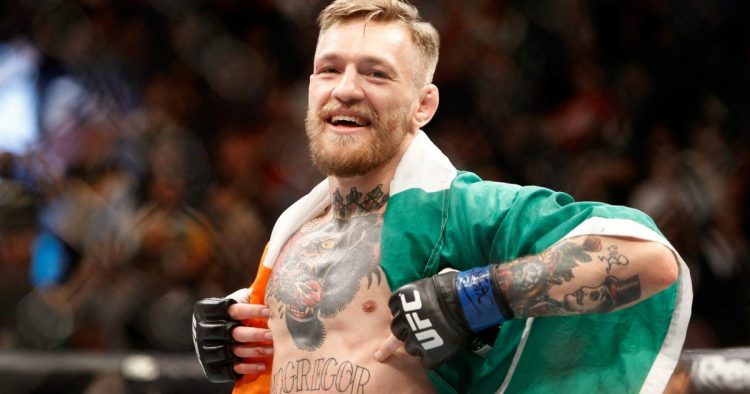 The immediate reaction of many people when hearing about how Road House is about to be remade: no one, NO ONE, can possibly replace Patrick Swayze, and no one can upstage Sam Houston either. But the thing about the movie that will be coming to Prime eventually is that it doesn't appear that this will be the case. Jake Gyllenhaal and Conor McGregor will be just two recognizable faces on the cast. Even the premise appears different enough to satisfy the rabid Swayze fans who don't want to see his legacy besmirched. It's fair to say that this won't be a problem since, from the actors to the location, this version of Road House sounds like it will be quite a bit different. It's easy to think that the overall premise might be similar, but if we hear a few of the same names, it's not hard to think that some folks are going to grumble just a little. But, hey, Road House was one of the most loved movies of all time for a while, and it still is, to be fair.
This is going to be McGregor's acting debut.
Even if he's been around for a few other TV spots, Conor has never set foot into a big movie scene. So it's fair to think that a lot of eyes are going to be on him to see if he's going to choke or if he's going to be able to flash that famous attitude and put on a great show. That's the hope, at least since Conor is the type of guy many people have a different opinion about, thanks to his antics inside and outside the ring. There's no doubt that he's a great fighter and has earned his accolades, but when it comes to acting, he's still unproven at this time, and it could be fun to see what he's going to bring to a party when all is said and done.
Jake Gyllenhaal has shown that he can portray a fighter.
Thanks to his work with Southpaw, Gyllenhaal has made it known that he's able to take on the role of a fighter in a rather convincing way, which is great since he'll be taking on the role of a retired MMA fighter who decides to get into bouncing. This will be a rather interesting shift from the original movie that this feature is taking its name from since, if anyone remembers, Dalton, played by Swayze, was more of a Zen-like individual who knew how to fight but didn't give up a lot about his past. This time around, it sounds as though Gyllenhaal's character will have at least some background and won't be a complete mystery. It's not yet known who McGregor will be portraying, but whether he's a villain or a protagonist, it should be interesting since he's not playing himself. It's entirely likely that he's going to be one of the strongest characters in the movie simply because putting him in as a throwaway doesn't sound like a bright idea, thanks to his star power and the fact that it would be fun to see him flaunting his skills in a movie.
One has to wonder how many similarities this movie will have.
The idea of a lone bouncer helping to clean up a dirty bar and get rid of the trash and criminal element still has enough traction to work, but it will definitely help if the villains end up being a little more fleshed out this time around. If there's one gripe about Road House, and there are a few, to be specific, the villains were exciting, but they didn't feel complete. However, this was the 80s when the original movie was created, so it's not hard to think that people weren't looking for as much substance when the movie's action and look were considered good enough. Patrick Swayze's bare-chested and even close to fully naked at one point was enough to draw in a lot of people, women especially since he was one of the top stars of the time. But one has to wonder how many people McGregor will be able to pull in just because of his reputation.
It's fair to wonder if this will be the start of Conor's movie career or a quick one-off.
It's happened before when up-and-coming stars that people thought would be popular suddenly fizzled when they debuted. There are a lot of factors that go into this type of appearance, but one that has to be noted is whether or not they can act. If Conor can hang with Gyllenhaal and the rest, it could be the start of a great career. If not, he's still bound to be known by many people for a while to come.