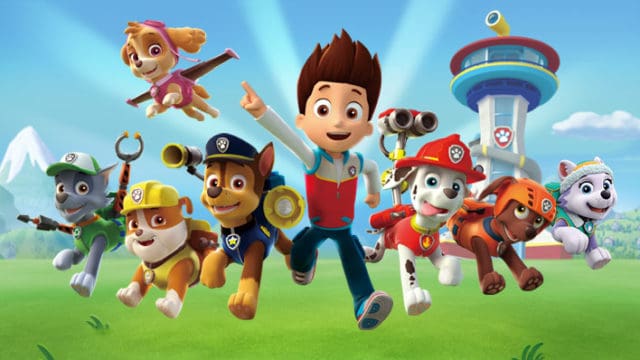 Taking on the project of casting a live action Paw Patrol movie is only for the exceedingly brave. Anyone who loves the Nickelodeon show enough to try it in the first place completely understands the risk. It's huge! That's an understatement. It's riskier than that. It could ruin imaginations, too.
Recreating the adorable animated puppies is problematic. The very youngest children may wonder where the REAL Paw Patrol is. Their parents may have to explain away the differences. After all, real puppies don't look much like the Paw Patrol characters. Animation is lively, but not alive.
Here's one creative version of The Paw Patrol that recently came to the theater stage. The musical show has had mixed audience reviews. In this video, Ryder is on stage introducing the Paw Patrol. They had a very innovative solution for "bringing the patrol to life". It's obviously designed for the very youngest Paw Patrol fans:
Now, let's say that we're going to put aside concerns about believability. Let's say that Paw Patrol will be portrayed by real dogs and real people. The perfect dog actors will most likely be made up of dog talents sourced from around the world and promoted by agents. Some purchases of dogs could be made to match the specific breeds in the existing series. For idea starters, here are some current dog talents:
Marshall
He's a clumsy and excitable, all-action Dalmatian with a firehouse and fire truck.
Eureka Fire Rescue in Tarentum just got a new Dalmatian puppy. She's not a boy, but she's clumsy and excitable, just like Marshall. Ashes is the new firedog, and ready for all sorts of challenges. Maybe the firemen would enjoy lending her to Paw Patrol just long enough to create the live action film:
Stories about Ashes are already appearing in PAW Patrol FANDOM. She's one popular Dalmatian already:
Skye
She's a girly Cockapoo who uses the wings in her pup pack, or her helicopter to fly. Why not hire Mia Moore, the cockapoo who floored the judges on America's Got Talent 2017? She's not only adorable, but she's smart, too:
Tracker
He's a new Paw Patrol member. He's a Chihuahua with excellent hearing. He has an off-road vehicle for locating trouble deep in the jungle. Here's one option for a Chihuahua with character…just look at cute little Sparky Crawford:
Or, adorable little Mike:
Chase
He's a German Shepherd with a police truck and megaphone, and he's allergic to cats and feathers.
Here's one classic German Shepherd choice. Check out Bruce in his photo gallery wearing his field backpack:
Rocky
He's a mixed-breed dog who recycles everything with his pup pack filled with tools, ideas, and resources.
Meet the mutt, Rocky. He's got gray fur and mismatched eyes, and he's already been in several films. He could fill the role of Rocky:
Rubble
He has a construction digger, and he's an English bulldog who knows all about skateboards and snowboards. Already with movie and TV credits to his name, Archie also has some skateboard experience. Take a look at his gallery:
Zuma
He's a chocolate Labrador who lives in his boathouse and uses his hovercraft. He loves surfing, water, and laughing. Montana is a chocolate Lab with an adorable face, who just might play Zuma very well:
Everest
She's a Husky who loves belly tobogganing and lives with Jake on his snowy mountain. Here's a viral video with artist Aaron Dissell and his husky puppy… a great option for Everest:
Ryder
He's an enterprising, athletic 10-year-old boy with dark brown hair. Since any young actor could play the part, why not audition several of IMDb's 2017 Up and Coming Child Actors? Here are a few great young faces:
Emjay Anthony
Owen Vaccaro
August Maturo
Riley Lio
Tyree Brown
Additional Notes
The entire cast will need plenty of gadgets, their own pup packs and tools, a fantastic array of transportation vehicles and props. They'll each need their own hats and clothing to match their specialties. Ryder will need his own hi-tech, transformer jet ski, too. These rescue pups have plenty of everyday emergencies to solve!
The dogs will need voice over actors. Drawing on the most recent series cast makes sense. Populating the movie with the voice actors portraying their individual characters is an option for the remaining cast members.
Kim Duran wrote 21 episodes for the series and could come up with a great new storyline for the movie.
For the all-important director role? Brian Levant. He directed Beethoven and The Flintstones. He has experience working with dogs and crazy live action cartoon sets, props and people. He'd be perfect…if he's available.
Tell us what's wrong with this post? How could we improve it? :)
Let us improve this post!