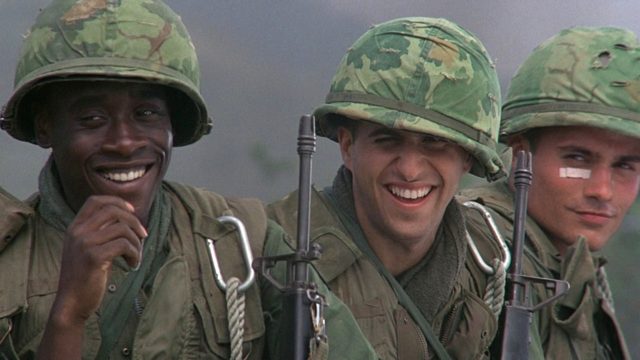 Hamburger Hill is one film among many that depicts the Vietnam War and the horrors that went on during its many engagements. When new recruits are brought in to replace those either lost in battle or rotated out they receive orders to take Hill 937, a key staging point in which the enemy has entrenched themselves and refuses to give up. The losses on both sides become increasingly heavier throughout the film as both American and Vietnamese soldiers seek to eradicate one another in order to control the hill. There are no punches pulled in this film when it comes to losses, as the filming of this war seems to demand at least some semblance of the truth and the horror that came out of it.
Those that went through it deserve that much at the very least.
10. An electrician died in front of the cast and crew.
Ironically, and tragically, he was electrocuted. Production stopped for a bit and there was a memorial for the man.
9. The 101st Airborne Division had a reputation among their allies and enemies.
They were known as the Screaming Eagles, while the enemy knew them as the "Chicken Men" and still feared them for their reputation.
8. There were pictures taken from the real fight and placed in the movie.
It lent some authenticity and realism to the movie that a lot of people responded to.
7. Vietnam veterans appreciated the film for its honesty.
It can be taken as a measure of respect to see something that you might have been through in real life portrayed in a very realistic way, no matter how brutal.
6. This film was shot in the Philippines.
Much like Platoon it was shot in a location that was amenable to the needs of the film. Many of the actors had never been out of the United States.
5. The actors were given the names of those men the writer had fought beside.
This just added to the realism of it and gave a little more depth to the movie that might have made it a little more amenable to veterans who watched.
4. There was a lot of contempt at that time for soldiers that didn't fight.
It wasn't a universal thing but considering how hard the men in Vietnam were fighting just to stay alive, photographers and others that weren't fighting alongside them were often viewed with something bordering on disgust. There were photographers that would pick up their guns as well however.
3. There were Vietnamese advisers on hand to make sure that the Vietnamese soldiers were given the proper look.
This was just as important as it was necessary to get the look right not just for the movie but to respect the Vietnamese as well.
2. Several of the actors went on to star in other films and in TV.
Don Cheadle, Courtney B. Vance, Dylan McDermott, and several others would use this as a springboard to their careers.
1. It kind of got eclipsed by Full Metal Jacket.
It came out the month after Full Metal Jacket was released and therefore didn't get noticed as much.
Those that did notice it however did appreciate how honest it was.
Tell us what's wrong with this post? How could we improve it? :)
Let us improve this post!