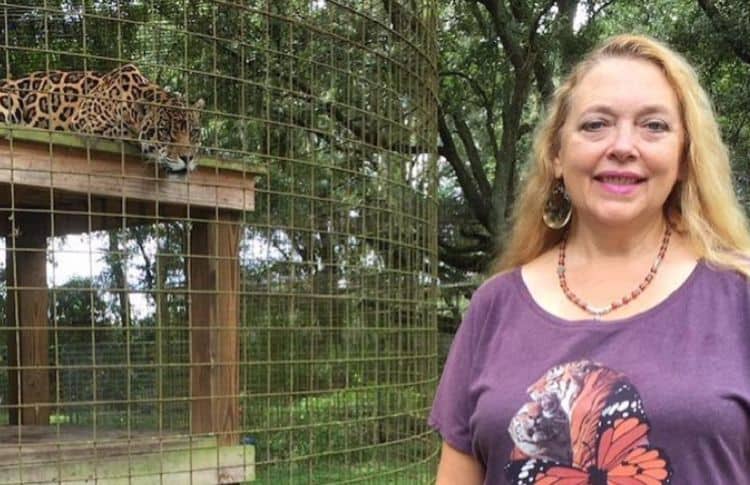 Carole Baskin is an animal rights activist who is best known as the owner of the Tampa, Florida non-profit Big Cat Rescue. She has recently made the news because of a resurgence of interest in the cold case that is associated with the disappearance of her first husband Don Lewis. Here are 10 things that you might not know about Carole Baskin.
1. Her Birthday
Carole was born in Bexlar County, Texas on June 6, 1961. She will turn 59 in the summer of 2020. She has gone by three other names which include Carole Stairs Jones, Carole Murdock, and Carole Lewis, so don't be confused if you hear any of these names associated with her interesting life story. Her parents were living on the Lackland Air Force Base at the time of her birth.
2. Her love of animals began early in life
Carole is best known for her love for cats, and big ones in particular. When she was just 9 years old, she first mentioned her interest in saving cats. Although she could have gone into veterinary medicine to help, she realized that vets sometimes had to euthanize pets and this wasn't something that she ever wanted to be required to do. Instead of going into the medical aspect of helping, she became an activist with a focus on rescuing big cats.
3. She was homeless in her early years
Carole didn't finish high school When she was just 15 years old, she took up with an employee at a local roller rink, dropped out of school and left home. She did a lot of hitchhiking between Bangor, Maine, and Florida and she admitted that there were many times that she slept under parked cars. She was eventually able to upgrade her sleeping arrangements when she purchased a Datsun truck. She and her pet cat slept in the back of it. At least they were off the ground.
4. She married her boss
Carole Baskin finally moved back to Florida where she got a job at a department store. She was just seventeen when she became romantically involved with her boss Michael Murdock. It wasn't long before she moved in with him. The couple got married and then they had a daughter. It seemed like she had settled into domestic life when she started her own family. She and Michael could no longer make the relationship work and the couple divorced.
5. She was creative in making money
Baskin got into breeding show cats to earn money to support her big cat rescue efforts. She was a resourceful young woman who also established her own lawn business and she used llamas to do so. This was a very creative period in her life and it shows how serious she was about her passion for saving big cats. When she raised enough money through her other endeavors, Carole began rescuing bobcats.
6. Baskin had an affair when she was married to Murdock
Carole Baskin admitted that she only married Michael Murdock to appease her parents and that she never loved him. She had a child with him in 1980 but that was not enough to keep her interested in staying. She shared that Michael was physically abusive towards the end of the relationship. It was at that time that she met Don Lewis. He was also married so the two began a romantic affair. Both Baskin and Lewis divorced the people that they were married to and they tied the knot in 1991.
7. She was accused of killing Don Lewis
Baskin and Lewis had some big issues in their relationship. Don had a sex addiction and he would fly to Costa Rica on a monthly schedule around the time of Carole's menstrual cycle. He filed a restraining order against Carole in July of 1997 because he alleged that she would take his personal property while he was gone. When he disappeared a month later, the County Sheriff's Office in Hillsborough County conducted an investigation but they found nothing to suggest that there was foul play, he simply disappeared. In 2002, he was declared legally dead. When Baskin declined a polygraph test it was assumed that it was because she had something to do with his disappearance. The case remains open to this day, but there is no evidence to suggest that Don Lewis is dead.
8. She founded Big Cat Rescue in 1992
Carole met and married her current husband Howard Baskin. Together, the couple has established the Big Cat Rescue organization. She is the chief executive officer of the rescue with responsibility for managing 20 staff members and more than 100 volunteers and contractors. Her involvement in the operation has drawn a lot of media attention. She has been featured on the U.S. News & World Report, Discovery, Animal Planet, CNN, People Magazine, Netflix, Sports Illustrated, The Today Show, and more.
9. She's made some enemies
Carole's activism to save big cats has made her an unpopular person among those who make their living from the sale of cats. She is outspoken and she has ended the career of many handlers who bred big cats to sell the cubs on the market with her successful lobbying to enact protective legal measures for the big cats. Baskin has had a lot of death threats and Joe Exotic who threatened to kill her is serving 22 years in jail for a two-count conviction of murder for hire. She has had a positive impact but it has come at a great personal price.
10. She has millions of supporters
Even though Carole Baskin has a lot of enemies in the world today, she also has a lot of supporters. She remains a part of the Big Cat Coalition and has worked with multiple animal rescue and support agencies throughout the world. People who are active in supporting the preservation of big cats rally to her cause and there are over 18 million supporters involved in the various organizations.