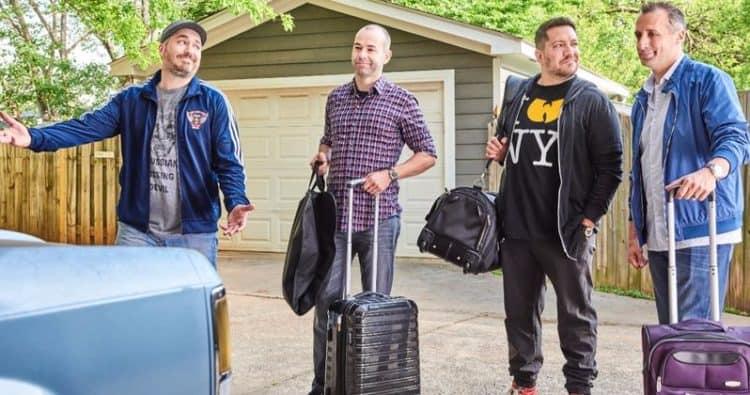 When Impractical Jokers debuted more than a decade ago, no one could've known how popular the series would become. However, over the years it has become a fixture on TruTV, and the four friends who created the show became stars and infamous pranksters. As they say, though, nothing lasts forever and Impractical Jokers is going through a transition that some fear the show won't survive. Joey Gatto has recently announced that he will be leaving the series and this news came as a shock to many fans. There's no doubt that the show won't be the same without Joey, but the question is whether it will be able to keep going. Let's talk about what the future holds for Impractical Jokers without Joey Gatto.
Why Did Joey Leave The Show?
Any time a person chooses to leave a show that's going well, people automatically assume that something bad went down behind the scenes. That doesn't appear to be the case this time, however. Joey's reason for leaving is one that a lot of people can relate to. Apparently, he needs to take time to focus on his family. In an Instagram post on December 31, 2020, Joey wrote,
"Sorry in advance for the long and more-serious-than-usual note below, I just wanted to let you all know that I will no longer be involved with Impractical Jokers. Alongside my friends, I've devoted a decade of my life to building this franchise and couldn't be prouder of what has been accomplished. However, due to some issues in my personal life, I have to step away. Bessy and I have decided to amicably part ways, so now I need to focus on being the best father and co-parent to our two incredible kids. Outside of my family, my relationships with Murr, Q and Sal have been the most important in my life. I know they will continue to make the world laugh…As I work through the challenges I am facing, I hope to and am excited to create new ways to entertain you."
It's clear that saying goodbye to the show has been a difficult decision for him, but his friends/castmates are completely supportive of his decision. While Joey's exit seems sudden to all of us, there's a good chance that those close to him (and the show) have known for a while that he was planning on leaving. Joey also expressed how thankful he is to everyone who supported the show over the years. Many fans responded to Joey's post with kind words and well wishes. After all, if you've been watching the show since it started, you probably feel like you know Joey and the rest of the guys pretty well. At the same time, though, lots of people were disappointed by the news and felt that it was an indicator of how much 2022 is going to suck.
What's Next for Impractical Jokers?
It's no secret that it's hard for any kind of show to survive without one of its main cast members. Still, the Impractical Jokers don't plan on slowing down any time soon. On Instagram, Brian Quinn shared that while the group never imagined doing the show without Joey, they plan to keep going. As of now, the show is not canceled. He revealed that the Jokers are getting back to work in January of 2022 and they are looking forward to bringing more laughs. He disabled the comments on the post so that he could avoid the inevitable feedback from fans and followers. At the moment, there is no word on when the 10th season will premiere. In reality, though, only time will tell if the show is able to thrive in Joey's absence. On the bright side, though, there are lots of people rooting for the show's continued success and fans are still eager to support. At the same time, however, several fans have also shared that they don't think the show is going to be worth watching without Joey. If there is a silver lining to this situation it's this: with the way that Joey left the show, there's always a chance that he could return once things in his personal life start to smooth out. That said, it'll be interesting to see if the guys attempt to replace Joey. In my opinion, the show has a better chance at success if they continue on as a trio instead of trying to bring a new person in Joey's place. For now, we're all going to have to sit tight and see what happens when the show returns. Until then, we can still enjoy all of the old episodes that Joey was a part of.
Tell us what's wrong with this post? How could we improve it? :)
Let us improve this post!