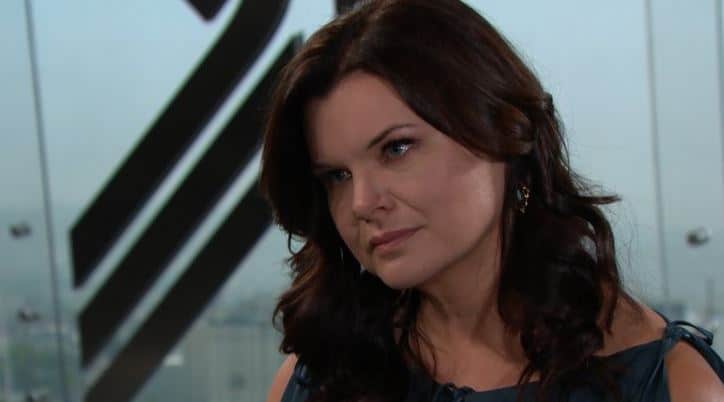 The Bold and the Beautiful fans know that Steffy saw something ugly between her stepmom and Bill. She witnessed them have a moment that was all but intimate. It was a very warm, tender moment for them, and Steffy saw the entire thing. We know she's been very upset about what happened with everyone in her life, and she was already upset with her stepmom for the things that are going on in the marriage of her to Steffy's father. But now she's sure that her stepmom is having an affair with Bill — or at least that she has feelings for her ex-husband. She's not going to have much to say about this, but she will wonder if she should share what she saw with everyone. Will she share it with Brooke or with her father? Or will she share it with her stepsister and allow Hope in on all of this.
Brooke, on the other hand, cannot keep her mouth shut about what her husband did to make this custody situation go his way. And she's going to share it with her sister. She's not really someone her sister loves at the moment considering all she did to make sure that Bill got the child, but she's going to share with her sister that she did not really get her son because the judge thought she was the better parent. She only did it because she wanted to be there for her sister when she learned the bad news in person. She loves this power she has over her, and she's not looking to get rid of that anytime in the near future. She's just not a nice person anymore, and we cannot handle that at this point. Katie, on the other hand, is shocked.
What's Happening on the Bold and the Beautiful
https://twitter.com/BandB_CBS/status/1050038613952495616?ref_src=twsrc%5Etfw
We have to be honest and mention we didn't even know there was such thing as a National Wedding Cake Day, but we aren't all that mad at it. We like it. We are willing to work with it. We want to know that it's a day we can get behind and really focus on enjoying as people. And so here we are — enjoying all these gorgeous cakes from afar.
What's Next on the Bold and the Beautiful
https://twitter.com/BandB_CBS/status/1048311280220626944?ref_src=twsrc%5Etfw
The week is going to end with a serious bang, and we don't know if anyone around here can really handle all it has to bring. The fact that Brooke kissed Bill and Steffy saw the entire thing is going to shock Ridge when his daughter tells him. He will not believe what he is hearing, but that doesn't mean much of anything to anyone at this point. He has a situation to control, and that situation is his marriage. Things just aren't looking good right now, and we don't know what to expect for him. He wants to save his marriage, but his wife is putting him in serious danger by sharing his secret about blackmailing the judge to everyone she can find.
And Brooke will also defend herself, and she will make her daughter defend her, too. When Steffy tells Hope what she saw happen between Bill and Brooke, Hope will defend her mother. We don't know if that means she will say her mother would never, did never, could never, or if she will find some sort of plausible explanation for the entire thing. She might just look for a way to make it seem that her mother might have done this for a reason that has nothing to do with cheating on her husband, and things will not look good for either of them. And don't forget, too, that Wyatt has been offered a new job and his mother is not happy about it. She will show some surprising reactions to his new position.
Stay tuned for more The Bold and the Beautiful and be sure to check out TVOvermind daily for the latest The Bold and the Beautiful spoilers, news, and updates.