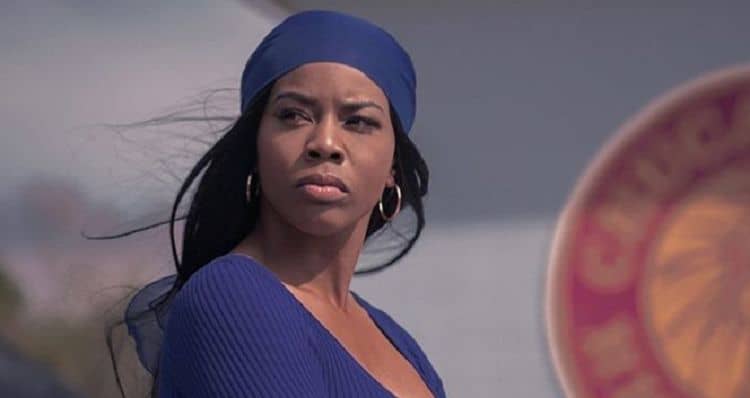 Brandee Evans has always dreamed of acting, but her path to actually making it a career has been a bit of a winding trail. However, through it all, Brandee's hard work and perseverance have proven to be priceless qualities. Now, a little less than a decade after making her on screen acting debut, Brandee's hard work has paid off in a major way. She has a starring role in the new Starz series, P-Valley, which will tell the story of a group of strippers in the Mississippi Delta. Brandee's journey is proof that hard work really can pay off. Keep reading for 10 things you didn't know about Brandee Evans.
1. She's Toured The World As A Dancer
Acting isn't the first time Brandee has been in the spotlight. In fact, the spotlight is something she's probably pretty used to at this point. Brandee is a professional dancer who has choreographed routines for several celebrities and even accompanied them on tour to perform. She was the opening act for Lil Wayne and worked with other well-known artist such as Katy Perry, Diddy, Kelly Rowland, and more.
2. She Used To Be A High School English Teacher
You have to be willing to risk it all in order to pursue your dreams, and this is something Brandee fully understands. Prior to getting into acting she as a high school English teacher when she quit her job as a teacher, she actually did so while riding on Lil Wayne's tour bus.
3. She's Very Close To Her Mother
Family is Brandee's top priority and she's willing to go the extra mile to make sure her loved ones are comfortable. She has an especially close relationship with her mother who suffers from multiple sclerosis and Alzheimer's. Her mother was initially placed into a nursing home, but Brandy fought to have her return home. Brandee currently takes care of her mother and appreciates every moment they spend together.
4. She Started Her Own Series Of Dance Classes
Brandee doesn't just love dancing and choreographing tour, she also enjoys teaching 'regular' people how to dance. Through dance, people can burn calories and learn how to feel more confident about their bodies. Brandee started a series of dance classes called Hip Hop in Heels which encourages people to get in touch with their sexy side through dance. The Hip Hop in Heels brand has now spread all over the country.
5. She's A Delta
Brandee is a very proud member of Delta Sigma Sorority, Inc. The Deltas are the second oldest sorority in the divine nine and it has many well-known members including Nikki Giovanni and Melissa Harris Perry. Brandee pledged at the University of Memphis.
6. She Loves To Exercise
Staying active is something that is very important to Brandee. Not only does regular exercise keep your body looking good, but it can also be necessary for your mental health. Brandee has made it a point to include exercise into her routine no matter how busy she is.
7. She Went To Several Strip Clubs To Prepare For P-Valley
Although Brandee and Mercedes, her character on the show, have a lot of things in common, one thing they don't have in common is working at a strip club. In order to prepare for the role, Brandee made it a point to visit several trips clubs to try to get an idea of the atmosphere.
8. She's From Tennessee
Brandee was born in the Memphis area, however, she is currently based in Los Angeles. Like many people in the entertainment industry, Brandee realized that being in a city like L.A. would make it easier for her to have access to opportunities and connect to more people in the business.
9. She Suffered A Stillbirth
A few years ago, things weren't going too well for Brandee. She was going through one of those periods where everything seems to hit you at once. In a short span of time, she was fired from her dance coaching job, her husband was deployed, and she had a stillbirth when she was 39 weeks pregnant. Although some people may have let these things discourage them, Brandee realized the importance of chasing your dreams.
10. She Asked For Her Dad's Approval Before Taking The Role On P-Valley
No matter how old we get, there's always a tiny part of us that wants approval from our parents. When Brandee was offered the role in P-Valley, she called her father to ask what he thought about it. She was initially nervous because her father is a conservative person, and she had every reason to believe that her playing a stripper wouldn't sit well with him. However, her dad gave her his blessing to take the job.
Tell us what's wrong with this post? How could we improve it? :)
Let us improve this post!