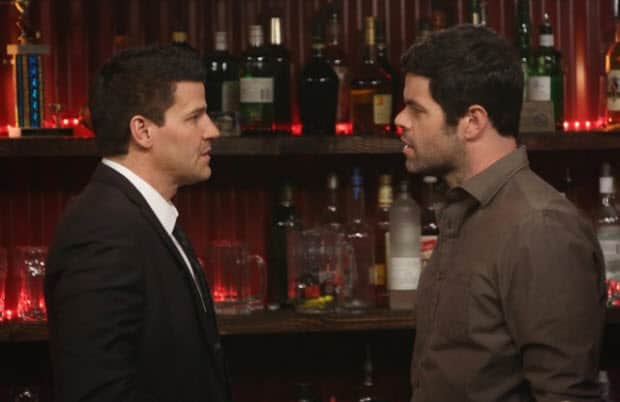 In recent years when a television show was sent to air on Friday nights, it usually meant the show was destined to be cancelled. With many households having a DVR, a great TV show can air any day of the week and still earn respectable ratings. Bones is one of those shows. Even though I am not home on Friday nights to watch my favorite crime drama, I can still catch it on a lazy Saturday because of my trusty DVR.
The latest episode entitled, "Big in the Philippines," was directed by the talented David Boreanaz. And let me tell you, it was a very powerful hour. The remains of a country music singer Colin Hayes were discovered in a community garden covered in coyote vomit. Once at the lab, the team determines the killer broke Hayes legs in order to toss him in the shallow grave. This was done to dump the body quickly. Cam (Tamara Taylor) is the first one to figure out the body is male when she unearths his genitals while sifting through the remains. Bones always delivers the gore in a humorous fashion and this case was not any different.
Wendell (Michael Grant Terry) is the squintern of the week. He has recently suffered an arm injury during a hockey game. It should not be a surprise to any Boreanaz fan that the theme of hockey was included in an episode he directed. While Bones (Emily Deschanel) and Booth (Boreanaz) are discussing the case over lunch, he shows her a video he took of the hockey mishap. Bones asserts the accident is more critical than Wendell has lead on to. She obtains his x-rays and proves Wendell has a rare form of bone cancer.
Angela (Michaela Conlin) deciphers a clue that leads the investigation to Lebemi's bar. This is most likely the last place Colin Hayes was before he died. Booth questions the staff, which paint Hayes as a man with no enemies and also a man who had yet to make his big break in the country music scene. At this time, none of the employees are a suspect. However, that doesn't mean they should have been entirely ruled out. After all, on an hour long crime show, viewers only get to pick from maybe 3 suspects before the crime is eventually solved.
Booth and Sweets (John Francis Daley) venture out to Hayes' apartment to learn more about him. The landlord was unable to provide much information (perhaps another suspect)? What the two do find is a tore up check from a local record company. The record producer, Harriet, compared him to Blake Shelton, but had to drop him after his first record bombed. Harriet is not thought of very fondly by the singers she has on her label.
Back at the lab, Angela and Sweets begin listening to Hayes' music to pick up on how he was feeling when he wrote his songs. The first album was upbeat, while the second one had more of a somber feeling. Angela inspects the paper of lyrics Sweets located at the apartment. She finds that there was additional writing from previous pages and alerts Sweets.
When Booth returns to the apartment, he chases and shoots a man that was in Hayes' apartment. The man wanted a piece of memorabilia for a Colin Hayes museum in the Philippines. Apparently, his music was very popular in the country. Angela finds a video online that showed Colin at his apartment, which means that anyone that wanted to kill him would know where to find him. If Colin was popular in the Philippines, he should have been paid royalties from the record company, which he was not. In Harriet's past she broke a musicians fingers when they switched labels. Booth blames Harriet for doing the same thing to Colin, which means she probably is not the one who killed Colin with 20 minutes of the episode still left.
Wendell realizes that Colin was stabbed in his heart. The blade was left inside. Colin was then smacked in the face with a shovel. The shovel was then jabbed into his body so the murderer could retrieve the blade. Another clue brings the story back to the landlord. She and Colin had went out on a date and he began to brag about how famous he was. She was promised a trip, but Colin tells her the tickets were lost. She thinks he is lying and becomes upset. A motive for murder you would think, but the tickets were actually stolen by the bartender that was questioned in the first place. He had been sleeping with the landlord and was jealous Colin was interested in her. Case closed!
Wendell's cancer storyline will prove to be very emotional as the weeks progress. The treatments he must go through will be very tough on his body and the survival rate is still very minimal. Wendell was all for not going through with the treatment and die happy after drinking and being with beautiful women. Booth comforts his friend and says they will all be there to help him through it. Bones is at its best when there is humor, but this storyline is showing Bones can also be on the top of its game during the not so humorous times too.
[Photo via Patrick McElhenney/FOX]