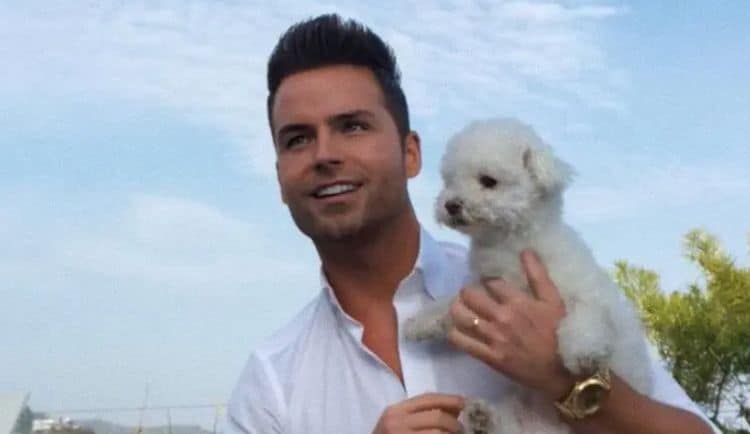 Bobby Boyd is an LA guy with a real estate business and a big reputation. If you haven't heard of him, it's probably because you know his husband a little more. He's married to "Million Dollar Listing Los Angeles" star Josh Flagg, but Bobby Boyd is no slouch. He's created quite a name for himself, and he is not afraid of a little hard work, some dedication, and living his very best life as often as possible. Want to know more about him? Here you go.
1. He's Been A Model
For many years, he worked as a model. You might recognize him for his work with designers such as Versace and True Religion. He also worked for Calvin Klein – but let's be honest. Does anyone really find that shocking? He's the epitome of a Calvin Klein model, is he not? He's so pretty!
2. He's an Agent
In addition to his successful modeling career, he's also become a talented real estate agent in LA. He does the work, goes above and beyond, and he's got the talent. He works closely with his husband, and he does all it takes to make sure he is constantly growing and evolving in the business. We like that about him.
3. He's A Big Fan of His Husband
What's better than being married to someone you admire, love, and respect more than anything? Well, nothing, my friends. This is a man who finds his husband to be the light of his life. He finds him to be delightful and talented and kind and handsome and all the good things that a person should be when they love another. We like that he's so open about this, and we hope that he doesn't change his desire to be vocal about the lovely things in his life.
4. He's from San Francisco
A small community near it, to be precise. He grew up there, he had a lot of friends there, and he let his life there influence him to be better and more talented than he ever imagined. He didn't grow up in a wealthy neighborhood, but he had friends who did. They were able to show him the kind of life that he wanted to lead, and that's helped him become the man he is today.
5. His Childhood was Dark
He doesn't elaborate on this, and that's his prerogative. It's not our business what his childhood was like unless and until he decides to make it our business, but he does mention that there was some drug usage in his home with his parents. He makes it very clear that he was always provided for and taken care of. His needs were met and he was cared for, but he does state that his childhood was dark and far from ideal.
6. He Learned to Love Fashion Through Daytime Television
Well, naturally, right? He was a child who watched daytime soaps with his mother, and he could not help but notice how well-dressed and beautiful the stars were. He knew then and there that this was how he wanted to present himself to the world, and he made that happen. His love of fashion can be attributed to some of daytime's biggest stars.
7. He Seems Close to His Mother
He might have mentioned his childhood was dark and a little bit unfortunate in some aspects, but he speaks of his mother like he is very close to her. He does mention that she worked so hard to make sure that he was well-dressed, that he was taken care of, that he was given what he needed and wanted, and that he could realize his dreams.
8. He Began Modeling to Pay for College
What is really impressive about this, though, is that he did not go to college and realize he needed to find a way to pay for it. He was only 14 when he realized he'd be going to college in four short years, and he wanted to go to a good one, get a good education, and make a lot of money. To do that, though, he needed to earn the money to pay for it, so he began modeling. That kind of work ethic in a child that age is something to admire.
9. He's Charitable
There is a lot to say about this man, but we have to make sure you know he's a man who likes to do good in the world. He likes the perks of being married to his famous husband, but not for the traditional means. He likes that he is able to do things that are important to him, such as being able to have a voice in a way that might not be possible if he wasn't famous. For example, he's a big advocate for the Project Angel Food organization in LA.
10. His Husband Calls Him Honest
If you ask your spouse what it is that they love most about you, hearing that your integrity and honesty are at the top of that list is not a bad way to start. When your spouse admires the inside this much, it's a good, good thing. We love this, and we love that they have this sweet relationship.