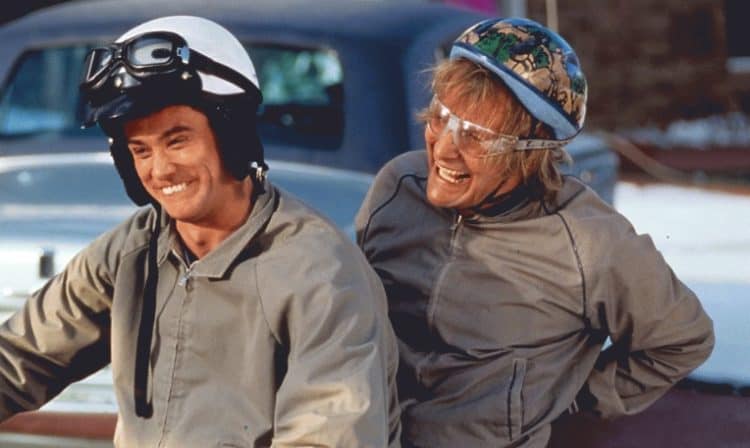 With every comedy there comes a chance for a little sadness since the two are pretty much polar opposites. Sad songs in movies are nothing new since quite honestly there aren't really that many movies that are simply funny all the way through without having at least one or two dramatic moments in the middle. In truth this kind of breaks things up and gives the movie and the audience a chance to breathe in between the laughter. If not for these moments then comedies would still be amusing but there might not be as much of a story to them. In order to even it out and keep the movie flowing in the right direction it's necessary to put in a dramatic or a sad moment every now and again, and a sad song can definitely bring down the mood a tad. In some cases it's warranted as well since the use of the song is simply to good to pass it up.
Here are a few songs that, when paired with movies,turned out to enhance the moment.
10. Night at the Roxbury -REM, "Everybody Hurts"
When Steve and Doug go their separate ways it was kind of expected to hear something sad come up as their friendship kind of depended on them getting along as siblings first, as is normal. But as as silly as this movie was, and it was, very silly, so silly, it was still amusing in a way since it was one of many in which Will Ferrell got to go over the top and show what he was capable of accomplishing. Chris Kattan however didn't do a whole lot after this film, at least not a lot that got noticed.
9. Dumb and Dumber – Crash Test Dummies, "Mmm Mmm Mmm Mmm"
After all that Harry put up with from Lloyd it's funny to think that a cross-country road trip in the wrong direction was the tipping point. You would have thought that losing all their money to a nice old lady on a motorized cart would have been bad enough since they both just lost their jobs and had limited funds. But then again it is pretty bad when you're supposed to be headed to Aspen and realize you're staring at miles upon miles of flat land instead of the Rockies.
8. The Hangover – Phil Collins, "In the Air Tonight"
It's not everyone in this world that can take a punch from Mike Tyson and live to tell about it, even if he is pulling his punch. But one thing was certain, Alan certainly wasn't feeling too chipper after being knocked out by the former champ. You can just imagine the headache this would have caused.
7. The 40-Year Old Virgin – Lionel Ritchie, "Hello"
Poor Andy. The guy has enough issues since his house looks like he bought out a vintage toy shop, but he has absolutely no idea what it means to have sexual relations with a woman. He might have watched in on TV a time or two but when it comes to the real thing and getting his freak on he had a lot to learn.
6. Old School – Kansas, "Dust in the Wind"
"You're my boy Blue!" The cry of the rather dim-witted Frank "The Tank" was one that many people have called out over the years since Blue was in fact pretty awesome despite not having a lot of speaking lines in the movie. This funeral scene was rather silly but it was still an important part of the film since it served as a bridge between one point and another.
5. Big Daddy- Sheryl Crow, "Sweet Child of Mine"
Kids have a way of getting to you no matter how set in your ways you are. They might be rowdy, rambunctious, and even disrupt your life in an untold number of ways, but you can't help but wnat to take care of them and make certain that they're taken care of the more you get to know them.
4. There's Something About Mary – Joe Jackson, "Is She Really Going Out with Him"
Can you imagine what it would be like to see the guy you sent out to search for your long lost love simply take over and start dating her? Not a lot of guys would be as reserved as Ted and would likely go in swinging while trying to plead their case. Of course in this movie that was just the tip of the messed up iceberg.
3. Deadpool – George Michael, "Careless Whisper"
Deadpool qualifies as an action movie and a comedy largely because it was pretty hilarious. Plus the soundtrack was just kind of unexpected since with an action movie like this you'd almost think to hear more rap, rock, and possibly metal. The Merc with a Mouth definitely has different tastes though.
2. Anchorman: The Legend of Ron Burgundy – Hall & Oates, "She's Gone"
There was something about the Anchorman movies that people loved but it remains to be seen what. That being said those that did love the movie were somewhat divided when the second one came out since while it was bigger and more involved it was also way more over the top.
1. Meet the Parents – Randy Newman, "Poor Me"
Meeting the parents of your soon to be bride was never so funny as it was in this film but you can just imagine the stress that Gaylord had to go through in order to get along with Jack. Of course judging by the next two movies to come along it probably would have been a lifelong struggle.
Sad songs have their places in comedies too.