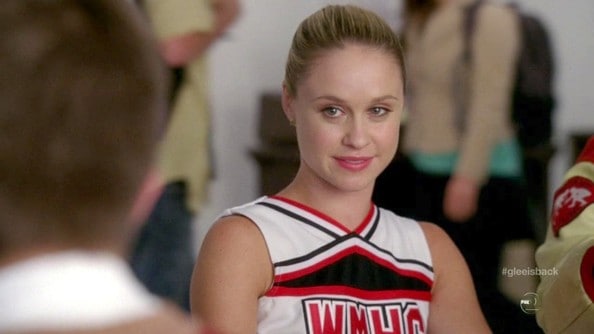 Kids can be and sometimes are unbearably cruel to their peers, as Becca Tobin likely knows very well. But one of the best way to get revenge, in a manner that's NOT harmful to anyone else, is to persevere and go on to do something great. That whole idea of perseverance isn't easy by any means, but it can sometimes be considered a huge justification of one's goals, attitudes, and even their chosen lifestyle when they make something of themselves and prove their earlier detractors wrong. Tobin has certainly managed to do that as she's created a career that she can be proud of and can hold as evidence that she is worth quite a bit and can move past anything that might have made growing up uncomfortable. After all, giving power to those that humiliate you is all too easy, but showing them that they have none is difficult, and very worth it.
Here are a few things you might not have known about her.
10. She was into cheerleading and dance when she was younger.
It's kind of hard to imagine at times but cheerleaders do get bullied and harassed quite often depending on the school, the situation, and whatever else people choose to focus on. In truth cheerleaders are sometimes some of the most physically-fit individuals in a school, but they're just as human as anyone else in the emotions department.
9. Glee was her first big TV appearance.
There were times when this show seemed so horribly stereotypical that it was hard to watch, but in truth it was a lot more than that and managed to touch a lot of people on a lot of different levels.
8. She hosts a podcast.
It's interesting to see just which direction people go with their careers and how they choose to diversify at times. Podcasts are after all something that many people took to once they came out and have been kind of popular for a while.
7. Her career started in 2005.
It's obvious she's seen a few things in her career but it would also seem that her career is at this time poised to make a serious run forward if she really wants it to since those that came in just after the turn of the century should be gearing up by now to really start taking on more responsibility when it comes to TV and films.
6. She was a victim of bullying in her younger years.
Bullying is, well let's just say it, it's cowardice on a level that a lot of times is used to hide the pain and possible inadequacy of the person doing the bullying. It's used to make another person feel as the bully does, small and insignificant. This is hard to realize when you're being bullied, but those that are a little more experienced and not as easily swayed tend to be less affected. Unfortunately due to bullying Becca didn't even make her graduation walk from high school. To this date however she's had a great career and should hopefully be able to look back and rightfully claim that the bullying has no more power over her.
5. She's 32 years old.
She doesn't really look her age when she's all dressed and done up, but honestly that's the wonder of makeup and staying fit. If she's caught without the glitz and glam she does start to show her age, but not nearly as much as one might think.
4. She's acted on stage.
Becca has indeed proven herself on stage and thus has shown that she has enough acting talent to be called a very astute performer. There's no shyness or even a hint of uncertainty in her when she's up on stage or on screen.
3. She's been in a few TV films.
These seem inevitable for a lot of actors that stick with TV or bounce back and forth between TV and films, as though it's some kind of prerequisite that actors have to fulfill for whatever reason. It does grant them another bit of exposure and another credit to their name though, so it's got to be worth it.
2. She's been nominated for a Teen Choice Award.
Becca hasn't been nominated for much in her career as of yet but it could be a matter of time until she's making the kind of headlines for winning that she might want. If not then she's still very talented and hopefully will keep on doing what she's doing.
1. She has a massive following on social media.
Given how long she's been in show business it seems fair to say that the followers have accumulated slowly and ponderously throughout the years, but that almost feels inaccurate. A lot of times it would seem that as soon as a new face is put on the scene a host of people lock onto them without hesitation.
Becca seems very much like a young woman that just needs the right role to make her big break.