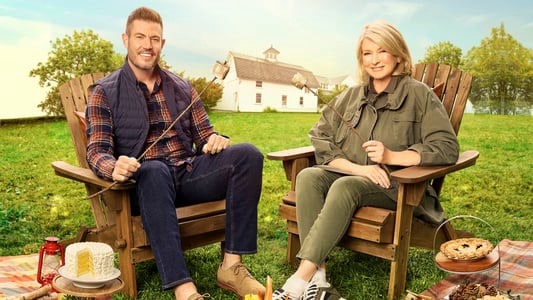 Martha Stewart has had one of the greatest bounce backs in the celebrity history. After serving a five month prison sentence in 2004, many thought Stewart's career was over. However, after her release, she picked up right where she left off. In many ways, the second half of her career has actually been more successful than the first. After a string of successful TV shows and appearances, Martha Stewart is back with yet another one. Her latest show, Bakeaway Camp with Martha Stewart is a unique competition style cooking show and it's already proven to be a hit. Here are 10 things you didn't know about Bakeaway Camp with Martha Stewart.
1. The Show Was Filmed Near Martha's Home
When it comes to reality TV, you can never be too sure what's real and what isn't. Although the show is set up to look like a real sleepaway camp, many viewers have wondered where the filming actually took place. While the show isn't set at an actual camp, the good news is they really did film in the woods. The show was shot in a wooded area in Westchester County that is close to Martha's home in Bedford, NY.
2. Season 1 Only Has 4 Episodes
Have you already gotten hooked on Bakeaway Camp with Martha Stewart? Unfortunately, there isn't much to get hooked on. The first season of the show only consists of four episodes which follows the same format as other shows on the Network that were released during quarantine.
3. Some Fans Aren't Feeling The Way Martha Advertised The Show
Martha Stewart has been using her social media platforms to help market the show. However, some of her followers weren't feeling one of her posts. On June 1st, Martha suggested that her followers tune into the show if they wanted a "diversion". Several of her followers accused Martha of being tone deaf in regards to recent events and felt that her comments were inappropriate in light of recent protests.
4. There May Be A Second Season
Once a show finishes a season, one of the first questions people have is whether or not it will be back. The network hasn't officially confirmed or denied whether the show will be back for a second season, but it looks like there is a possibility the show could be renewed.
5. The Show Was Shot In 2019
With the COVID-19 pandemic shutting down production in the entertainment industry, new content is becoming more and more scarce. However, Bakeaway Camp with Martha Stewart was actually shot in the fall of 2019 long before the coronavirus outbreak in the United States.
6. The Network Encouraged Some Contestants To Audition
Have you ever wondered how people are cast for brand new reality shows? Of course, the process is different depending on the show, but in this case, the network reached out to some of the contestants and encouraged them to apply. There's no information on how the network knew about this people, but it's clear they knew what they wanted from the very beginning.
7. There Are Online Exclusives
If you've been tuning into Bakeaway Camp with Martha Stewart on your TV, you may want to check it out on a mobile device instead. According to a press release for the show, "Online, fans can get an exclusive, extended look at Martha's baking tips in the digital companion series, Bakeaway Camp with Martha Stewart: Extra Sweet. Plus, meet the competing bakers and watch exclusive interviews…"
8. The Contestants Are Necessarily Full-Time Cooks
Cooking competition shows are often made up of professional chefs. However, the contestants on Bakeaway Camp with Martha Stewart are a bit different. Some of the contestants have other jobs and cook on the side. However, they've definitely the skills to keep up with some of the best.
9. The Winner Will Get A Kitchen Upgrade
As with any other competition show, the prize is one of the most intriguing parts. The winner of Bakeaway Camp with Martha Stewart was lucky enough to take home a pretty impressive prize. Although there is no cash prize, the winner will get $25,000 worth of new kitchen appliances. For someone who loves to cook, this is a dream come true.
10. Martha Really Gives Solid Advice
The chance to get a one-on-one session with Martha Stewart is one of the things that makes this show an extra special experience for contestants. Although this perk may seem gimmicky, it really isn't. Martha actually gives solid advice to the contestants who get one-on-one time with her.