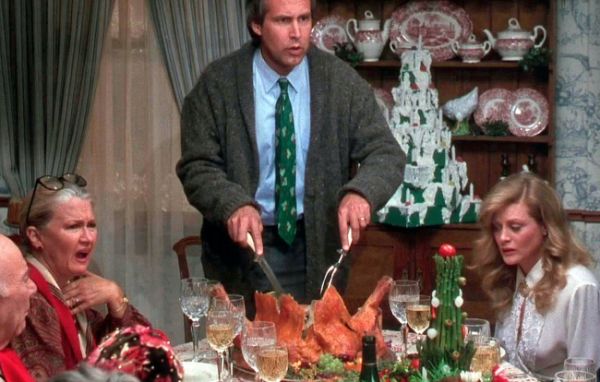 One thing you can count on when the holidays roll around, particularly Christmas, is that you'll see some truly awesome food scenes since that's just another part of what the holiday are all about. Some of these food scenes are hilarious while others are kind of touching since they're an integral part of the story. All of them however are needed moments in the movies since they bring so much to the development of the story and the characters. There are those that seem just awful since if you ever tried them you might make yourself sick, but others definitely seem like something that you'd want to at least try once in your life.
So let's see just which scenes made the cut for the holidays.
The Roast Beast-The Grinch Who Stole Christmas
The classic nature of this is something you can't let go of for Christmas. It's just been around too long and too many people would have a serious issue if someone tried to get rid of it. Every Christmas it's necessary to pull this out and dust it off, or at least watch the Jim Carrey version.
Spaghetti-Elf
This is just gross. I recall having to write an article on this concoction, that someone actually MADE. They fully admitted that it was flat out disgusting and had no redeemable qualities other than being so severely sweet that looking it might give you a cavity.
Hot Chocolate-The Polar Express
To be honest it doesn't add much to the movie except a brief moment of fun and excitement but that's really what the movie is all about. This is a pleasant segue into a scene that really doesn't need a lot of thought but is pleasing simply because of its own charming nature. After all, what kid doesn't love hot chocolate?
The Turkey-National Lampoon's Christmas Vacation
I have honestly never seen a turkey do this in my entire life, and I've cooked a lot of turkeys. What must have had to happen to this poor turkey to look so good and yet appear so rancid once cut open is just amazing. But the entire meal was something straight out of a redneck Christmas when it meets the suburbs.
Tab and Vodka-Scrooged
Some people don't celebrate with the traditional meal or snacks over the holidays. Their nourishment tends to come from a bottle and a couple of drops of Tab. Do you remember Tab? It was a vile soda that only those that had no taste buds liked. Just kidding kind of, but this kind of holiday drink is something that only the most hardcore alcoholics would enjoy.
Chinese Food-A Christmas Story
This would be a sad day indeed to have to go Chinese for Christmas dinner. But at the very least it's food and it's bound to warm you up. The only problem is that if your dinner is smiling at you it tends to be a little unnerving. Of course chopping its head off in front of the family doesn't really help.
The Limo Feast-Home Alone 2
This is every kid's dream isn't it? A limo ride to a toy store, a big pizza all to themselves, and the kind of freedom that a lot of kids only dream about. This would be a holiday for a kid, of course it would only last until they start needing their parents, which would be sooner rather than later.
Happy holidays and hopefully your food experience is a little more joyful than those listed above.