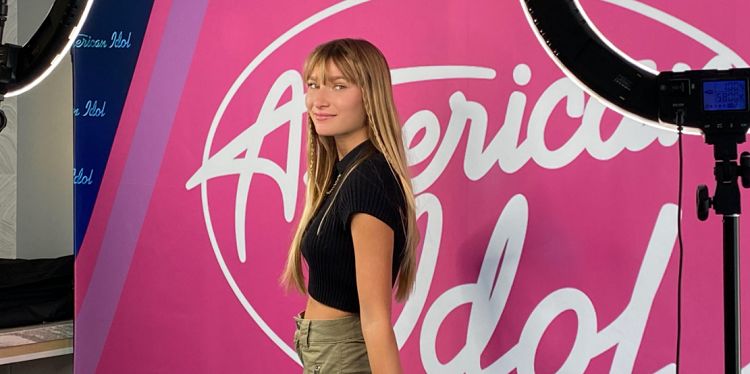 Auditioning for a show like American Idol can be an intimidating experience for just about anyone, so you can only imagine how 15-year-old Ava August felt when she walked into the audition room. Despite the pressure to put on a good performance in front of three celebrity judges, Ava effortlessly rose to the occasion. The unique sound of her voice instantly pulled people in. Her performance left the judges nearly speechless and they all felt that it was a no-brainer to send her through to Hollywood. As an early favorite in the competition, many viewers are looking forward to see where the rest of the competition takes Ava. Keep reading to learn 10 things you didn't know about Ava August.
1. She Auditioned For The Voice
One of the reasons Ava was able to stay so calm during her audition for American Idol probably had to do with the fact that it wasn't her first rodeo. When she was just 13-years-old, she did a blind audition for The Voice. Although none of the judges turned around during her performance, the show proved to be a great learning experience for her. The lessons she learned have helped her get where she is today.
2. She Is A Self Taught Vocalist
Many musicians spend several years working with vocal coaches, but that's not true for Ava. She taught herself to sing and most would agree that she's done a very good job. Her mixture of hard work and natural talent have proven to be the perfect combination for success.
3. She Already Released Original Music
Despite being one of the youngest contestants on American Idol, Ava has already covered a lot of ground when it comes to her career. In addition to singing, she is also a talented songwriter and she's already several singles. Hopefully there is a full length project on the way.
4. American Idol Producers Reached Out To Her To Audition
Anyone who has been an American Idol fan for years probably remembers the days when the show used to have open auditions all over the country. Those days are long gone, however. Now the auditions are held in California and performers are pre-vetted before going into the audition room. In some cases, like Ava's, producers actually find talented singers on social media and invite them to be part of the show.
5. She Already Has A Large Social Media Following
In 2021, having a large following on social media might as well be money. With a large and engaged group of followers, the possibilities are truly endless. Ava already has more than 21,000 followers on Instagram alone and that number will only increase with the more time she spends on the show.
6. She Performed At A Los Angeles Kings Game
In just 15 years, Ava has already done a lot of cool things as far as her career is concerned. If addition to having auditioned for The Voice, she has also had the chance to single the national anything at a Los Angeles Kings' game. The experience was one she will never forget.
7. She Plays Several Instruments
During her American Idol performance, we all got a taste of what Ava can do on the piano. That isn't the only instrument she knows how to play, however. Ava also plays the acoustic guitar, the electric guitar, and the ukulele. Hopefully we'll get to experience her guitar skills at some point during the season.
8. She Considers Music A Way To Connect With Others
Ava's love for music doesn't just stem from a place of wanting to entertain others. Her favorite thing about music is that it serves as a universal language to bring people from different backgrounds together. Being able to connect with people through music is what she loves most about what she does.
9. She Has A YouTube Channel
If you really enjoyed Ava's performance and are excited to see what else she can do, the good news is that you can do so without waiting for her next performance on American Idol. Ava has a YouTube channel where she posts videos of her performances. Her channel has almost 60,000 views.
10. She Likes To Meditate
Trying to pursue a career as a musician isn't easy. The fact that Ava is so young presents even more challenges. Although it's very easy for things to get hectic, Ava likes to meditate as a means of centering herself. The practice of meditation is a common tool for people who want to escape the hectic nature of every day life and give themselves some peace and quiet.