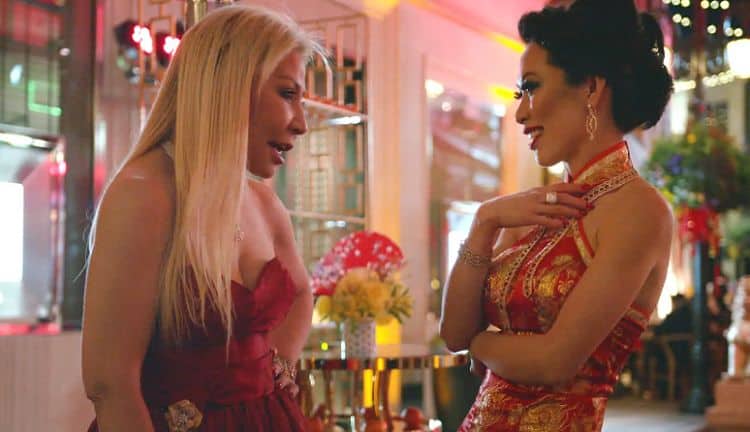 If you're watching Netflix's new reality show, "Bling Empire," you already know Anna Shay. She's the OG Asian Queen of Los Angeles, and she's just as fabulous as they come. She makes everything fun. She has no idea what normal life looks like to most people, and she's not afraid to say what's on her mind, to make sure people know right where they stand with her, and she makes it very clear she's not a fan of competition. Although, why would she be when she clearly wins? She's a dynamic woman with a lot of personality, and she's fascinating. Try all you want, but you won't be able to forgo falling in love with her from the start.
1. She's Always Been Wealthy
This is not a woman who married rich and took home a settlement when she divorced. No, she's always been a very wealthy woman, and her own father never wanted her to work a day in her life. Her family is into the weapons business – though we are almost certain we are talking legal weapons. Her father is a man who spent his life selling bombs, defense technology, and gun. He's worth billions, and she's always been a very wealthy woman.
2. Her Father Owns PAE
If you're unfamiliar, and most are because most don't need anything with this company, PAE stands for Pacific Architects & Engineers. It's a defense and government contracted business. Edward Shay, Anna's father, founded the company back in 1955. His own daughter wasn't even born yet. She's 60.
3. The Family Business Was Sold
PAE might not be a family business any longer, though. While it's still an operational company, it's currently owned by the infamous Lockheed Martin. Lockheed bought the company for a staggering $1.2 billion back in 2006.
4. She Lost Both Parents
She's an only child, and she lost both of her parents. It's a tragic story. Her father died in 1995, and her mother passed in 2015. She's left with just herself and her son to carry on the family name and the family fortune as she had no brothers or sisters.
5. Her Mother is an Aristocrat
Anna moved to America from Japan when she was only 7. Her father was from Chicago, the south side to be precise, but her mother was always royalty in Japan. In fact, when she moved to America, she was so famous and so important at home that her own pet monkey was able to be her seatmate on the flight to the states. How many times do you see a seat sold to a pet?
6. She's Been Married Four Times
She's been married four times. She's been divorced four times, but she didn't get her wealth from her husbands. She had fun, she enjoyed herself, and then she did not enjoy herself any longer. She doesn't share the identities of her four exes, but she's always had a good break with each one. She doesn't have any issues with them, she simply doesn't care to be married.
7. She's Not a Fan of Pettiness
One thing that she's certainly not a fan of is the petty behavior some people prefer. She has made it very clear already that she's not a huge fan of Christine Chiu, wife of Beverly Hills plastic surgeon Dr. Gabriel Chiu. When they first met, she really liked Christine. She called her humble and funny and interesting. However, she feels that Chiu has become too much of a braggart, always talking about money and how much she spends on things and comparing her stuff to everyone else's, and Shay finds that to be a large turn-off. Of course she would – she has a net worth of $600 million that Chiu cannot compete with. Why would she even try? She and her husband's net worth is impressive – it's $80 million – but it's not $600 million.
8. She Loves Spending Time with Her Son
Something very important to her is her son. His name is Kenny Kemp, and we believe he is in his late 20s. He has a half-million bong collection in his mother's basement, which is apparently a cool thing about him to many, but we digress. Anna Shay is a woman who is very happy to spend time with her son. She loves being a mom, and she learned that from her own mother.
9. She's Very Private
She might open her beautiful home to her friends and their friends – and the world now that Netflix has been inside – but she doesn't share too much of who she is. No one knows that much about her. She does what she wants, she does it when she wants, and she doesn't bother with sharing too much. She knows what's important, and that is privacy.
10. She's a Generous Friend
When Anna Shay likes you, she likes you. When she's your friend, she's your good friend. She has wonderful advice, she opens up to you, and she is a giver. She once let her friend Kevin take anything he wanted home when she had Dior in her home so she could shop. She once took her friend Kelly and her then-boyfriend Andrew to dinner for Kelly's birthday to her own favorite restaurant – but the restaurant was in Paris and they had to take a jet and then shop first. She's clearly a fun friend, and the world is already in love with her.