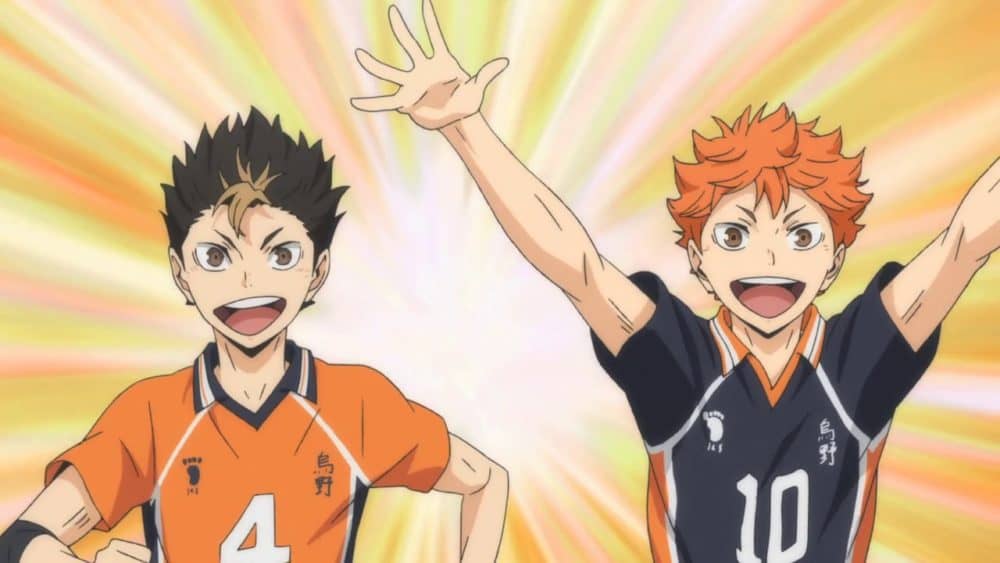 Haikyuu!! is the popular Japanese anime series that has been developed into a television series. The story of an underdog high school volleyball team is entertaining, amusing and inspiring. As the teammates learnt he value of teamwork they work hard for a championship title. Here are 10 things you didn't know about the anime show Haikyuu!!.
1. What it's about
Haikyuu!! is a popular Japanese anime series. "Haikyuu" means volleyball in Japanese. The animated stories follow the life of Junior High School student, Shoyo Hinata who loves the game of volleyball after watching professional volleyball on television. Although Shoyo is short in stature, he works on his athletic skills. His goal is to be like the professional volleyball player called the "Little Giant". Once he is in high school, Shoyo ends up teaming with his former rival, Kageyama. Together the teammates combine Kageyama's intelligence for the game and Shoyo's athleticism to become volleyball champs.
2. Creator
Haikyuu!! was created, written and illustrated by Haruichi Furudate. Furudate was born in the Iwate Prefecture of Japan on March 7, 1983. Furudate played volleyball in Junior High School and played the middle block position. Volleyball and love of drawing drew Furudate to create the character of Shoyo and the anime series Haikyuu!! It isn't known whether Furudate is a man or a woman, but it is widely believed the storyteller is a woman. Furudate's favorite volleyball players are Shigeru Aoyama and Yuta Yoneyama. His or her favorite series include One Piece by Eiichiro Oda and Tekkonkinkreet by Taiyō Matsumoto. Haruichi Furudate continues to work for Shueisha, Inc. as and illustrator and writer.
3. Development
The first of the Haikyuu!! series was published in February 2012 by Shueisha, Inc. As of April 2018, 30 volumes of the story have been published. The anime series is internationally popular. There have been over 28 million copies of the series sold in the United States of America. In 2014, the popular published series was turned into a television show. Three seasons have aired.
4. Characters
Shoyo Hinata and Tobio Kageyama are the main characters in Haikyuu!!. Despite his short height and goal to be the best, Shoyo learns the importance of teamwork in volleyball. Despite being a bit clumsy, Shoyo has good athletic ability and is great at jumping which he learns to improve. Referred to as "King of the Court" in Junior High School, Tobio must work to maintain his skills when he enters High School and joins the volleyball team. He begins to lose his attitude and learns to work with his teammates so they can win. Shoyo and Tobio become the "weird duo" as they learn to combine their different skill sets to create a winning team. Daichi Sawamura, Kōshi Sugawara, Asahi Azumane, RyÅ«nosuke Tanaka, YÅ« Nishinoya, Chikara Ennoshita, Hisashi Kinoshita, Kazuhito Narita, Kei Tsukishima, Tadashi Yamaguchi are Shoyo and Tobio's teammates. Other characters in Haikyuu!! include players from opposing teams, teachers and coaches.
5. Karasuna High School Volleyball Team
The Haikyuu!! high school is a character in itself in the stories and television show. Karasuno High School is the home of this great volleyball team. Karasuno means "crow". The word "fly" appears on the volleyball team's flag. This has to do with the name of the school. The team is called "Flightless Ravens" and later referred to as "Fallen Crows". This is because the Karasuna volleyball team started off strong. The great team went to nationals. However, they later began to decline. The team continues to work together to create new styles of play and succeed once again.
6. Popularity
Since its first publication, Haikyuu!! was instantly popular. The series is praised for its realism and its artwork. The stories have humor and fun while the games are exciting and action filled. It has serious moments. Many of the characters are relatable. Along with the main characters, Shoyo and Tobio, other popular characters include Nishinoya Yuu and Tsukishima Kei.
7. Radio
Within a year of its first publication it was clear that Haikyuu!! was popular with anime lovers. The series was broadcast on radio on Tokyo's Sakiyomi Jum-Bang! show in November 2012. It was later distributed through Shueisha's Vomic webs.
8. Television
The Haikyuu!! stories were made into a television show premiering in April 2014. Three seasons have aired on Japanese television with English subtitles. In the first season we get to know Shoyo and learn why he is motivated to play volleyball in Junior High and later in High School. We see how he must overcome his shortcomings and learn the value of team work. In the second season we see the agony of defeat but also more growth among the boys. The third season has more action and exciting games. The television series has been made into a compilation film.
9. Video Games
The exciting volleyball anime series has been recreated in the [easyazon_link identifier="B074Z2BS4W" locale="US" tag="tvovermind00a-20″]world of video games[/easyazon_link]. In the video games, J-Stars Victory VS, Shoyo is a supporting character. The games are well loved by gamers and anime lovers. The video games are compatible with PlayStation 3, PlayStation 4 and PlayStation Vita.
10. Merchandise
As with many other popular anime series, Haikyuu!! fans can enjoy merchandise from the series. Many items depicting the series and its beloved characters are sold worldwide. These include apparel, [easyazon_link identifier="B01GKGSP2W" locale="US" tag="tvovermind00a-20″]posters[/easyazon_link], keychains, water bottles, action figures, wristbands and much more.
Tell us what's wrong with this post? How could we improve it? :)
Let us improve this post!