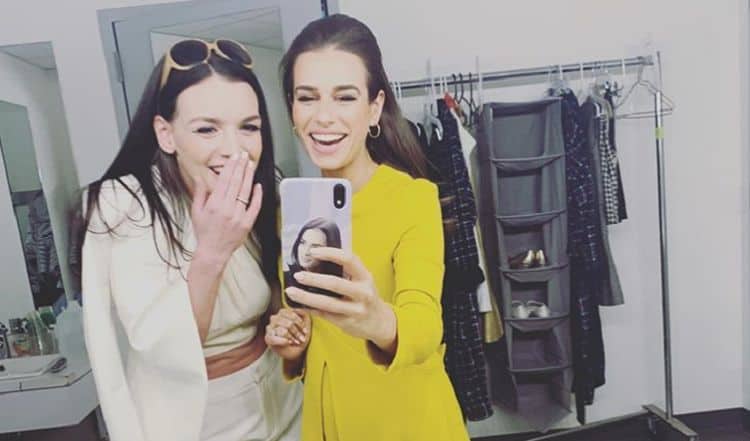 Ana Nogueira has only made about a dozen on screen appearances over the last decade or so. But each time she steps in front of the camera, you can bet that she's going to put on a top-notch performance. Throughout her career, Anna has appeared in shows like The Vampire Diaries, Blue Bloods, and The Black List. Her biggest role, however, is also her most recent. Ana plays Donna in the new Starz series, Hightown and her performance has left viewers in awe. Ana's talent is undeniable and many people are hoping to see much more of her in the future. Continue reading for 10 things you didn't know about Ana Nogueira.
1. She's Married
Sometimes it can be tough for actors to balance their personal and professional lives, but Ana has been lucky enough to find what she's looking for in both. She is happily married to an actor named Nick Blaemire who done lots of work in TV, film, and theater.
2. She's A Playwright
Ana loves to perform, but she also loves to express herself through writing. She wrote a play called Empathitrax which is about the struggles of a young married couple. While some may think the story is about Ana's marriage, that isn't the case. She told Stage Buddy, "I think that the assumption is that this play is about my marriage. It's not. Of course it is autobiographical the way that all writing is autobiographical, but I actually made sure to make the conflicts in this relationship ones that were not in my marriage. My hope is that everyone can see elements of their relationship or relationships in the couple and that it rings true to them."
3. She Lives A Low Key Life
Ana has been working in the entertainment industry for well over a decade, but she's never gotten caught up in the hype of being a 'star'. Ana lives a relatively private life and doesn't share much information about what she has going on in her personal life.
4. She Studied At The Boston Conservatory
It's clear that Ana has natural talent and plenty of passion when it comes to acting, but those aren't the only things she has going for her. She is also formally trained and attended the Boston Conservatory where she graduated with a BFA in musical theater in 2007.
5. She Has Theater Experience
As a New York based actress, Ana has been heavily involved in theater over the years. She's made several off-Broadway appearances including a role in the Second Stage Theater production of Engagements. When she isn't working on a TV or film project, you can likely find her on stage.
6. She Supports The Movement To Defund The Police
Thanks to modern technology, acts of police brutality are now being recorded and shared like never before. Over the last several years, there have been many high profile cases involving unarmed people murdered at the hands of police. Many believe that one of the solutions for this problem is to defund the police. Ana supports this idea and has been educating her followers on what the movement entails.
7. She's From Philadelphia
Ana was born and raised in Philadelphia. She attended Friends Central School during high school where she got heavily involved in school's theater. In 2018, she returned to the school to talk about her journey to becoming a professional actress and to share insight and advice with current students.
8. She's Always Wanted To Act
Sometimes it can take people a lifetime to figure out what they want to do, but that wasn't the case for Ana. She may not be able to pinpoint the exact moment that she fell in love with acting, but Ana knows that it's something she's always wanted to do. She got involved in local theater opportunities at a young age and she has been acting ever since.
9. She's A Dog Mom
Ana and her husband don't have any children of their own, but they've started a family nonetheless. They are proud parents to an adorable little fur baby named Leo. Like any other dog mom, you can bet that Ana's Instagram feed is full of cute pictures of Leo.
10. She Hopes To Get More Involved In Writing
Writing is something that Ana hopes to get more involved with as her career continues. In addition to writing plays, she also hopes to break into writing for TV and film. An article from 2016 says that Ana will be writing the screenplay for the film version of the graphic novel, Dan and Sam. There haven't been many updates on the movie since, but it does appear to still be in the works.