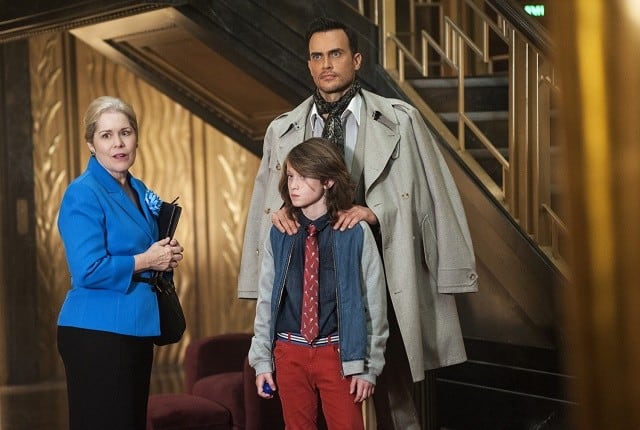 Out of all shows on television, American Horror Story has been an absolute roller coaster of quality, with plenty of great stories and moments tarnished by unfortunate spurts of mediocrity. Thanks to the series' anthology nature, though, each new season renews the possibility of greatness. After the extremely controversial (among fans) season the show saw with last year's Freak Show, American Horror Story is looking to return to its horror roots in a huge way with this season's Hotel (which is good, since I think we need good horror on television). Instead of relying on the gravitas of Jessica Lange as it as in the past, the creators are banking on the draw of Lady Gaga as this year's lead character, The Countess.
All that said, anticipation is high for Hotel, so let's take a look at the season premiere, "Checking In."
Hotel Cortez. From the moment the doors are open, you get flashes of The Shining and, interestingly, both Tim Burton's Beetlejuice and 1989 Batman. The hotel is utterly well-designed, and the first few shots alone make me want to see everything that it has to offer. Unfortunately for the characters in the world of the show, though, it offers both not enough (no wifi, cell service is dead) and far too much (before even the opening titles, we witness bloodstained sheets, supernatural children, and a horrific mattress).
We're introduced to the Cortez through the eyes of foreign tourists who have come to America to see the sights. It turns out that the hotel's entries on the internet were misleading, to say the least, and the tourists want their deposit back. The receptionist (Kathy Bates' Iris) informs them that it isn't the hotel's policy to do that, though, and tells them (with a wink) that the hotel will surely grow on them. Things don't start very well for the tourists, though, leading to them being temporarily moved into the Hotel Cortez's mysterious Room 64. Things…don't end well for the tourists.
The quasi-protagonist (if there's ever a protagonist on American Horror Story) this season is Detective John Lowe, played to perfection by the often-underrated Wes Bentley. Lowe comes onto the scene while investigating an incredibly horrific crime scene that is so brutal and mature that I don't even know how to describe it (but, wow, it's cool to see), and we quickly see his skill at policework at play. We also get a nice look at Lowe's family life (as well as his sad and complex history), and it's pretty easy to surmise that this aspect of the detective's life will probably lead to Lowe's downfall. Lowe's case (and a mysterious phone call) ends up leading him to the Hotel Cortez, and, by the end of the episode, he moves in so that he can keep his family safe while trying to solve a string of interconnected murders.
Elephant in the room, let's talk about Gaga. Almost all of the hype surrounding this show for months has been the inclusion of Lady Gaga in the lead role, so she had much more to live up to than probably any previous actor or actress in the series' history. Luckily, though, somehow defying all odds, Lady Gaga's The Countess is exactly as good as anyone could have ever hoped. Her acting skills are way better than I expected them to be, and it's a real testament to the show's writers that that she's given the absolute perfect material to work with. In particular, the introductory scene for the Countess and her lover Donovan (played by the typically wonderful Matt Bomer) is one of the most well-crafted scenes in the show's history, and it barely features any dialogue at all. Wonderfully written, beautifully shot, it's everything that American Horror Story has the potential to be that it's rarely able to reach.
Let's talk about the titular horror aspect of the show. Audiences, including fans, often complain that each season's opening titles are scarier than the season itself, and this tends to be a more valid criticism than the writers would probably like. One episode in, and I've got good news and good news on that front: the first good news is that the titles are more frightening than they've ever been; the other good news is that the show manages (at least for now) to match it in a way that hasn't been done since season 2's Asylum. For me, personally, I would rank the opening titles for Hotel as the second best (behind only Coven) that the series has offered us so far. Outside of the titles, though, the frights are frequent — whether it's the mysterious children, the drug-related demon with a terrifying appendage, Sarah Paulson's Hypodermic Sally, Iris's methods of showing care, or any number of other horrors offered by the Hotel Cortez, terror comes frequently and never lets off the gas.
The casts on American Horror Story have always lived up to their ensemble title, even during lesser seasons, but Hotel boasts what is probably the most talented group of actors and actresses yet. Every character that appears in "Checking In" manages to get at least one great moment, too, and it's clear that this will be yet another year in which American Horror Story earns multiple acting nominations at awards ceremonies. His screentime in this episode is limited, but I do want to mention that Dennis O'Hare is marvelous as the character of Liz Taylor, and I absolutely can't wait to see where this character goes as the season progresses. And we got to see Marcy, the realtor from all the way back in Murder House! That was so very fun, and a reminder that all seasons of American Horror Story are interconnected.
American Horror Story has always been a show that has managed to blend art with story better than just about anything else on television, and Hotel is already showing signs of turning that up another notch. The set design is better than ever, the presentation and cinematography is as remarkable as it's always been, and the musical score is perfectly suited to the tone of the show (and, thankfully, there was no musical performance to take us out of the moment like in Freak Show).
There's no doubt in my mind that "Checking In" is the best episode that American Horror Story has had in years (and definitely one of its best ever), and I can't recall a season in which my excitement for the story is higher after the premiere than it was beforehand. I absolutely cannot wait for next week. I think that Hotel is going to be a season to remember, folks.
Expect the unexpected.
What did you think of the first episode of American Horror Story: Hotel? Did the premiere live up to the preseason hype, or are your expectations considerably lowered now? Let us know your thoughts down below, and be sure to check in next Wednesday for another review!
[Photo credit: Suzanne Tenner/FX]