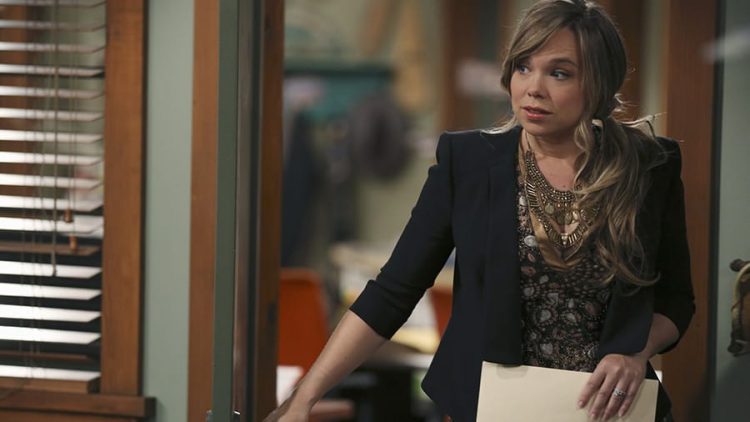 Amanda Fuller has been around since the early 90s, but there aren't many people that can really match the name to the face. She's had a steady stream of acting jobs for over 20 years, but her biggest roles happened these last few years. She's currently starring in the Netflix hit Orange Is The New Black. Before that, Fuller was a series regular for 7 years on Last Man Standing. Fuller is a talented actress that's slowly coming to her own in the industry. If you still don't know much about her, here are 10 things you ought to know about Amanda Fuller.
1. Motherhood
The latest news on Fuller is her pregnancy. At 34 years old, Fuller is pregnant for the first time ever, and she's as excited as anyone can imagine. But she was just as shocked as she is excited when the doctors told her that she was carrying a baby. For many years, Fuller was told that it was going to be nearly impossible for her to get pregnant. This is the reason why she's calling her baby "miracle baby."
2. Illness
Fuller has suffered from chronic illness and endometriosis all her life. It's something that has plagued her for such a long time, and the constant battle with her illness has been a difficulty since she was little. Endometriosis is a condition of the reproductive system. It presents with symptoms of cramping and chronic pain, and Fuller is one of about 10% of women that get affected by it. Endometriosis is also known to cause infertility problems. Fuller has mentioned that she's also suffering from other illnesses, but she's never disclosed what those were in particular. All that matters is she's staying strong and continuing to live her life with no limitations.
3. Husband
Fellow actor Matthew Bryan Feld is Amanda Fuller's husband. Feld is also a musician, writer, vocalist, and composer. Amanda and Matthew's child will definitely be one talented kid with the genes he/she is getting. Amanda and Matthew have been dating for a while, and they've been pretty candid about their relationship on social media.
4. Talents
When Fuller was younger, she had other pursuits apart from acting. She was actually modeling as early as the age of 3. She was also interested in dancing at one point in her life. But it was pretty clear early on that Fuller was destined more for acting. She started acting in 1995 when she was only 11 years old. She played the role of Crystal Acton i a movie called Deadly Whispers. Just a year later, she acted in another film called The Making of a Hollywood Madam, where she played the role of Brittany. She was on a roll ever since then.
5. 'Til There Was You
Fuller got the chance to play the role of young Debbie, Jennifer Aniston's younger self in the movie 'Til There Was You. The movie was good exposure for young Fuller, and she would star in another film that same year. The following year in 1998, Amanda did a total of 4 movies. While only one as released in the big screen, it was still a lot for a 14-year old to do. She would average at least one to two films every year, skipping a year here and there.
6. Popular Guest
Before Amanda landed a recurring role in Last Man Standing, she actually did many guest roles in some of the most popular television shows in recent times. Those shows included the likes of Buffy the Vampire Slayer, NCIS, Bones, and Grey's Anatomy. It served as excellent practice for her if anything. Those years of performing guest roles prepared her for the long stint she landed in 2012.
7. Popular family
Fuller is probably the more popular member of her family, but she isn't the only one working in the film industry. Her brother, Jeff Fuller, is someone you probably won't recognize. But that's only because he works behind the scenes. Some of the films he's worked on include Shooter, Donnie Darko, and Zathura: A Space Adventure. Jeff Fuller has actually worked on over 49 films as a Second Unit Director or Assistant Director.
8. More background
Speaking of family, Amanda is the only girl among four siblings. Her father was a retired police chief. Her parents also owned a furniture store when they were younger, and Amanda used to be the subject of many print ads selling the products of the company. She's always lived her life in California and even attended Notre Dame High School in Sherman Oaks. She never went to college, as she had already begun her acting career and she knew that's what she wanted to do with her life.
9. Net worth
Being an actress doesn't necessarily mean you'll hit the big bucks. For actors like Amanda Fuller, it takes a long time to amass a fortune. Amanda is said to have a net worth of $5 million, which is a lot of money for average standards. She's managed to add up her wealth from her dedication to the acting profession. She did really well with her role in Last Man Standing, but she's bound to earn even more now that she's also on Orange is the New Black.
10. Manda Panda
Fuller has maintained a solid relationship with her fans over the years, and she's pretty active on social media. Her fans have even given her a nickname, Manda Panda, which is both cute and endearing. She's got a decent following on her social media outlets, and more importantly, she's maintained a positive image in all of them throughout her career.