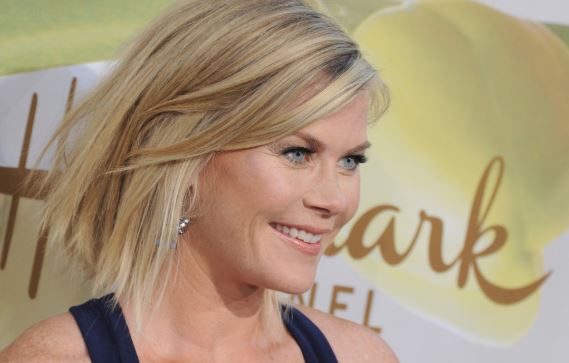 Days of Our Lives is always a little less dramatic with the fabulous Alison Sweeney isn't around to liven things up, but rumor has it she's coming back soon with a baby in hand to tell Rafe he fathered said baby and ruin any chance he might have of a future with his actual wife, Hope. But that's neither here nor there. At the moment, there is a chance that things aren't going to work out as well as they might for her, but we thought we might just look at Alison Sweeney and learn a few things we didn't already know about the aggressive Sami Brady.
1. She's a Host
Most people know she's been spending her years hosting "The Biggest Loser" in addition to her television roles in the daytime, but not everyone is aware of this. Some soap fans don't pay attention to anything outside of what's happening in the world of Salem, but this is what she does in her free time.
2. She's A Hallmark Star
In addition to starring on reality television and daytime television, she's taken to the big time with a few Hallmark movie roles. She's good, and we love those movies throughout the year. They're always so simple, so happy, and so much fun. Such a departure from her role as the woman who likes to make everyone miserable in the middle of the afternoon.
3. Former UCLA Student
She didn't graduate here, but she did attend. She studied Economics, but her role on Days left her with a choice. She chose to make it her mission to take her work to daytime. It wasn't a bad choice at all, and she's made it.
4. Married Mom of Two
She married David Sanov after three years of dating in 2000. They currently have two children, who are making her life a little more hectic. They have a son and a daughter, born respectively in 2005 and 2009. They keep her working harder than ever, but that's what kids tend to do.
5. Began Acting Young
We aren't calling her old by any means, but Alison Sweeney began acting a long time ago. She was only five when she had her first job on television. She was a Kodak advertisement star. For you very young people, that's a type of film. It goes inside a camera that is not integrated in your smart phone, and you must get it developed at a store to see the photos.
6. She's Been Sami Since She was 16
If you know Sami, you know she's been around for a while. She was only 16 when she first appeared on this show with this role, which was back in 1993. She's been on and off the show ever since, and she's always been a fan favorite. People love her. They hate her. And they really love to hate her.
7. She's Always Struggled with Her Weight
She's gorgeous, but she's always known she struggles with her size. Being a television star with any meat on your bones is a struggle for anyone, but she took it a lot more personally as a teen. She's managed to get herself to a place she's happy with herself, and that's all that matters. Her good health speaks more highly than the size of her pants.
8. She's a Great Villain
If you don't believe us, take it up with the people who choose winners for the Daytime Emmy's. She won her first Daytime Emmy in 2002 for being "America's Favorite Villain," which is not exactly an easy title to win with all the villains we see on television. She's been nominated for more Emmy's, but this is her only win to date.
9. She Dated her On-Screen Brother On Television
It wasn't as bad as it sounds, we promise. She and Greg Vaughn were on-screen siblings at one time, but that was long after the fact that they were an on-screen couple in a Hallmark channel movie "Second Chances". They didn't become siblings until after the movie was filmed, but it's funny to think of it.
10. She's a FRIEND
Do you remember seeing her appear on the hit sitcom way back when? She starred as, you guessed it, a soap opera star from Days. It makes sense, of course, since Joey himself was a daytime soap opera actor himself. We love that.