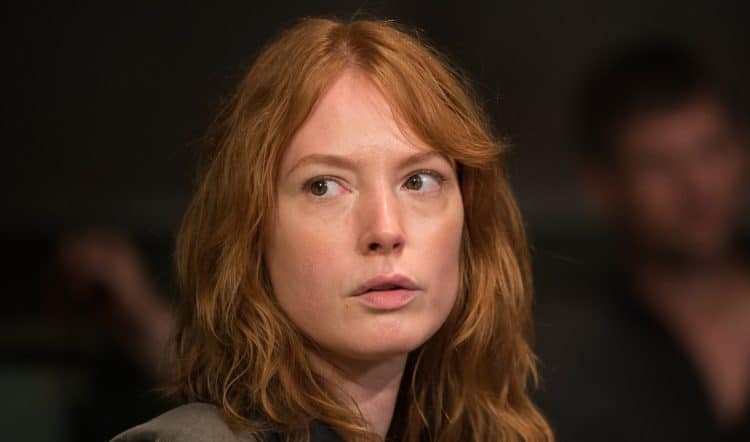 Alicia Roanne Witt was born in Worcester, Massachusetts in August of 1975. She is a very talented American musician; singer, songwriter, accomplished pianist, and a famed actress. Witt was born into a family of teachers with her mother being a junior high school reading teacher and her father, Robert Witt, a science teacher and a photographer. Witt has been described as a prodigy; talking by the age of two, then reading at four. She has had roles in many popular television shows and series, including Friday Night Lights, Law & Order, Two and a Half Men, Twin Peaks: The Return, plus many more. A few of her films include, Mr. Holland's Opus (1995), Two Weeks Notice (2002), and Last Holiday (2006). You can't help but remember this bright and talented red-head, but even if you recognize her, here are 10 things you didn't know about Alicia Witt.
1. She's been a staple on the Hallmark channel
Everyone loves a good Hallmark movie. Okay, well, probably mostly women, but the channel's popularity has helped to give Witt even more recognized as she has basically been a staple on the channel, playing in many of the channel's classic movies. She's appeared in at least six Hallmark movies, including, Christmas on Honeysuckle Lane, a popular Christmas movie for the channel last Christmas, and is to appear in one this holiday season as well, Our Christmas Love Song.
2. She was reciting Shakespeare by age 5
If you can recite Shakespeare at any age, that's pretty impressive. But to be able to recite Shakespeare at the age of 5 is definitely something of a prodigy. Witt was on the show, That's Incredible! at the young age of 5, and her incredible act was reciting Shakespeare's, Romeo and Juliet, which had the entire audience and cast beyond impressed! It was at this event in 1980 that she was discovered by Producer David Lynch, who she then took her under his wings and got her career up and going.
3. She got her GED at age 14
Witt was home schooled during her young school years and not only due to her amazing intellect, but her ability to work at her own pace, Witt was able to graduate much earlier than most high school students. While most students attending regular high schools graduate around the age of 18, Witt was able to complete her degree at age 14, considerably younger than most.
4. She's considered a musical prodigy
Witt was discovered by producer David Lynch and has been described as a musical prodigy. She's a classically trained pianist and when younger, she worked to support herself by playing at the Beverly-Wilshire Hotel. Witt has taken her talent on the road and performed her original pieces all around the world. According to IMDB, she has been the opening act for several musicians, including Jimmy Webb, John Fulbright, and Ben Folds. She has also performed live on a popular late night show, The Late, Late Show with Craig Ferguson, on CBS (2005).
5. Many of her roles have been prodigals
While Witt has taken on a variety of television and big film roles, it has been said that a lot of the roles she played when younger were those of gifted children or prodigies and it was a way of her being able to use your own talent as a pianist, in the roles she played.
6. Her childhood dream was to marry Charlie Brown
Most everyone has a dream they dream as a child. Some childhood dreams may be a little more silly than others and Witt definitely had one that fit that bill. Witt actually discussed her childhood dream during an interview once, and although it's silly, it shows her good heart. Witt used to not only dream of being a farmer one day, but she planned to marry Charlie Brown so she could rescue him from she viewed as a life of sadness. She added the fact that sense he was always 'lusting' after the little redhead girl, it just made sense that she would marry him.
7. Her mother was in the Guinness World Book of Records
Not everyone can say they know someone who is or has been in Guinness Book of World Records, but Witt can. Diane Witt, Alicia's mom, was in the Guinness Book of World Records in the years of 1988 to 1996, and for something a bit unusual, although many things in this book are. Diane Witt was recognized as having the world's longest hair. Wonder who superseded her.
8. She wrote and directed a short film
Witt has taken her acting, singing and piano talents to another level. She wrote and directed her own short film, titled, Belinda's Swan Song in 2006 and the film debuted at the Rhode Island International Film Festival. It then went on to be played at 9 other festivals globally, including the Los Angeles International Short Film Festival.
9. She's won several awards
You can't be this accomplished without winning some awards, and Witt definitely has. Over her career, she has won several awards and according to Married Biography, just a few named are; the Jury Award for Best Actress, and the Special Jury Recognition Award for Acting. To add to it what she's won, she's also been nominated for a number of other awards. It wouldn't be surprising to see her wind up with several more by the end of her career.
10. She's been married and divorced
Witt is pretty private when it comes to her personal life, but we do know is that she has had a few relationships, including a marriage. She was known to have dated Peter Krause from the years, 1995-1999. She then went on to marry Nathan Foulger in 2003, however, the marriage didn't last long. The couple divorced in 2006.