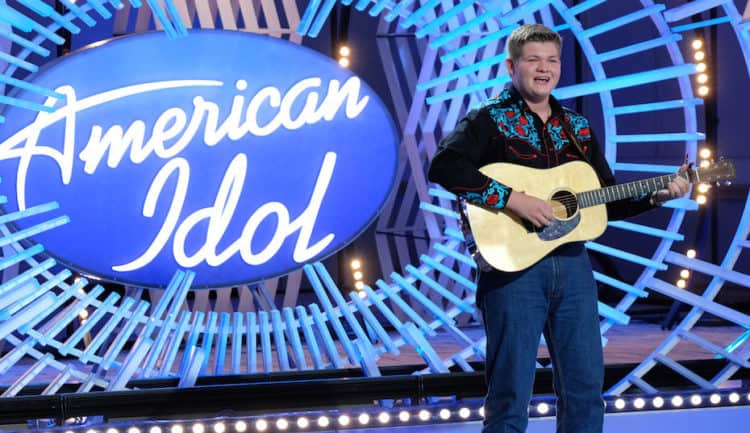 Alex Miller may be just 17-years-old, but he's not afraid of a little competition. During his audition for season 19 of American Idol, everyone within earshot was in awe of his raw talent. Not only did his personality leave the judges impressed but his singing abilities earned him a golden ticket to Hollywood. While we're still very early on in the competition, there are lots of people who think that Alex has what it takes to make it all the way. For now, however, he is enjoying the moment and looking forward to getting the chance to perform for the judges again when they get to Hollywood. Here are 10 things you didn't know about Alex Miller from American Idol.
1. He's Still In High School
While most high schoolers are thinking about prom and graduation, Alex has his focus on something completely different. Although it may look like he's been singing for decades, Alex is still just a senior. He attends Garrard County High School in Kentucky.
2. He Started Performing When He Was Around 4-Years-Old
Alex is no stranger to being one of the youngest people on stage. He was only around 4-years-old when he performed for the first time. The show was at a local fair and it quickly became clear to everyone in the audience that Alex wasn't your average 4-year-old. Even at such a young age, Alex knew that performing was what he wanted to do.
3. He Has A YouTube Channel
If you loved Alex's performance on American Idol and want to see him do his thing in between episodes, I've got some good news. Alex has a YouTube channel where he's uploaded several videos of his performances. He has less than 1,000 subscribers at the moment, but that number is likely to increase the longer he spends on the show.
4. "Tractor" Was His First Word
Alex's cowboy look isn't just for show, he really is all about that farm life and he's very proud of it. While talking to the Garrard Central Record he said, "My first word was 'tractor.' It's always been special to me — a way to escape and go out and work and stay in shape. I've learned a lot through farming — how to work hard and do things on your own. It's transitioned over into my musical career and aspirations."
5. He Already Has A Large Instagram Following
Alex is just getting started, but he's already building a solid fan base full of people who are excited to take the journey with him. Although he isn't the most active social media user, he has more than 10,000 followers on Instagram and that number has been increasing.
6. He Has A Strong Support System
Many creative people often find themselves feeling stifled by their loved ones for not choosing a more traditional path. Alex, on the other hand, has been fortunate to come from a family that has always supported his dreams. His grandfather, GB, has even acted as his manager.
7. Music Has Helped Him Cope With Hard Times
Music isn't just about entertaining, it's also a great way for people to connect and relate to one another. Alex learned this first hand when he found himself leaning on music during his parents' divorce. Although it was a difficult time for him, music proved to be a great source of comfort for him.
8. American Idol Isn't his First Competition
American Idol may be the biggest competition that Alex has been a part of, but it certainly isn't the first. He previous participated in another talent competition called Path to Fame which has categories for singing, comedy, instruments, and speciality acts. Iat's unclear where Alex placed in the competition.
9. He Loves Old Music
Being on American Idol isn't the only thing about Alex that makes him a little different from other people his age. His taste in music is also way before his time. He's a huge fan of the country music legend, Hank Williams. In fact, he has even been given the nickname Little Hank Williams and he has performed at the Hank Williams festival. Alex was introduced to Williams' music after his grandfather bought him one of Williams' albums on a CD.
10. He's Also A Songwriter
Singing and playing the guitar aren't Alex's only musical talents. He's also been writing songs for several years and he loves telling his own stories through music. Due to the nature of the American Idol competition, we may not get the chance to hear any of his original music, but hopefully that won't be the case for much longer.
Tell us what's wrong with this post? How could we improve it? :)
Let us improve this post!