Alcatraz concludes its first season with tonight's thirteenth episode season finale 'Tommy Madsen,'as Detective Rebecca Madsen (Sarah Jones), Dr. Diego Soto (Jorge Garcia) and Emerson Hauser (Sam Neill) race against time to find Rebecca's grandfather and former inmate (David Hoflin) who desperately tries to track down the mysterious key that opens the door beneath Alcatraz.
If you didn't get a chance to check it out for yourself, read on for our Alcatraz recap of "Tommy Madsen'!
We open on an overturned car, with Madsen lying bleeding in the street, and flash to 36 hours earlier, where Madsen and her chief discuss what might have led Tommy Madsen to kill her partner. It turns out her partner will was under Internal Affairs investigation, from the very company they've been investigating, Broadway Mutual. Across town, the 'Ghost'man we saw earlier frantically checks himself into a psychiatric hospital, laying out his story to the bewildered staff. Evidently he attempted escape back in 1960, and the inmates took to calling him, Joe Limerick, 'Ghost'because the Warden filed him as dead after the incident.
Back in 1960 the guards once more take Tommy Madsen to be experimented on, as Warden James and an unnamed man pump his blood back into him, as he writhes in agony and talks of tasting metal. In the present, Tommy breaks into a stranger's home, holding up the father of a family and scaring off his little girl, wanting to wait for the man's wife.
While Dr. Beauregard and Lucy ruminate on the nature of the silver-infused blood, Hauser expresses that he wishes to keep Lucy away from all this, and the police come forward with a possible match on Tommy Madsen, from the little girl they picked up. The little girl is under so much stress that she can't remember her address, but a little clever drawing exercise allows her to remember. Back in 1960, Tommy wakes up in a Nob Hill hotel room, with the Warden ready to serve breakfast, and wonders if he's dead. Realizing he's alive, and the silver has made him feel better than ever, he agrees to take a walk with the Warden. In the present, the man's wife arrives home and Tommy confronts her at gunpoint, only to take a bullet to the leg from the husband, and escape with the wife in tow.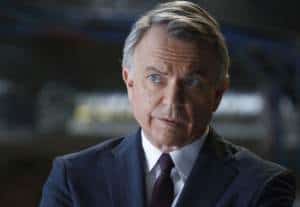 Tommy doesn't seem too concerned by the gunshot, and the Alcatraz team arrive shortly after to secure the house, while Hauser negotiates with a friend in the military to see Lucy out of the country. The kidnapped woman is Georgia Bradley, who works in the psych hospital 'Ghost'checked himself into, but the team can't quite seem to put the dots together, even after Hauser brings everyone up to speed on the keys and hidden door of Alcatraz. They suspect that Warden James might be behind all of it, and the supposed time jumps occurred from tectonic events.
Lucy learns of Hauser's plan to spirit her away, and informs the team that Georgia Bradley just checked into her hospital, while back in 1960 Tommy and the Warden share a meal at the restaurant he met his wife, and Tommy looks longingly at a family across the way. Dr. Beauregard reveals to Lucy that he can't remove the silver particles from her blood, as Warden James takes Tommy to see his son. The boy flees from Tommy however, and Tommy decides what he wants from the warden. Where in the present 'Ghost'throws himself from a window to escape from Tommy, the past Tommy demands of his brother Ray that he leave the island and take custody of his son, admitting that he killed his wife.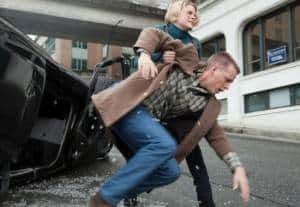 Having arrived at the scene, Rebecca chases Tommy as best she can, commandeering a mustang to engage in a Bullitt style chase around the streets of San Francisco Doc recovers the mysterious key from 'Ghost's body, but refuses to hand it over until he tracks down and saves Rebecca. The tense car chase between Tommy and Rebecca ends with Tommy's car flipping, but Rebecca drags him from the flames in time to save her grandfather. Tommy does his best to calm his granddaughter down, telling her her partner was paid to spy on her, that Harlan Simmons broke some promise he made to the Warden. He also asks if she knows what really happened to her parents, but stabs her in the side the moment she lets her guard down.
Soto shows up, the team drags Rebecca to the hospital, and Ray shows up to admonish Hauser, having predicted this would happen if she stayed involved. Hauser and Lucy leave to open Alcatraz's mystery door, but Doc wants only to stay and make sure Rebecca survives. Inside the mysterious Alcatraz door, Lucy and Hauser find a room with consoles, a map and blinking lights, that predicts exactly where inmates will resurface across the continent. In the past, we see Warden James and his mystery boss showing the room to Tommy Madsen, who had been watched for the project since 1952. The mystery man congratulates him for surviving the silver infusion, and informs him he'll be out in the world in three years.
Back in the present, the mystery man appears disoriented before Lucy and Hauser, laughing manically that he made it to 2012. At the hospital, Rebecca flat-lines.
Did you get your fill of time-jumping action? What did you think about the episode? Do you think Alcatraz will be back for another season? Join us next season (if there is one) for all-new episode recaps of Alcatraz on FOX!