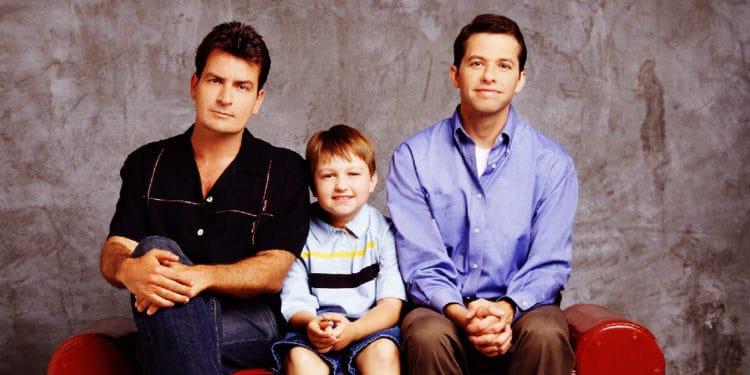 When we met Alan Harper (Jon Cryer) on Two and a Half Men, he was divorced, broke, and had just moved into his brother's Malibu beach house with his son. One would think that Alan, being the responsible guy he was, would at least get his act together and improve his life, but he didn't. Things hardly ever got better, largely because Alan found himself falling into the same traps again and again. He made one too many mistakes, most of them in his love life. These are the most foolish of them all:
1. He 'Accidentally' Got Judith Pregnant, Again
Judith's marriage to Herb came with its fair share of downs. So much, that Judith once kicked him out. Upon having a talk with Judith, Alan called her 'a very desirable woman', prompting her to end up in bed with him. Only six weeks after, Judith, Herb (who she'd made up with), and Jake were at Charlie's doorstep, making the announcement that Jake would have a little sister or brother. "You're pregnant?" Alan asked, to which Judith replied that she and Herb were going to have a baby. Berta, who was just passing by congratulated the couple, and asked them to keep their unborn child away from lead paint, lest the baby turned out like Jake. Charlie, who had intel on the whole Alan-Judith situation couldn't help but put two and two together. Alan, on the other hand, was tongue-tied. It was such a coincidence that Judith got pregnant with Herb's (Ryan Stiles) child only weeks after they'd been intimate. In the end, we never really got to know who was Millie's biological father.
2. Alan Was Ready To Marry Someone He'd Just Met
Unlike his brother Charlie who was happy to use women and ditch them when he was done, Alan was the commitment kind. He was a little over his head sometimes. One such time, Charlie (Charlie Sheen) was happy that Evelyn walked in at the right time. Alan was about to make a stupid life choice and Charlie was on the verge of giving him a jab. Asked to narrate what he was about to do to Evelyn (Holland Taylor), Alan said, "I met a wonderful woman at the supermarket days ago and we're getting married." Evelyn couldn't help but give him a smack on the head. " For God's sake if you're that horny, find a nice call girl, put her on retainer," Evelyn advised. According to Alan, he wasn't after sex. It didn't help that Alan was dead poor and living with his brother. If a woman was looking to marry Alan, it was because of one or two reasons: She was either really slow or searching for a green card. Evelyn was right, because in this case, the woman was already married.
3. Alan Rekindled His Relationship With Judith
As if he wasn't terribly burned by Judith ( Marin Hinkle) the first time round, Alan went ahead to date Judith for a second time. The two got a little too cozy, but that did not augur well with Allan's family, who held an intervention. At that moment, Judith had come to pick up Jake( Angus T. Jones) and was pretending to give Alan a tongue lashing until their son disappeared. Judith assumed a more cute, more lovable approach, until she was interrupted by the sight of everyone staring hard at her and Alan. "Hi, Judith," Charlie, Evelyn, Rose (Melanie Lynskey), and Berta (Conchata Ferrell) chorused. Allan had asked his family to stay out of his rekindled relationship with his old flame, and they sure chorused their way out of it. That wouldn't be Alan and Judith's only encounter. The pair would later fall in love again, only for Alan to choose Lyndsey (Courtney Thorne-Smith) over Judith, and earn himself a kick of a lifetime.
4. Alan Married Kandi, Repeating His Cycle All Over Again
For someone who was broke, Alan sure had an appetite for marriage. His relationship with 22-year-old Kandi(April Bowlby) was mainly physical, with Alan sometimes playing priest, but he turned a fun thing into a serious one really quick, in true Alan fashion. Kandi was a typical bimbo who seemed to be headed nowhere at the time she got married to Alan. Just like his relationship with Judith, Alan ended up divorcing Kandi, and Judith linked her up with a lawyer who ensured Alan paid alimony, again. The pair tried to work out a friends with benefits relationship that went south really fast. Later, we learn that Kandi preferred to divorce Alan for a couple of reasons, amongst them her need for children and all the hair he had on different parts of his body. Though she didn't seem to be headed for success, Kandi auditioned for a role on a new show called Stiffs. By the time she got the call that she would be part of the show, Alan had decided that he wanted to have kids with Kandi after all, so they didn't need to divorce. Kandi was not of the same train of thought. She accepted the role, right after she signed the divorce papers, ensuring that Alan didn't get a dime from her.
5. Alan Asked Charlie To Stand In As A Receptionist At His Clinic
Outside of his faulty relationship with women, Alan made his fair share of stupid choices when it came to his brother, Charlie, the silliest of which was to take him to his place of work. He really had it coming, because, Charlie, who led a completely different life, was bored to death. Office life wasn't for Charlie. Unlike Alan, who had sustained his career for the past eleven years, Charlie hinted that he would have killed himself only six months into the job. Charlie was under instructions to sit on the receptionists desk, pick up the phone when it rang, and simply say,"Dr. Harper's Office." Of course he couldn't get it right. When the opportunity presented itself, Charlie hired a masseuse and offered Alan's patients massages instead. By the time Alan got back to the clinic, Charlie had turned it into a full-blown massage parlour. He'd made more money in a day than Alan had probably earned that entire month, but that would have cost Alan his entire career.
Tell us what's wrong with this post? How could we improve it? :)
Let us improve this post!