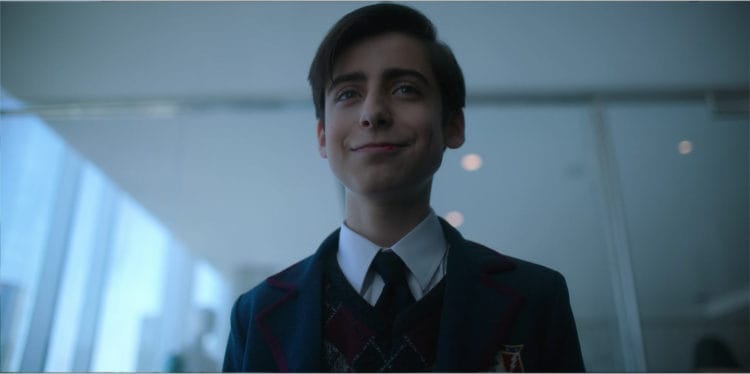 Being a kid in the entertainment industry, but 16-year-old Aidan Gallagher has handled it with grace. The teen actor began his professional career in 2013, and he has been working consistently since then. He is most well-known for his role in the Netflix series, The Umbrella Academy in which he's had a main role since 2019. Although his acting career has been very impressive so far, he's also got a lot of interesting things going for himself outside of acting. Continue reading for 10 things you didn't know about Aiden Gallagher.
1. He's Been Accused Of Bullying
The internet can be a great way to celebrities to connect with their fans, but it can also get people into trouble if they aren't careful about what they post. Aidan Gallagher recently learned this the hard way after he was accused of bullying for allegedly posting some insensitive comments regarding mental health. However Aidan denies that the comments were made by him and he says the account that made the comments was created to discredit him.
2. He's A Songwriter
Acting is what most people know Aidan best for, but that might not always be the case. He is a talented singer/songwriter who also plays the guitar. Aidan has released several original songs and plans to put out an album in the future. He has also released music videos on his YouTube channel.
3. He Was The Youngest United Nations Environment Goodwill Ambassador
Outside of acting, Aidan is working hard to make sure he leaves a positive impact on the world. When he was just 14-years-old, Aidan became a UN Goodwill Ambassador making him the youngest person to ever be given the title.
4. He's A Vegan
In recent years, lots of people have chosen to consume plant based diets. For some, the choice stems from health reasons; for others, it stems from a desire to take better care of the environment. Aidan is part of the second group and has decided to become a vegan. He often uses his social media platform to provide information about veganism.
5. He Cares About The Environment
Aidan may be young, but that doesn't mean he's not in tune with what's going on around him. Taking care of the environment is one of Aidan's top priorities and he encourages others to do the same. He says that one of his biggest passions is "saving the planet from greed and polluters".
6. He A Los Angeles Native
For lots of aspiring actors, relocating to Los Angeles is one of the first steps on the path to success. Luckily for Aidan it's a move he never had to make. He was born and raised in Los Angeles. His father, Rob, has also worked in the entertainment industry as a talent and literary manager.
7. He Considers The Umbrella Academy The Role Of A Lifetime
Getting a main role is something that every actor works towards. When Aidan landed a role on Umbrella Academy, he couldn't have been anymore excited. In an interview, he said, "I get to play a 58-year-old time-traveling assassin, who comes back from the future to save the world from the apocalypse. This was a dream role for any teen and, for me, it was a role of a lifetime."
8. He's a Fan Of Comic Books
Aidan has been into comic books since he was a kid. He told Collider, "I grew up a fan of comics and hanging out in local comic book stores, talking to the store manager and seeing what their favorites are. I got turned onto these two graphic novels, and it was unlike anything that I had read before, so I was instantly hooked."
9. He's Been Nominated For Awards
Even though he's still early on in his career, Aidan is already being recognized for his immense talent. In 2016, he received a Young Artist Award for Outstanding Young Ensemble Cast in a Television Series. The following year, he recieved two Kids' Choice Award nominations for his role in Nicky, Ricky, Dicky & Dawn. He has yet to take home a win, but there will likely be one in his future.
10. He Is Enjoying Every Minute Of His Career
Aidan is just a teenager and he's already gotten to see some of his biggest dreams come true. He appreciates every moment os his career and he doesn't take any of the opportunities he's recieved for granted.
Tell us what's wrong with this post? How could we improve it? :)
Let us improve this post!