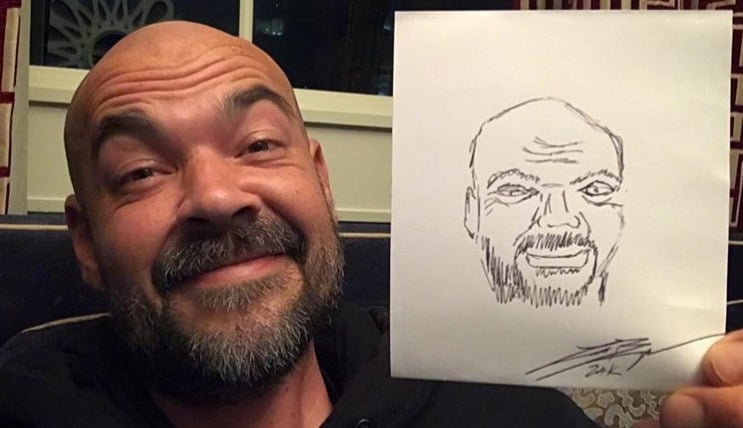 Aaron Goodwin is best known for his appearances on the paranormal reality television series "Ghost Adventures." He is an integral part of the ghost hunting team that goes out to haunted locations in search of proof of the paranormal, or to debunk it. He works as a part of a team on the show, and to help you become a little better acquainted with him, here are 10 things you probably didn't know about Aaron Goodwin.
1. Aaron's Birthday
Goodwin was born on April 1, 1976. As of the spring of 2019, he was 43 years old. His birthday landed on April Fool's Day. He is originally from the city of Portland, Oregon in the beautiful pacific northwest.
2. He is frequently left alone in paranormal hotspots
Those who watch the show "Ghost Adventures" and pay close attention to what's going on will notice a pattern on the show. Aaron Goodwin is the guy that is often the one that is stationed in the parts of the haunted locations where the most paranormal activities have been reported. This puts him in the heart of the action, and he has been in some frightening situations when there are unexplained paranormal activities taking place. It's his job to stay at his station and operate the recording equipment even when frightening things are happening all around him.
3. He previously worked for Ultimat Fighting Championship (UFC)
Before Aaron joined the "Ghost Adventures" team, he was employed with Ultimate Fighting Championship as a camera operator. He has also worked in Las Vegas before that, in a variety of film premieres, filming the behind the scenes actions. He is a camera operator by profession and he has had a lot of experience in a variety of settings, capturing footage for his employers.
4. He didn't think much about ghosts before joining the "Ghost Adventures" team
Goodwin admitted that before he encountered paranormal experiences in Virginia City, Nevada, he didn't think about ghosts and the possibility of their existence. It wasn't really something that even occurred to him. He went from this mindset to being locked down in haunted locations after the sun sets until the sun rises in the morning. He and members of the "Ghost Adventures" team are literally locked in the haunted places in order to lessen the chances of running away when things heat up and get spooky. He occupies areas that show indications of spirit activity to record and film the space with special equipment that detects paranormal activities and records both sound and visuals that are not usually seen or heard without the use of this enhanced detection technology. The team does this to discover how any spirits present will react to Aaron when he is left alone.
5. Aaron Goodwin has his own clothing line
In addition to being a celebrity personality on the show "Ghost Adventures," and camera operator, Aaron Goodwin is also an entrepreneur. He has his own clothing line that is under the label "Big Steppen. He sells his line of clothing as another income stream. Many fans didn't realize that Aaron Goodwin has a keen fashion sense because it's hard to tell when he's most often filmed for the show in the dark.
6. He met the "Ghost Adventures" team in Las Vegas
Aaron Goodwin was working for UFC when he first met Zak Bagans and Nick Groff. They were conducting paranormal investigations and they needed someone to help them with filming. They met Goodwin where he was living at the time and hired him to assist with primary filming and B-roll taping. He agreed to stay on with the team and as the series evolved, Aaron was selected by other members of the team to serve as "bait" to attract alleged ghostly spirits. What started out as a filming job for a documentary turned into a situation where Aaron is used as bait to lure ghosts.
7. He has sustained injuries on the job
Goodwin was working on the "Ghost Adventures" crew at a location called Preston Castle. For no explainable reason, three scratches appeared on Goodwin's left leg. He felt the scratches as they were being formed and this was a significant incident that left physical marks and caused pain in the process. Something similar had happened at Bobby Mackey's to Zak Bagans, only the three scratch marks were left on his back.
8. Aaron Goodwin has been possessed
The "Ghost Adventures" team was conducting an experiment at Bobby Mackey's Music World, which is reputed to be a haunted location. After completing an investigation there, the team traveled to the Winchester Mystery House, and while at that location, Aaron became possessed by a spiritual entity. The team believed that the spirit had gained access to him while the crew was at Bobby Mackey's and had traveled with them to the next location and manifested itself there in Aaron.
9. Aaron Goodwin has an Instagram account
True fans of Aaron Goodwin are happy that he has an Instagram account. He has a total of 501K followers on the site. There are already more than half a million following him on the site. It's one of the best places to keep up on what's going on with Goodwin as well as with the "Ghost Adventures" team. He has made 14,755 posts and the site is rich with unique and interesting photos that include images of Goodwin, the team and much more. He also posts photos of himself in his everyday life so you can get a better idea of who he is in his personal life off of the show.
10. He has several credits at IMDB
Aaron has a few different gigs listed in his professional portfolio as a cameraman. These include an assistant camera for the film "Malevolence" in 2004, camera operator for "Ghost Adventures" from 2008-2009, photography for "Crimps" in 2011, work in the television mini-series "Deadly Possessions" in 2016, " Ghost Adventures: Aftershocks" camera work in 2016, and in 2017, he was the camera operator for "Space Detective."
Tell us what's wrong with this post? How could we improve it? :)
Let us improve this post!