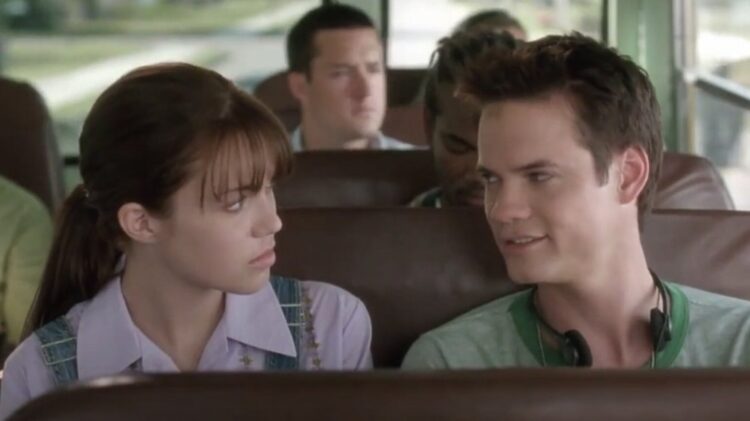 In 2022, A Walk To Remember will celebrate its 20th anniversary. The movie was released in 2002 and has since become a cult classic. Many people watch it time and time again for its emotional storyline and powerful performances from the cast. For those whose film memory is no longer as sharp, here's a refresher on the plot of the movie: A Walk To Remember tells the story of two teenagers, Landon Carter (Shane West) and Jamie Sullivan (Mandy Moore), who fall in love with each other despite their different backgrounds. Landon is a popular student at his school while Jamie is the daughter of the town's reverend. The two must overcome many obstacles throughout the film, including interference from Landon's friends and family, but their love for each other is strong enough to conquer all.
The reviews of the film had been harsh during its release. BBC wrote: "But Mandy Moore only has herself to blame for choosing such a tooth-rottingly sentimental weepie as this, which grafts a "Terms of Endearment"-style tragedy onto a by-the-numbers teen romance. Eschewing her normal MTV glamour, Mandy plays God-fearing, drably-dressed geek Jamie Sullivan, who becomes the unlikely paramour of local bad boy Landon Carter ("Get it On" star West). "Promise me you won't fall in love with me," says Jamie, but fall young Landon does – which is a pity, as Moore's character (in a heavily telegraphed plot twist you can see coming a mile off) has one of those secrets which only ever crop up in dumb Hollywood movies." The Guardian on the other hand harshly commented: "This horrific teen romance-cum-weepie is best watched from between your fingers, or from under your seat, or perhaps standing outside the cinema looking in the opposite direction."
While not particularly appreciated during its time, people have started to come around the movie and love it for its simplicity. A more recent review by Sydney Yaeko wrote about the film: "This movie does a great job of maintaining its pace. And that's a major feat considering its scenes could come across as mundane if not executed properly. Scenes in this film are short and to the point, with each one moving the plot along forward or proving a point, the dialogue – while cheesy – is enjoyable enough to listen to, and the movie doesn't start to feel slow when we realize Jamie is sick – something that happens to a lot of movies once they become about an illness. Instead of feeling like the cinematic version of a Hallmark card, or a melodramatic whine-fest, this movie feels like documentation of the impact one girl's illness and one boy's epiphany can make on a large group of people's lives." A Walk To Remember is a timeless film that has stood the test of time. It is a must-watch for anyone who loves a good romantic movie.
Here are a few reasons why you should revisit A Walk To Remember on its 20th anniversary.
It's Mandy Moore at her best
Mandy Moore in A Walk To Remember put forward a spectacular performance as the protagonist, Jamie Sullivan. It is often cited as her breakout role and for good reason. Moore's portrayal of Jamie was incredibly nuanced and moving. She brought the character to life in a way that few other actresses could have done. Moore would use A Walk To Remember as her stepping stone toward more prominent and acclaimed projects. Since her appearance in the film, Moore has performed in movies and shows like Tangled and This Is Us.
A Walk To Remember is one of those films that will make you believe in love again
The film's storyline is incredibly heartwarming and will leave you feeling hopeful about love. Landon and Jamie's relationship is tested time and time again but they always find their way back to each other. If you're feeling a little down about love, A Walk To Remember is the perfect film to watch. It'll remind you that true love does exist and that it's worth fighting for.
The film has an all-star cast
In addition to Mandy Moore, A Walk To Remember features an incredibly talented cast. Shane West plays Landon Carter, the male lead in the film. West is best known for his roles in movies like The League of Extraordinary Gentlemen and Mid-Century. He brings a charm to the character of Landon that is impossible to resist. The rest of the cast is just as impressive, with actors like Peter Coyote, Daryl Hannah, and Lauren German all making appearances.
It is directed by Adam Shankman
Adam Shankman is a well-known director, producer, and choreographer. He is responsible for directing films like A Walk to Remember, Hairspray, and Disenchanted. Shankman's experience in the industry lends itself well to the film. He is able to capture the emotions of the characters perfectly and create an overall heartwarming story.
It's a Nicholas Sparks classic
If you're a fan of Nicholas Sparks, then you need to watch A Walk To Remember. The film is based on a novel of the same name by the famous author. Sparks is known for writing romance novels that are often turned into films. Some of his other works include The Notebook, Dear John, and The Last Song. Sparks' best work is reflected in the movie A Walk To Remember. The writer's ability to create an emotional and heartwarming story is on full display.
A Walk To Remember is the perfect film to watch on a rainy day
There's something about watching A Walk To Remember that makes you feel cozy and warm inside. Maybe it's the film's nostalgic quality. Either way, A Walk To Remember is the perfect film to watch when you're looking for something to make you feel good.
The film has an amazing soundtrack
In addition to Moore's great performance, the film also features an excellent soundtrack. The music in A Walk To Remember perfectly captures the emotions of the film. It is both heartwarming and heartbreaking all at the same time.
A Walk To Remember is a classic love story
A Walk To Remember is one of those rare films that is able to capture the feeling of first love. It is a beautiful love story that will stay with you long after you've watched it.
If you haven't seen A Walk To Remember, or if it's been a while since you've last seen it, make sure to watch it on its 20th anniversary. It is a truly special film that deserves to be celebrated.
Tell us what's wrong with this post? How could we improve it? :)
Let us improve this post!