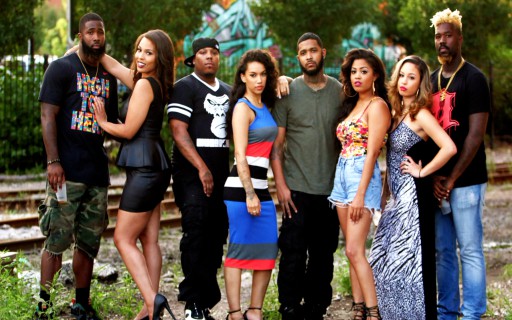 "Black Ink Crew Chicago" is a popular series that just launched the premiere of its third season on July 19, 2017. This is good news for tattoo enthusiasts who enjoy the artistry as well as the drama that unfolds with each episode. The 9Mag crew runs a hard core shop, but they are tempered by their sweetheart cast member Danielle Jamison. Even though the cast doesn't seem to hold back, there are some things about them that fans may find very interesting.
Here are five things that you didn't know about "Black Ink Crew: Chicago."
1. Don Brumfield doesn't deal with shades of gray
On the show, we see Don smiling, laughing and joking a good share of the time. He has a great sense of humor and tries to maintain that attitude, but he shared that he has two distinct sides. Don is either happy or angry. He admitted that he doesn't do the in-between emotions. If he's happy, it's all good, but if he is angry then he lets go and takes care of business, in a riotous manner if the situation calls for it. He has no tolerance for people who like to give him grief.
2. Danielle Jamison loves her job
Jamison comes across as being professional and does her job as receptionist and front desk assistant well. She shared that she enjoys meeting new people and that the tattoo culture is fascinating to her. She likes the fact that she gets to meet people that she wouldn't otherwise come into contact with.
3. Danielle had a different Chicago experience
While each member of the cast is from Chicago, Danielle Jamison, a native of the city, was raised in the suburbs. This kept her away from the struggles that other crew mates had to deal with. Perhaps this is one of the reasons why she isn't as hard core. He co-workers like the fact that she is so sweet and kind, but they acknowledge that her younger years were not as difficult as theirs regarding the social pressures and dangers they faced daily.
4. Don has a unique relationship with Phor
Starring on a reality television series with your brother could at times be challenging, but not for Don. His brother is his best friend. They have a solid relationship. Don and Phor have supported fone another through some very tough times and rough situations growing up in Chicago. Phor got him into the tattoo shop and Don is in charge of the management and booking for the business.
5. Brumfield has a few surprises coming up
Don realized that he had a serious ladies' man image and this isn't how he wants to be seen. He is going for the more mature image that goes along with the course that his life has been taking for the last few years. He understands that it takes a lot of hard work and effort to overcome adversity and become successful in business. Although he is tempted by beautiful ladies, he's making an attempt to put on the breaks and keep his eyes on the goals that he has set. Growing a beard was a part of his new mind-set. He commented that it's still a bit foreign to him, but he's getting used to it. He wants his fans to know that the upcoming season will show a mature version of himself and that he plans to barrel through the roadblocks and do so with a smile.