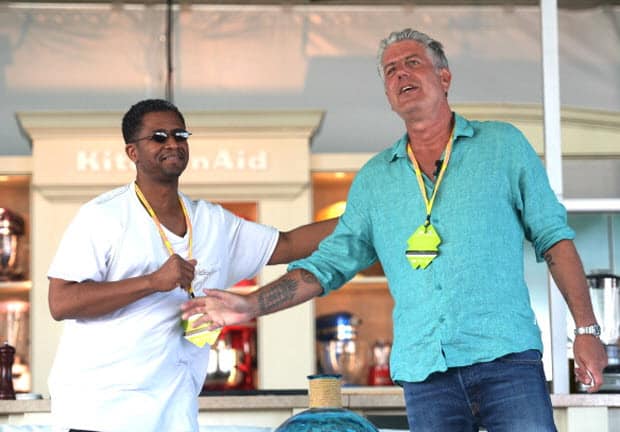 As I pointed out yesterday, one thing that I've really gotten into lately is cooking. Though I'm still a newbie when it comes to putting together a feast, at the very least, watching some of my favorite cooking shows helps gives me inspiration. Want to know what else gives me some good ideas? Traveling shows. And since going to exotic places is something everyone should enjoy, these shows let viewers vicariously live through the hosts–which do a great job of entertaining us with these, the best travel shows on TV right now.
5. Bizarre Foods with Andrew Zimmern
This one can be tough to watch with all the crazy things that host Andrew Zimmern actually consumes, but it's still really interesting. Traveling to some crazy and even remote spots around the world, Zimmern tastes things that no normal human would ever find appetizing–unless it was for a bet, of course–while also showing various cultures that many of us will never have the pleasure of seeing ourselves.
4. House Hunters International
While I've admitted to enjoying the show Million Dollar Listing–thanks to its insane price tags and bit of drama each season–House Hunters International takes a clever spin off real estate shows, giving viewers different twists. That's because it follows the lives of people who are making a move from one country to another, with the difficulty of culture and language barriers. It's fun to see how they overcome those challenges, all while looking for the perfect home.
3. Locked Up Abroad
With all the intensity of a Hollywood drama, National Geographic's Locked Up Abroad keeps viewers on the edge of their seats, as true stories of people who were imprisoned overseas are told through interviews and reenactments. Whether it is from a former Vietnam POW or a photojournalist busted for trying to document a raging dispute in a foreign country, Locked Up Abroad is real-life tension from those who lived it.
2. The Amazing Race
More than this show already airing for now 23 seasons, The Amazing Race is fun to watch thanks to the many challenges and fast-paced travel that the show's contestants go on. Although I'm not one to try out for a reality show, The Amazing Race would be the one I'd most likely go for–given its premise and adventure-seeking action.
1. Anthony Bourdain: No Reservations
While I actually included Anthony Bourdain: No Reservations on yesterday's best cooking shows list, it can also be considered as a traveling show, with Bourdain traveling to exotic places and thrusting himself into various cultures. It's irreverent, informational, raw and extremely addicting, making it the best travel show on-air right now.
Tell us what's wrong with this post? How could we improve it? :)
Let us improve this post!