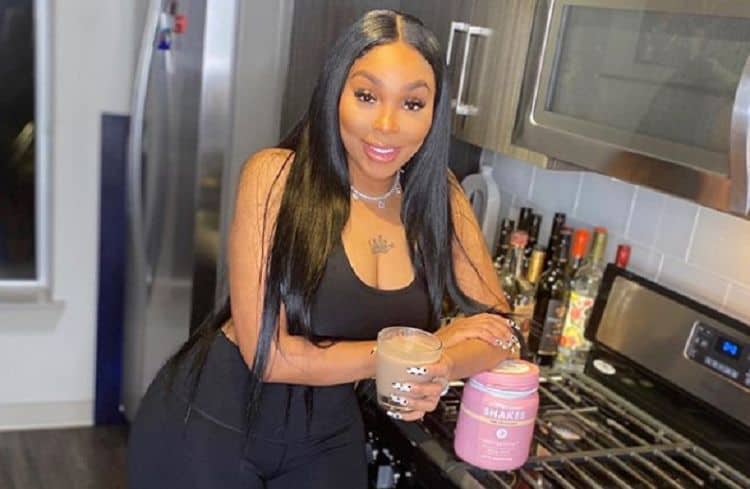 When Sierra Gates joined the cast for season 6 of Love and Hip Hop Atlanta viewers were on the edge of their seats when it was revealed that her assistant was having an affair with her husband. Unfortunately, all the drama that went on that season overshadowed Sierra' personal story line, but that didn't stop her from show everyone how much of a boss she really is. In addition to being on the show, Sierra is also a business woman who runs her own beauty shop. Now, Sierra is an official starring cast member on the show, but even though her days of drama with Shooter are gone, season 9 is proving that things aren't in perfect peace and harmony for Sierra. Here are 10 things you didn't know about Sierra Gates.
1. She Didn't Know About Her Husband's Affair Before The Show
One of the major elements of Sierra's story during her first season on LHH ATL was the fact that her husband and her assistant had been having an affair for about a year. Many viewers thought this storyline was partially made up, or that Sierra had to be in on it, but neither of those things were the case. Sierra says that she had no idea about the affair before the show. She believed that her role on the show would involve focusing on her business ventures.
2. She Had Her First Child At 15
LHH ATL viewers may be familiar with the fact that Sierra Gates and her ex-husband, Shooter, had two children together, however, Sierra also has another child. She gave birth to her first child when she was a 15-year-old high school sophomore. Her teen pregnancy resulted in a strained relationship with her parents. She was ultimately kicked out of their house shortly after her daughter was born.
3. Her Daughter Was Accused Of Being A Bully
Early in 2020, gossip sites began to report that Sierra's oldest daughter, Paris, was allegedly bullying other teens at North Atlanta High School. These reports were revealed after a previous story reported that Paris had been jumped in a school bathroom by another student and that student's mom. According to stories, the teen enlisted her mom to come to school and fight Paris because Paris had previously threatened her.
4. She Pays Child Support To Her Ex Husband
In most divorce cases, it is common for the father to pay child support to the mother. Things worked out a little different in Sierra's situation, though. When she and Shooter Gates divorced, they agreed to co-parent their two children together. According to Georgia law, the parent with the highest income is obligated to pay the other child support. Since Sierra gates earned about $1,000 a month more than Shooter, she wound up being on the hook for monthly payments of $128.
5. She Discovered Her Love For Makeup While Working In The Mall
When Sierra was a teenager she went to a local mall to find a job. What she found after coming across a makeup stand ended up being the opportunity that changed her life. According to Sierra, "The lady told me she would hire me right now if I could show her that I could do makeup. A girl from my school walked up and asked me if I worked here. I was like yea, I think so. She asked me if I could do her makeup because she was going to a concert. I did her makeup and I don't know what happened, but that is when I knew God blessed my hands to do makeup."
6. She Opened Her First Business As A Teenager
Sierra Gates has been a hustler all of her life and she isn't new to being an entrepreneur. She opened up her first salon when she was in her late teens and even attempted to launch her very own makeup line called Sierra's Secrets. Sierra says, " It wasn't the most extravagant salon, but it was a start."
7. She Used To Do Makeup At A Strip Club
After working in the mall for years, Sierra Gates built up a strong clientele that was able to introduce her to new opportunities. One of those opportunities was working in a strip club as a makeup artist. Sierra made between $400-$600 while working in the strip club. She saved most of what she made to put towards her own business ventures.
8. She's An Author
On top of running a successful salon, Sierra Gates also wrote a book called "Behind the Glame". The book told some of Sierra's backstory as well as the hard work and dedication it took her to become successful. Several sources, including Rolling Out, discussed the book in 2016 when it was slated to be released. However, it's unclear whether or not the book ever made it to stores.
9. She Got Her Opportunity On LHH ATL By Random Chance
Sierra Gates wasn't actively looking for a spot on LHH ATL. The opportunity came to her. One day when she was working in her salon, a woman came in looking to have her eyebrows done. Despite being booked for the day, Sierra managed to squeeze the woman in. The two women made small talk and Sierra shared some details of her life. The woman in the chair ended up being the casting director of LHH ATL. She was intrigued by Sierra's story and the interaction eventually to Sierra being offered a spot on the show.
10. She Was Homeless
Homelessness was one of the many hardships Sierra Gates had to overcome when she was kicked out of her parents' house . Sierra was homeless for a period of time when she was 15 before being able to get on her feet. Some people may see Sierra's parents' decision as cruel, but looking back she says being kicked out made her the person she is today.
Tell us what's wrong with this post? How could we improve it? :)
Let us improve this post!