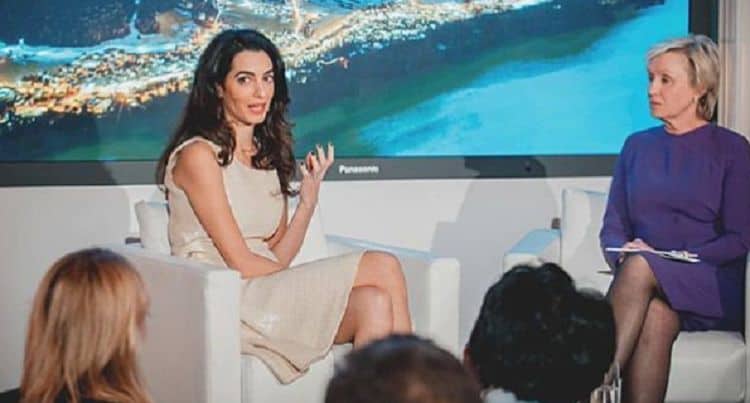 Not everyone is famous for having been an actor or other type of celebrity, but a lot of people that hang around celebrities or are connected to them in some way do get noticed now and again. Of course if you're someone like Amal Clooney then you already have enough fame to go around, just from different sources. Amal is a woman that is obviously driven to do what she desires and much of that has had to do with law in her lifetime since she's been heavily invested in one position after another that has seen her taking on a great deal of responsibility in one legal system or another. This could mean that she's inordinately tough and has a strong sense of character when it comes to staying the course, or it could mean that she's a very self-assured and confident woman that doesn't blink when it comes to doing what she feels is right. Somehow it feels like both.
Here are a few things you might not have known about Amal.
10. Her first name is Arabic and means 'hope'.
Some people really take the time to think about what they're going to name their children and don't just start throwing names out of the air in order to decide what they're going to call their first, second, third, or however many children they have. Hope though is a good name and a good description for many children.
9. She learned English by watching The Facts of Life.
It's easy to surmise that she had formal lessons as well since if anyone really learned from TV in this manner they'd be talking half slang and half bad English for the rest of their lives. But there is something to be said for American TV since it does possess a variety of different programs.
8. Her mother spent two months in the hospital while pregnant with her due to a rather serious condition.
At one point doctors even told her that she might lose the baby, but her mother never gave up on Amal and decided that since she'd dreamed of holding her child that it was going to come true. And wouldn't you know it, things turned out alright.
7. She was born during Lebanon's civil war.
This is a big part of what inspired her name, as the war was more than enough for her parents to pray that something would give and that the future generations would have something to look forward to.
6. Amal is qualified to serve as a lawyer in the US and the UK.
Her legal credentials are simply impressive since she's been going full steam ahead for some time and doesn't seem to know the meaning of the word quit until it becomes conveniently needed. But being able to practice law abroad is something that makes her quite valuable in many ways.
5. She's even worked at the Hague for a period of time.
If you're wondering what the Hague is because you've heard of it in films, it's the International Criminal Court, and if a person gets sent there to stand trial it means they've done something monumentally messed-up. Some of the courts that operate within the Hague are those that deal with war crimes and genocide, so anyone that gets tried there isn't going to be given a slap on the wrist.
4. Amal has been a lecturer and co-professor at times in her career.
It's kind of inspiring really that she would step into a classroom and give the wealth of her experience to others in lectures and lessons based on her experience. Were more celebrated and skilled individuals able to do this it seems that the future might be a bit brighter in some way.
3. Yes, if you're wondering, she IS married to George Clooney.
The two have been married for some time and have been seen together throughout the years. It's easy to see a last name and make assumptions so it's always nice to know that yes, the name you see is associated with the star you know.
2. A tabloid actually tried to cause trouble with George Clooney and Amal's mother.
The Daily Mail, a British tabloid, tried to stir up a bit of drama by using a false claim that Amal's mother had objected to George and Amal's wedding on religious grounds. Whether her parents were happy with the wedding or not it happened and George was none too happy with the tabloid. In fact he didn't even accept the Daily Mail's apology and trashed them openly.
1. In 2017 Amal and George's family increased by two when they had twins.
Having just one child is stress enough on one's personal and professional life, but having twins is even more so. Whether she took time off of work or not is hard to tell, but to this day it seems as though the family is still doing just fine.
She's an impressive woman without any doubt.
Tell us what's wrong with this post? How could we improve it? :)
Let us improve this post!