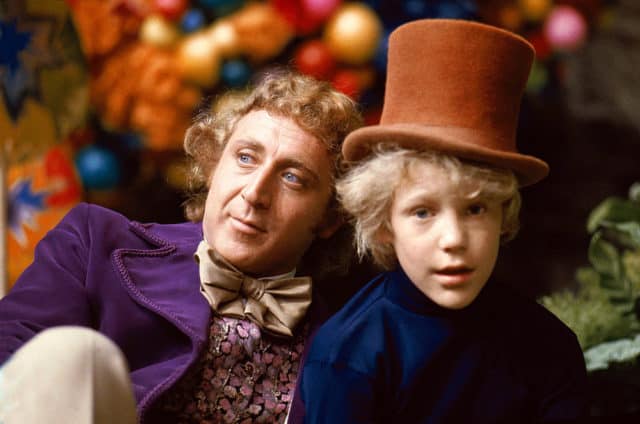 If you really take a look a Willy Wonka and the Chocolate Factory you might realize that it was unmistakably dark for being touted as a kids movie. There were scenes in which it was hard to equate this fun-loving film as anything but a nightmare wrapped in a pleasing, sweet facade. But it's a legendary film to be certain, and surely a child's dream come true. I mean what child wouldn't dream of owning a chocolate factory when they're young? Obviously Wonka would stick around for a while and make sure that Charlie knew what he was doing, and to make sure that the Oompa Loompa's were taken care of, but the choice to pick an heir with a contest was a pretty sly move.
And yes, no one but Gene Wilder could have pulled it off so perfectly. Here are 10 things you might not know about this legendary film:
10. There are real reactions from the kids in some scenes.
For instance, the moment they walk into the chocolate gardens their expressions are very real since this was the first time any of them had seen this set.
9. Gene Wilder had one stipulation before accepting the role.
He pushed for the scene in which he's limping with a cane and then rolls forward before springing to his feet. It was a quirk he wanted so as to make it seem as though the children didn't know if he was telling the truth or not.
8. The Wonkatania was on a track in the chocolate river.
The Oompa Loompa steering the boat thought that he was really in control but the director allowed him to think so.
7. The actor playing Grandpa George was nearly blind.
The actor had lost much of his sight thanks to an exposure to poison gas in World War I, so he was instructed to look for a red dot that would indicate where he was supposed to look when speaking.
6. The chocolate river was made from water, chocolate, and cream.
There was 150,000 gallons of this concoction used and by the end of the film it was starting to smell terrible because the cream had spoiled.
5. Gene Wilder's act in the tunnel actually frightened the rest of the cast.
The other actors thought he was genuinely losing it and worried about how to react. In truth it was all improvisation on Wilder's part.
4. The actor that played Charlie never acted again.
He had an offer for a five-movie contract but he turned it down. He didn't want to become an actor and later on in life he became a veterinarian.
3. The cup that Gene Wilder drank out of and then ate was made of wax.
He had to keep chewing it until the end of the take, after which he spat it out.
2. Gene Wilder didn't care for the remake.
He went on record stating that he liked Johnny Depp's part but didn't care for the movie, since a remake of his movie was kind of an insult to him.
1. A lot of the chocolate bars were made of wood.
That would have been a lot of chocolate otherwise. Can you imagine the kind of production that would have been needed for even a quarter of the movie?
This was one of the greatest films ever, but strangely it didn't really get a lot of attention until the 1980s when it became a nostalgic favorite of so many.