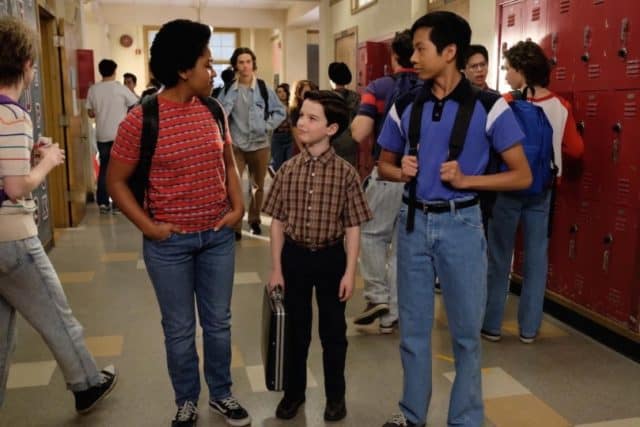 Before meeting Amy Farrah Fowler, another girl had Sheldon Lee Cooper's attention. Like most of his acquaintances, Sheldon was, and is, attracted to a person's intelligence. Young Sheldon's first crush was Libby, a future geologist who also avoided social interaction with people who didn't share her love of learning. As Sheldon put it, he was both "threatened and delighted" by her intelligence. But it is a well-known fact that grown-up Sheldon is not a fan of Geology. This is the story of Sheldon's first interaction with the subject of girls and the subject of Geology.
Sheldon took a chance, and gained a good friend in Libby. All of a sudden, everyone's antenna was up. You really had to see it to believe it. Sheldon was entranced by Libby and her love of rocks and geodes. He was going on excavations, talking for hours on the phone, and ignoring physics. George was very proud of Sheldon, because he saw that Sheldon was naturally growing out of his comfort zone. Mary was a lot more cautious. She recognized that Sheldon was still 9-years old, and not yet physically or emotionally mature to handle certain situations.
Libby was a great friend. She even guarded the bathroom for Sheldon. That is a very, very big deal. Mary was already apprehensive about Sheldon's friendship, clinging to her son's boyhood for him. She put her foot down when Sheldon wanted to go to Houston with Libby to watch an IMAX documentary. That only resulted in what should be known as Sheldon's Mad Spring Cleaning Dash, emphasis on mad. But her fears were alleviated after she met Libby. The problem was that Libby thought of Sheldon as a kid to babysit, not an equal friend, or whatever Tam was thinking. From that point on, Sheldon called girls silly and Geology a hobby.
Mary did get it right, on more than one front. She predicted that Sheldon would grow up and have a big, wonderful group of friends. Her prayer was answered, in ways that far exceeded her hopes.
Thus ends the story of Sheldon's first interaction with girls and Geology. His future avoidance with both kind of makes sense now.
Young Sheldon Season 1 Episode 15 Review: "Dolomite, Apple Slices, and a Mystery Woman"
Summary
Young Sheldon tells the incredibly story of Sheldon's first crush–with a geologist!