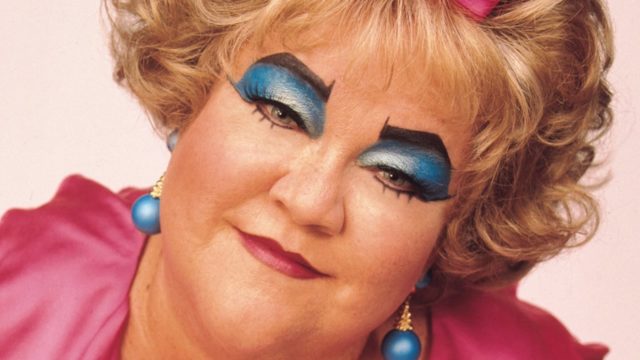 You remember Mimi from the Drew Carey Show don't you? A lot of folks do tend to wonder whatever happened to the mean-spirited but hilarious woman that used to make Drew's life a waking nightmare every day they worked together. Well the one thing she hasn't done is disappear, it just helps if you know where to find her. She's taken on other projects after the Drew Carey Show that involved a lot more introspection and fewer insults to those she works with. In fact she's written at least a couple of books that are geared towards making sure women know that they are fine as they are and are allowed to be happy being the person they want to be. In essence she's gone from being the hateful Halloween-makeup-wearing imp to a rather nice person that still does get featured alongside her buddy Drew occasionally.
She appeared on Whose Line Is It Anyway and an improv show that Carey put on as well, and she even did a guest appearance on a game show that Carey was hosting at one time. Another of her projects is Mrs. P.'s library, an online show geared for kids that is designed to help them learn to read and enjoy books through a series of stories that kids can listen to as they watch. This seems like a huge turnaround from her role as Mimi, but Kathy Kinney is in fact a very nice person off screen it sounds like, and is all about educating others and treating people with a great amount of respect.
Most of us can still remember the Drew Carey show and how nasty her character was during its nine-year run. There was barely a day that went by when Mimi and Drew weren't at each other's throats trying to get one up on each other. Their verbal duels were legendary and Mimi's covetous nature towards their boss was absolutely hilarious. She was perhaps one of the few TV show antagonists that many people can remember solely because of her act. Surprisingly she's stated that a lot of people still recognize her on the street even without her makeup. It could be that she made such an impact on the show and afterwards that people came to love and respect the character simply because she was an integral part of the show and couldn't be replaced so easily.
After all getting rid of Mimi would have been like tearing up a quarter to a third of the script. Lewis, Oswald and Kate were funny but they were still secondary characters. Their boss, Mr. Wick, and even Drew's brother Steve rounded out a stellar cast, but without Mimi or Drew the show just didn't have the same kick to it. Their constant feud was what really made the show popular no matter if each episode fixated on it or not. To have one of them and not the other would have lessened the show to a degree that it would have likely been cancelled sooner.
It's good to hear that Kinney is staying active however.
Tell us what's wrong with this post? How could we improve it? :)
Let us improve this post!