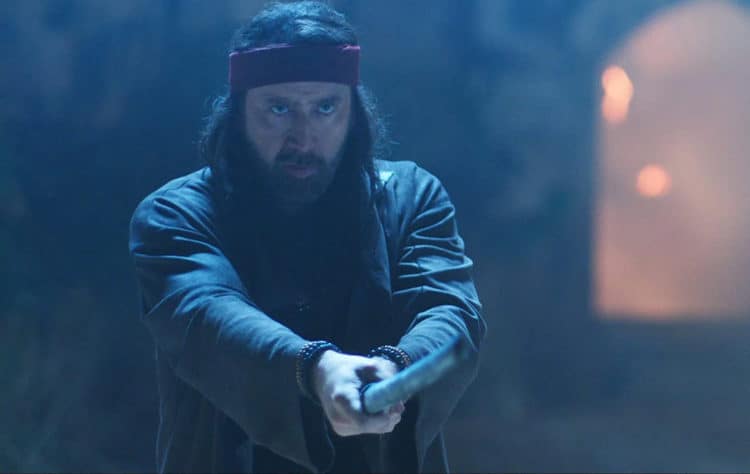 If you're getting a vibe that combines elements of Mortal Kombat, Predator, and Outcast with a touch of Kickboxer and The Protector then it's probably due to the cast and the fact that Nicolas Cage is playing a slightly off-kilter character that explains just what's happening and why kind of. The funny thing is that if you're really looking for any real Jiu-Jitsu, the "gentle art" as it translates out to, you might miss out. That's kind of hard to understand, not to mention the fact that there's nothing gentle about the art itself or the movie trailer as it looks like an attempt to make an action movie that pulls from science fiction and action equally in order to make an interesting movie. That's not such a bad thing really since it's been done many times before to great effect, but so far this movie looks like something that adolescents and hardcore action fans might enjoy since it really looks like something that was designed to be a video game and not much else. It's more proof that Cage is still taking on any and all projects he can in order to keep his lifestyle and stay relevant. To be fair that's not a detractor from the movie, but the idea that an elite group of fighters has to willingly offer themselves up for sacrifice to something that's apparently so tough that sacrifice is the only expectation is kind of 'meh', mostly because it's kind of a hopeless situation and the type of movie that we've seen before.
The movie looks as though it's going to provide plenty of action and possibly allow Cage to be the wild and crazy individual that a lot of people enjoy seeing him as, which would be better than his role in Outcast with Hayden Christiansen since the whole idea of seeing him as the wise but besotted old mentor is kind of difficult. Putting actors such as Tony Jaa, Frank Grillo, and Alain Moussi together in an action movie definitely tends to indicate that it's going to be packed with action sequences since all three men have been seen in intense action movies that have forced them to work side by side with some of the biggest stars and in some cases with very skilled individuals that happen to know what they're doing. What might be surprising to a lot of people is that Nicolas Cage actually knows what he's doing when it comes to Brazilian Jiu-Jitsu, which is the type you might be used to seeing in the UFC if you happen to watch. Maybe we'll get to see more of this when the movie actually releases, but if anyone's still questioning, there is regular Jiu-Jitsu that was used in a combat situation, and there is BJJ, which is slightly different since it's used in combat, but for sports purposes, meaning that there are notable differences in styles. Given that we're seeing Cage handling what looks like a katana it could be that he'll be trying to apply his skills in the movie at some point since otherwise it really wouldn't make a lot of sense. But then again, a title isn't always meant to make that much sense.
If you're looking solely for action then this is likely the movie that's going to deliver in a pleasing way since anything with Tony Jaa in it is going to show some truly death-defying stunts that will amaze even the most jaded viewer, providing that Tony is going to be allowed to do his own stunts. Even so, the expectations for this movie are likely to be pretty moderate with some folks who have seen action movies come and go, but keeping them at a mid to low level is usually best simply because walking into a movie with lowered expectations tends to leave one open for the pleasant surprise that can come when a movie actually turns out to be better than a person was expecting. That almost feels like it might be the case here, especially since it would appear that the acting isn't really going to be anything that's Oscar-worthy, even if the action might carry the movie in a big way. Something about the alien, the way that it happens to appear every 6 years through a portal, and the fact that there are dire implications for the earth if the humans lose, just makes it feel like someone is going to start whipping a barbed chain around and yell "Get over here!", just for the sheer heck of it.
In all honesty, this does look like a worthwhile action movie that could possibly be enjoyable and give people a good show. Nicolas Cage has done quite a few movies lately, but some of the best are straightforward and don't mince words in the trailer.
Tell us what's wrong with this post? How could we improve it? :)
Let us improve this post!