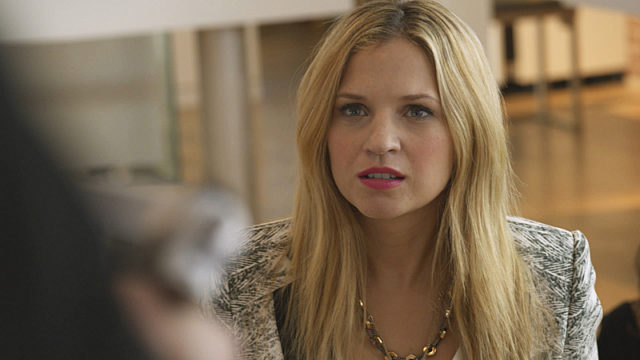 If you watch TV at all, you're probably already familiar with Vanessa Ray. She's a successful actress that's been on shows such as Blue Bloods, Pretty Little Liars and Suits. She also starred on the soap opera As the World Turns. As a result, a wide variety of people have had the opportunity to see her perform in different types of roles. That might have sparked an interest to find out more about her. If you really want to know more about her life, keep reading in order to find out 10 things that you might not already know about this interesting young actress.
1. She uses a stage name
Vanessa Ray rolls off the tongue quite easily, but it isn't her actual name, at least not entirely. She was born Vanessa Ray Liptak, something that doesn't roll off the tongue quite so well. When she started in show business, she simply dropped her last name and decided to use her first and middle names because it was easier to remember, easier to pronounce, and by all accounts, it just sounded better.
2. She's also a singer
There's no question that she's a wonderful actress, and she's also got the market cornered when it comes to singing. In fact, she routinely combines her skills and uses both her acting and singing abilities in the same roles. If you haven't heard her sing yet, you don't know what you're missing. She doesn't just pick easy songs either, with one of her hallmark songs being a cover rendition of Let's Hear It for the Boy from the movie Footloose.
3. She performs in musicals
Not only does she sing a song that originated from the movie Footloose, she also performed in the musical adaptation of the movie. She played Rusty and she showcased both her acting and her singing abilities in such a manner that anyone who has seen her perform this role on stage isn't likely to forget it in their lifetime.
4. She's been on Broadway
It's one thing to star in a musical, but it's another thing entirely to have enough skill to end up on Broadway. Only the best of the best manage to get there and she is one of them. In fact, she was a regular for the final year that the musical Hair was being shown on Broadway, performing each night with the rest of the cast. That is definitely something that any individual should be proud of.
5. She enjoys challenging roles
She doesn't necessarily like the idea of playing the same kind of role over and over again. Instead, she would prefer to play a number of different roles so that she's always challenged with something new. It keeps her on her toes and ensures that she continues to hone and perfect her skills as an artist, both in the field of acting and as a singer.
6. She's a versatile actress
It seems like no matter what part she plays, she's able to pull it off. The thing that really sets her apart from so many of her peers is that while she's doing it, she makes it all look completely natural. It's probably because she has a love for trying new and challenging roles, making her accustomed to playing different parts that don't allow her to rest on her laurels.
7. She splits her time between different areas of the country
Obviously, she stays busy. About half the time, you can find her in New York City and the rest of the time, she's in Los Angeles. She finds it necessary to do this so that she can experience the best of both worlds, especially with regard to acting in television and on stage.
8. She's divorced
She was married to her first husband in 2003, but the couple got divorced six years later in 2009.
9. She's remarried
As of June 2015, she's officially married to her second husband.
https://www.instagram.com/p/BYEUMYrlPYz/?hl=en&taken-by=vrayskull
10. Her current acting role is unique
The role that she currently has, as a police officer on Blue Bloods, is different from anything else she's ever done. In some ways, it's more challenging but it's a challenge that she welcomes. She's also very proud to play the part of a police officer in a regular series, so she makes it a point to give it her all during each taping.
Tell us what's wrong with this post? How could we improve it? :)
Let us improve this post!