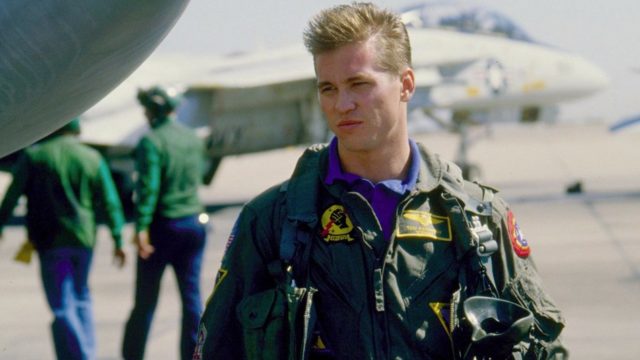 There are many actors out there who tend to try and distance themselves from roles that made them famous. The reason being that in many cases these are roles that are looked back on with regret or there might be a sense of embarrassment. Granted this isn't always the case but you'd probably think that the role of "Iceman" in Top Gun might be something Val Kilmer would look back on with a funny grimace. However, ever since of a Top Gun sequel has been confirmed Val Kilmer's been chasing inclusion in this movie as if he were Iceman going after a MiG in the sky.
For the past week or so Kilmer's been posting tweets alluding to the fact that he should be included in the sequel which will star none other than Tom Cruise reprising his role as Maverick. Here's one of Kilmer's latest tweets:
Still got it… just sayin… pic.twitter.com/AYce5noIDY

— Val Kilmer (@valkilmer) June 7, 2017
Thus far, the sequel, Top Gun: Maverick, only involves Tom Cruise and is in the preproduction stages. Jerry Bruckheimer will produce the Justin Marks script along with Cruise. Filming will likely start in 2018, after Cruise's next Mission: Impossible press tour…plenty of time for Kilmer to continue to make his case.
You gotta figure they're at least going to give the man a cameo right? And perhaps just one more volleyball scene for nostalgia's sake. I personally want to see Rick Rossovich make an appearance.