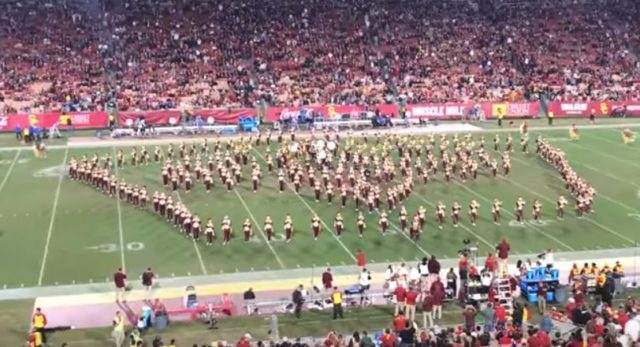 I'm not sure what year this was that the USC marching band decided to pay tribute to Guardians of the Galaxy, but it could have been the same year the movie came out. It's impressive to watch, especially since knowing that the kind of training and discipline that goes into this act has to be on the spot and nearly perfect to get it right. Marching bands are known to be highly entertaining but also demanding since the higher up one goes, from high school to college, the demands that are made are going to be so much more. It also depends on just how professional and how serious the band program is as well. Some schools might not put as much into their programs and thus not a lot is expected. Schools like USC however are high-profile and tend to put a LOT into their various programs.
It's also important to note that since it was during a football game that the performance has to be even more perfect than before. For competitions the pressure is usually dialed up to 11 for schools like USC, but for a game where hometown pride is also important the performance has to be top notch. And none of it's easy. They're not getting hit or having to run like the football team, but then the football team doesn't have to lug around instruments while wearing a full uniform either. Plus, moving while playing takes a fair amount of skill and concentration that deserves a little more respect than some give it.
You've probably heard the term 'band nerd' before, it's pretty common in high school and even in college. But the truth of the matter is that band members, be they marching band or otherwise, choose this position because they either like the music or they enjoy performing, or both. They definitely don't sign up to wear the warm, itchy outfits that some schools are known to keep around, and they're not out there just for fun. It's something they love to do and are willing to learn how to do on the go, so once again it's a position that deserves a lot of respect and even a little awe.
Not just everyone can be in the band. You've got to at least have an ear for music and be able to play a tune to the standards of the band director. And it's every bit as competitive as anything else, since people are always vying for the same spot in a marching band and have to find a way to beat out the competition.
This show by USC is impressive because the movements that each member has to make has to be precise and on the spot, otherwise the images being created by the formation of the band wouldn't look right. The image of the Guardians' ship is pretty cool as it blasts off, as is the face of Rocket Raccoon when he 'winks' in his customary fashion. This had to take a while to pull off, but it's done in great style.