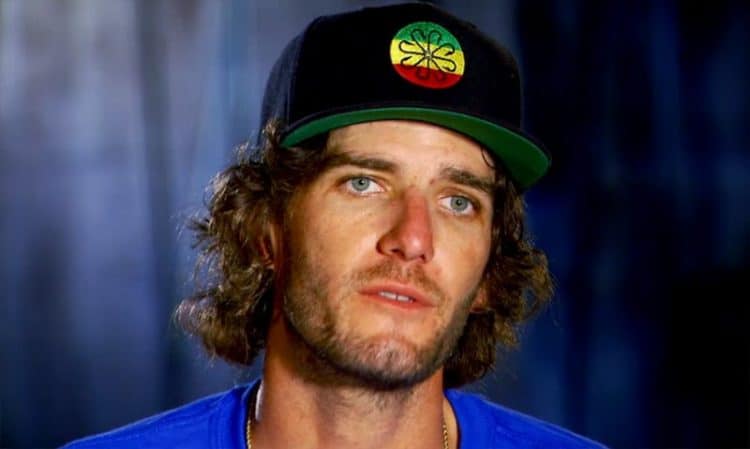 Lots of people eat tuna without giving a second thought to where it comes from. But for those who are interested in the origins of their tuna, Wicked Tuna is the perfect show. Since its debut in 2012, the series has built a very dedicated fan base who love watching the crew go fishing each season. Among viewers' favorite crew members is Tyler McLaughlin. Tyler has years of experience in the tuna fishing industry, and he has proven time and time again that he knows exactly what to do. Even before the show, Tyler was well-known and well-respected in the fishing community. After his good friend and trusty first mate, Nicholas "Duffy" Fudge, passed away suddenly, Tyler has a bit of a renewed mission. Keep reading for 10 things you didn't know about Tyler McLaughlin.
1. He Learned How To Fish From His Father
For lots of people fishing is just a hobby that sometimes results in fresh food for dinner. However, it's always been something bigger than that for Tyler. Fishing has been a part of Tyler's life for almost as long as he can remember. Tyler started fishing when he was just 3-years-old after learning from his father.
2. He's Been Arrested
Being in the spotlight also means that your every move gets scrutinized. Unfortunately, Tyler experienced this firsthand after a run in with the low. In 2016, TMZ reported that Tyler had been arrested after getting into a fight in North Carolina. He was charged with misdemeanor assault and was released on $10,000 bond.
3. His Sister Also Loves To Fish
Fishing is clearly something that runs in the McLaughlin family, Tyler's younger sister, Marissa, is a very talented fisherwoman. She was brought on to be Tyler's first mate after the passing of Duffy Fudge. During the season 8 premier, Tyler explained that his sister is very skilled and said, "She can navigate. She can read a radar. She knows how to drive the boat." He added, "She can run it when we're fighting fish."
4. He Has A College Degree
After completing high school, Tyler enrolled in college at Nichols College in Dudley, Massachusetts. It's unclear what Tyler majored in during his time there, but he did complete his degree in 2011. In 2014, he returned to Nichols College to speak to students and share his story.
5. He's A Hockey Fan
Tyler was born and raised in New Hampshire, however, thanks to his job, he spends most of his time in Massachusetts. With that being said, it's only right that Tyler be a fan of the Boston Bruins. When he gets free time, he loves to watch the Bruins play live at the TD Garden.
6. He Has His Own Merch Line
If you're a fan of the show and the Pinwheel Tuna brand, I have good news for you. Tyler has his own line of Pinwheel inspired merchandise that is available for purchase. He sells all sorts of clothing items and accessories such as hats, stickers, hoodies, and t shirts.
7. He's Engaged
For those of you who have been wondering whether or not Tyler McLaughlin is on the market, the answer is no. However, there seems to be some confusion on the internet about who he's with. Although some sources have said that he's engaged to Savannah Shipley, he has recently been posting pictures on Instagram with a girl named Shannon Harris.
8. He Played Tennis
Fishing may be the top priority in Tyler's life now, but there was once a time where tennis was his main thing. Tyler attended Hollis Brookline High School in New Hampshire where he was a member of the tennis team for four years. During his time at Nichols College, Tyler was also on the tennis team.
9. The Name Of His Boat Has A Special Meaning
When Tyler decided to name his boat the Pinwheel, it wasn't a choice he came to randomly. Apparently, the name pinwheel has an interesting meaning in the tuna fishing community. According to Sampo Swivels: "Once the Tuna Fish develops high levels of hypoxia, it will change its fighting tactic, coming to the surface and then going deep again. With the ensuing fatigue, it can no longer maintain an upright orientation and will begin to succumb to line pressure by laying over. This results in a circling swimming motion, which is the first indication of a tired fish. if you can create a slight heads-up attitude by pumping the rod, the fish will swim itself in circles toward the surface."
10. He Was Only 23 When He Started On Wicked Tuna
Tyler has been fishing professionally for almost all of his adult life. When he joined the cast of Wicked Tuna at 23, he was the youngest caption on the show. Despite his age, though, Tyler has always proven that he had more than enough talent to keep up with the vets.